.22 Long Rifle Conversions Part 2:
---
.22 Long Rifle Conversion Kits
Well as was discussed in the Ar-15 22 conversion page you cant beat the fun and cost of shooting your favorite firearm when converted to .22 long rifle. The cost of the kit is payed for with savings pretty quickly. Unfortunately your choices are very limited with many companies re branding the Ciener kits for handguns. My best advice is try to find a dealer that has the kits in stock or order from a place like Brownells where they have some buying leverage based on quantity and are friendly to deal with. Kimber will sell you a complete 1911 chambered in .22 long rifle which is a nice option. On the rifle front the only 22 rimfire conversion kits I have seen besides those for the AR-15 are the Ruger Mini-14 and the FN-Fal. The Fal kits manufactured by HK are little hard to come by and quite expensive.
---
Complete .22 LR conversion system comes fully assembled and ready to install on your 1911 Government model or Commander to help you practice critical shooting skills with economical rimfire ammo. Concentrate on improving grip, sight alignment, trigger pull, breath control, and other skills without burning up expensive, full-power ammo. Simply remove the slide as if you're field stripping, and replace with the 2211 slide/barrel assembly and 10-round rimfire magazine. With the 2211 installed, the gun functions normally-the slide even locks open after the last round is fired. Precision machined entirely from high-grade steel to the same high standards of workmanship as a custom-quality competition pistol, with a lustrous, matte blued finish. Custom features include wide, crisply milled front and rear cocking serrations, 4 1/2"bull barrel with integral feed ramp, full-length steel guide rod, and a "flattop" sight rail with front and rear competition sights already installed. Champion rear target sight is fully click adjustable for windage and elevation, with an easy-to-acquire .110" wide square notch and flat, serrated rear face. Plain black front sight has glare-inhibiting serrations on front and rear faces. Lightweight milled aluminum 10-round magazine has flared base plate to aid positive seating in oversized magwells; base removes easily for cleaning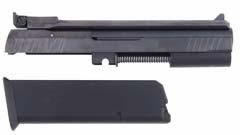 Complete conversion unit replaces the factory slide/barrel assembly without gunsmithing; lets you shoot inexpensive, high-velocity .22 LR ammo in any 1911 Auto. Feeds and functions flawlessly so you can get lots of valuable practice with the same grip and trigger pull you'll be shooting in matches. Kit includes CNC machined aluminum slide and choice of 10- or 15-round magazines, plus match-quality steel barrel, recoil guide and spring. 1911 Standard Model (SM) includes vertical cocking serrations, round-top slide and fixed sights. 1911 Platinum Cup Model (PM) includes 60° angle cocking serrations, serrated, flattop slide and Millett adjustable rear sights. Extra magazines available separately.
SPECS: Slide - 7075 T6 aluminum, black, anodized. Barrel - 4140 steel, black, parkerized, matte finish. Fits 1911 Auto pistols chambered in .45ACP only. 1 lb. (454 g) wt.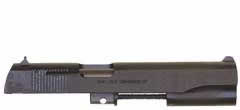 Accentuated Serrated Front Site Serrated Raised Flat Bar Top Angled Cocking Slots Millett Adjustable Rear Site Enhanced Accuracy Shooting inexpensive .22LR with your 1911 Style .45ACP is as easy as adding this top end assembly! And with most .22 ammo costing around two cents a round you can keep your skills sharp at a fraction of the cost. The slide is made of aircraft grade 7075T6 aluminum and hard anodized matte black. The barrel is Shaw Match Grade. This is a good little shooter and is a great way to introduce new people to shooting who may otherwise be intimidated by recoil. Includes fitted case, owners guide, and 15rd magazine.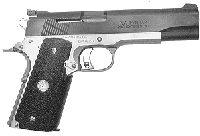 Click the image below and visit the manufacturers web site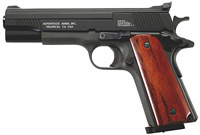 Rimfire conversion kit, silver, adjustable sights, one ten round magazine included. Fits Mil-Spec 1911's with 4-inch to 5-inch barrels, full size frame with traditional non-ramped barrels only.
Convert your 1911 to fire rimfire ammunition in just minutes. Fits most 1911-style, single stack handguns chambered in 45 ACP. (Not compatible with ramped barrel and will not work with a 1911 chambered in 40 Smith&Wesson, 38 Super or 9mm Luger) These drop-in units require no modifications to your gun and do not require changing mainsprings. Conversion units will fit compact models, but the magazine will protrude slightly below the grip. Includes adjustable sights, travel case and a 10-round magazine. Kimber strongly recommends using only premium ammunition with plated bullets. Non-plated lead bullets may cause failures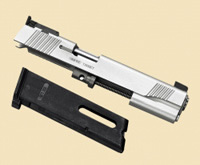 The Marvel 22 Long Rifle Conversion Unit turns any 1911 into an exceptionally accurate 22 caliber handgun. Installation is quick and simple with no fitting required. The barrel is machined from a Shilen blank, and the slide is made from 7075 aluminum with a hardened-steel breech insert to avoid any steel-to-aluminum contact. Aluminum parts are anodized and steel parts are blued for corrosion resistance. Will fit any Government, Commander or Officer 1911 frame. (Magazine will extend below the bottom of the grip on the Officer's model.) Includes one 10-round steel magazine and a foam-padded, soft-side nylon case. NOTE: The unit is designed NOT to lock open after the last shot.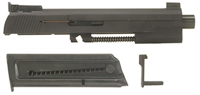 Go here for more info
---
Factory Beretta 92/96 .22 Long Rifle Conversion Kit
Aluminum slide, with matte anodized finish. Adjustable 3-dot target sights; safety / decocker with standard 92 / 96 function; automatic firing-pin safety
Matte blued steel barrel
Recoil spring
Sight adjustment tools
10-rd. polymer magazine with fixed steel ejector
Bore brush
Molded polymer carry case
Detailed instructions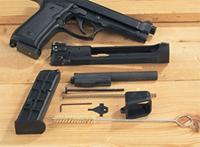 ---
Sig 22 Long Rifle Conversion Kits
Factory rimfire conversion unit lets you shoot inexpensive .22 LR ammunition in your full-size pistol, so you can hone your shooting skills and save money at the same time. Easy installation, simply remove the factory slide, barrel, and recoil spring/guide and replace them with the rimfire unit. High contrast target sights feature one .1" (2.5mm) diameter white dot front sight and two .08" (2mm) white dots on the rear sight to form an easy-to-align, 3-dot sight picture. Rear sight is click adjustable for windage and elevation. Factory manufactured so you know it will fit and function properly. Slide is precision machined from solid aluminum billet and hardcoat anodized for durability. Includes polycarbonate 10-round magazine with slotted witness holes on each side for easy round counting. Removable base pad allows easy cleaning. Includes hard shell plastic carrying case.
SPECS: Slide - Aluminum, black, matte finish. Barrel - Steel. Magazine - Polymer, matte black. Includes: Slide, barrel, recoil spring/guide, 10-round magazine, rear sight key, and Allen wrench. Fits P220, P226 excluding X5, and P229R with rail.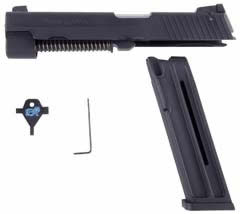 ---
The Glock .22LR conversion kit is made to be ultra durable and light, featuring aluminum parts, which are later anodized and given a remarkable matte black finish.

The steel parts are all heat treated and feature a flawless black oxide finsh, so ensure your firearm doesn't suffer wear and tear like many other conversion kits. The barrel is made from military grade 416 steel with a stainless finish for easy cleaning and precision.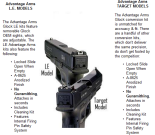 ---
MACS Browning High Power .22 LR Conversion Kit
---
CZ 75 Kadet .22 LR Rimfire Conversion Kit
Specifications and features: .22 Long Rifle rimfire CZ 75 Kadet conversion kit Adjustable windage & elevation sights 2 mags, 10 rounds each 8.1" long 4.9" barrel Steel Black polycoat finish

---