Concealed Carry Holsters and Apparel:
---
Heres the description from the Kramer website: "As the name implies, this holster carries the gun in a "neutral rake", vertical position. Straight up and down, in other words. The weapon rides high, on the strong side hip, and the gun butt tucks snugly into the side for maximum concealment.
We have been asked not to mention names, but we can say that this holster is presently used by some very elite "government organizations". As a matter of fact, one group of operatives gave this rig the "ultimate field test" by immersing the gun and holster in salt water for 11 hours. The holster still retained the weapon. The holster's reinforced throat band makes it extremely durable under hard use.
Although designed for concealment, this holster is well suited for competition. Horshide version may be ordered with FBI forward tilt. Also available in black cowhide for these weapons: Beretta, Browning, BRNO, Colt, Glock, H&K, KAHR, Para-Ordinance, Ruger, Sig Sauer, Smith&Wesson, Springfield, Star, Taurus, Walther."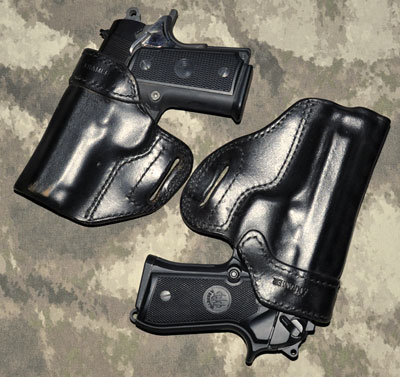 Review:
I purchased my first of these Vertical Scabbard holsters several years ago for a Smith & Wesson 4006. Since then I have purchased two more, one for a Para Ordnance P12 .45 and and the other for a Beretta 92FS Centurion 9mm. When in the market for a new concealed carry holster this shooter has no reason to look any farther then Kramer. The horse hide holsters are perfect. The leather is thinner then a traditional cowhide yet very strong and durable. The holster need no additional materials to retain its strength, shape and stability.
---