Customize the Colt 1911:
---
Colt 1911
The basic design of the Colt 1911 has remained pretty much the same since its current configuration was formally adopted by the Army on March 29, 1911. It proves that a well designed firearm with the right caliber can stand the test of time. Today in 2009 we see 1911 models from the largest firearm manufacturers such as Smith & Wesson, Springfield Armory, Sig Sauer, Taurus and of course Colt. There is also an entire industry of lesser know small manufacturers like Nighthawk Custom and Kimber to gunsmiths like Wilson Combat all producing their own take on the Colt 1911. A 1911 for every budget. Now with that said naturally you can order a 1911 exactly like you want it but be prepared for a long wait and a substantial investment. Myself I prefer to start with a basic firearm, research my options customizing the firearm a little at a time as funds and time are available. Its also a great way to really understand how the firearm works and the different parts interact with each other. In the end you'll be rewarded with a great shooting 1911 that you know the inner workings of inside and out. Keep in mind though that some customizations require special tools and permanent modifications to the firearm. You still may require the services of a qualified gunsmith at various stages or at least have a gunsmith perform a safety check when your firearm is complete.
Before you start browsing web sites for what to buy pick up some books and DVD's on the subject. Check out Brownells for their online help and videos. Ill provide links further down the page.
Safety - All modifications to a 1911 cant be performed by all people. Some folks may not have the patience, tools,skills know how and attention to detail for some of the more complicated modifications. Enlist a the services of a gunsmith if at any point you aren't sure. Poor workmanship can hurt or kill someone. Lastly if you plan on carrying a 1911 purchase one exactly like you want it from a qualified supplier. There's no room for error when it comes to the safety of yourself and those around you.
---
Colt 1911 Informational Links
To start with order the Brownells dedicated 1911 catalog. It has every 1911 part you can think of and it serves as a great reference for what's available and the differences in the parts.
Volume 1 - Disassembly, polishing feed ramp, throating barrel, fair/flare ejection port, working with the extractor, installing Wilson sights, opening up the magazine well, Nite-Eyes® installation, and beaver tail grip safety. 2 hours.
Volume 2 - Explaining hammers, trigger job, and safety installation. 2 hours.
Volume 3 - Shok-Buff ® buffers, "Group Gripper"T, slide tightening/barrel fitting, chamber reaming/feed ramp cutting, fit compensator/remove front sight, fitting reverse plug, and checking breech face clearance. 2 hours.
Volume 4 - Serrate/checkering rear of slide, checkering front strap, making dovetail cuts, extended magazine release/slide stop, thumb guard installation, logo etching, final prep, final assembly, and testing the finished gun. 1 1/2 hours.
---
Ok it's nearly 3 hours and very nicely done. I didn't nod off once. Video is high quality not like those damn AGI VHS transfers.

The start is a bit slow as the narrator discusses 1911 history. He is obviously reading. Once the tech gets underway it flows much smoother. This DVD is NOT about building and gunsmithing a 1911. It truly is an armorers approach to safety, maintenance, reliability and the fitting of drop in parts.

They go through great detail of explaining and displaying part interaction, fits and safety function tests and common mistakes. A ton of practical information for folks not well versed in 1911 function. They also include discussion and use of the proper tools albeit from the DVD sponsors. Not an infomercial though like many DVD's

The last few chapters of the DVD covers the installation of drop in parts like ambi safeties, grip safeties, triggers.

All in all a very refreshing approach. Ill put this as a must have in your 1911 media collection along with the JERRY KUHNHAUSEN Heritage Gun books.


From the Panteo Website
The M1911 Pistol Armorer's Course will give you a detailed understanding of the model 1911 pistol. The course covers design, model variations, disassembly, assembly, lubrication, parts fitting, trigger pull adjustments, maintenance, and troubleshooting. After-market parts and modifications are reviewed. Dean Caputo, a law enforcement officer and factory armorer instructor for the 1911 platform, will teach you how to keep your 1911 running properly and how to do limited custom work on your pistol.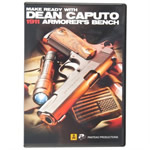 ---
Brownells has just realeased their 8th edition of their famous 1911 catalog. Order your free here or by clicking the image below.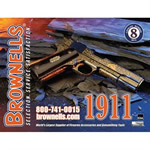 ---
The only 1911 Auto components available with true, custom features that save the pistolsmith time and expense when building his customer's favorite gun. Fully forged frames and slides are machined by CNC equipment to close, rigorous tolerances, fully finish-machined and ready to fit, then assemble. The slides are held to Rc 40 hardness throughout so you never have to worry about soft, deformed lugs or out-of-spec breech faces. They're stripped, ready to finish, with all flats surface ground and rounds bead blasted. See below for detailed information on all of the available options. Available in chrome-moly Steel, in-the- white, or non-galling stainless steel (SS). All these single-stack frames come standard with the extra-high, front strap cut and beveled magazine well. Frame tangs on Standard (Std.) model are in Commander length or, choose the Beavertail Cut (B/T Cut) model with a .250" radius cut that fits the S&A, Les Baer or Brown, beavertail grip safeties. Frames with the Beavertail Cut are also available with the front straps Checkered (Chk.) in flawless, machine cut, 30 lpi checkering. Ramp Cut frames are pre-machined to accept the Baer or Nowlin-style ramped barrels.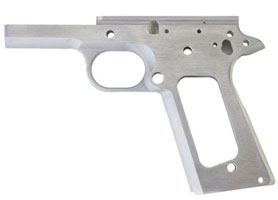 Pre-fit combo eliminates one of the most tedious jobs of building a top-quality, custom 1911 Auto—getting a tight, smooth, slide-to-frame fit free of side-to-side or vertical play. Forged frame of 4140 carbon steel is precision machined and heat-treated to Rc 28-32, before mating with the slide fully machined from 4140 bar stock. Serial number of the frame is stamped inside the slide at the factory to make sure the two stay together. 30 lpi front strap checkering helps you maintain a firm grip, and tang is cut with a .250" radius for a beaver tail grip safety. Slide has EDM wire cut breech face for precise angle, lowered and flared ejection port, and deep-cut, extra-wide rear cocking serrations. Choose a slide without sight cuts or with Bo-Mar BMCS or Novak rear, both with a 60° x .300" front sight dovetail. Accepts 5" non-ramped .45 ACP barrels.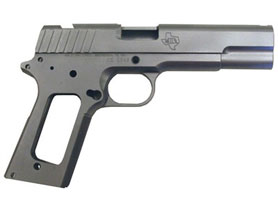 Kit includes everything you need to convert an existing 1911 to a high capacity 9mm, .38 Super, or .40 Smith&Wesson 1911 pistol—or build a new one from the ground up with additional parts available separately. Receiver has integral plunger tube, squared trigger guard, and flared, 360° magazine well. Precision cast from 4140 carbon steel and fully CNC machined to tight tolerances for highly accurate rail specs and pin hole locations. Heat treated to Rc 22-24 for optimum performance and durability. Oversize frame rails allow the gunsmith to achieve an exceptionally tight slide-to-frame fit for more consistent accuracy. Grip safety, mainspring housing, magazine catch, and ambidextrous safety are CNC-machined from carbon steel castings. Gunsmith fitting required. Magazines available below.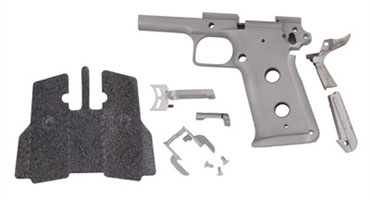 ---
Replacing the barrel of your 1911 is one of the best improvements you can make to a 1911. A properly dimensioned, polished and fitted barrel will improve accuracy and reliability. If you purchase a drop-in barrel it to needs to be fitted properly and in most cases cant acutally be just dropped-in. Fitting a barrel is pretty easy once you have an understanding of how a 1911 functions. Most gunsmiths dont charge a lot to fit a barrel so that is also a good option.
Bar-Sto Precision Machine has been making the finest auto-pistol barrels since 1971. Bar-Sto barrels have been used by the U.S. Marine Corps Marksman Unit since 1977. The AMU uses them also. They have also been used to win every major pistol tournament worldwide, including Camp Perry, the U.S.P.S.A. Nationals, Steel Challenge, the Masters, and many more.
All Bar-Sto Pistol barrels are machined from solid stainless steel bar stock which has been heat treated 39 to 43 RC and 180,000 PSI tensile strength. Barrels are machined, bored, and rifled completely in our own shop. All barrels have a rate of twist of 1 turn in 16".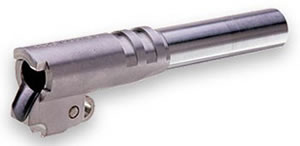 Material used is 416R Stainless Steel heat treated to 40 Rockwell C. All barrels are broached and manufactured from bar stock material or forgings, depending on availability. All are guaranteed for accuracy. All barrels are 1 in 16 twists and 6 lands and grooves irrespective of caliber. This is a twist rate that will allow the barrels to shoot a wide variety of bullets with excellent accuracy. Hood and bottom lug is oversized and requires fitting. Chambers are cut short and will require correct head spacing after fitting.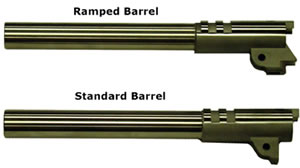 Install a precision quality barrel using just four small hand tools. The only fitting required is to adjust lockup with the two raised pads located on either side of the rear locking groove, cut the barrel hood to correct length and fit the bushing to the slide. A national match bushing is pre-fit to the barrel; has oversize O.D. for precise fitting to slide. Bottom lugs are fully finished and the correct length link installed to save hours of work

---
Separate, ultra-hard, spherical, internal ring pivots on its horizontal axis inside the unique, precision-machined bushing. Absolutely prevents barrel spring. Provides the easiest, longest wearing, closest fitting barrel bushing setup available. Models available to fit full-size Government or Commander pistols, in two configurations: Drop-in Bushing/Ring requires no fitting on the O.D. Oversized Bushing/Ring has an oversized skirt that requires turning to fit most slides. I.D.'s of Govt. Oversize bushing skirts are threaded to accept the exclusive Briley Bushing Mandrel that makes turning the O.D. in a lathe simple and fast. Comm. Oversize Bushings are not threaded for use with the mandrel.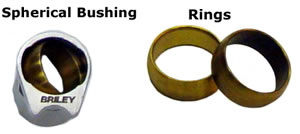 ---
Colt 1911 Safety Upgrades
This area is intentionally blank.
---
Upgrading your guide rod and main spring is an easy inexpensive method for improving reliabilty and controlling recoil. Switching to a full length guide rod adds weight to the muzzle for improved recoil control as well as providing a smooth linear path for the recoil spring to follow. To add even more weight their are tungsten guide rods available.
Easy-to-install kit instantly improves cycling, reliability and accuracy without modifying the frame or the slide. Exclusive, injection-molded, polyfiber buffers slip onto the guide rod be- tween the head and spring and keep the slide from hitting the frame. Prevents expensive frame damage and softens the felt recoil of high power competition loads. Full-length guide rod keeps the recoil spring straight for smoother functioning and longer spring life. Together they provide consistent barrel lockup and increased accuracy.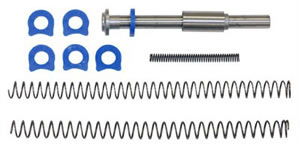 Heavy, tungsten guide rod adds muzzle-steadying weight to help counter recoil. Stainless steel model improves functioning without adding weight. Two-piece - full length, centerless ground construction simplifies disassembly. One-piece - gives extra weight, plus superior support to recoil spring for smoother function.
SPECS: .326" (8.2mm) diameter. Fits 1911 Auto, or STI, Govt. length slides with 5" (12.7cm) barrels. Tungsten 3.1 oz.(88 g). Stainless Steel 2 oz. (57 g). All models supplied with stainless steel, standard spring plug.

Drop-in sytem provides significant reduction in felt recoil and grip fatigue. Plus, it keeps the gun "flat" so your sights stay on target to help you shoot faster. Bright polished, stainless steel guide rod fitted with a chrome silicon, secondary spring that reduces slide-to-frame impact with no loss of reliable cycling. Softens the recoil impulse by gradually slowing the slide to prevent frame battering; helps extend your pistol's service life. Tungsten models add extra weight out front for even greater recoil reduction. 1911 models can be tuned by changing recoil springs. Completely reliable and extends the life of your pistol. Models marked with a * include a new recoil spring, others use your factory or aftermarket spring. Drop-in installation requires no modifications to your pistol.
Prevents expensive frame damage when shooting high-pressure, major power factor loads. Replaceable, poly-fiber washer installs behind the recoil spring on any length guide rod. The shock absorbing action stops the slide from battering the frame. Injection molded for the optimum balance between shock absorption and longevity. Replace every 1,000 rounds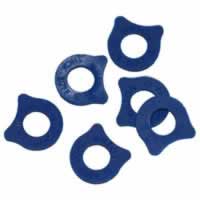 1911 Recoils springs are available in many different strengths. A competition shooter with light loads may need a lighter spring to maintain correct functionality. On the flip side if you are always shooting hot loads with heavy bullets a heavyier spring maybe what you need. There are even variable compression rate springs. Often times just swapping out a factory spring for an equivalent Wolff Spring will improve functioning of the weapon.
Study the descriptions at Brownells for detailed explanations

---
Colt 1911 Mounts, Mounting Rails
Low-profile accessory mount attaches to underside of receiver in front of triggerguard for ultra-secure mounting of tactical lights and laser aiming devices. Gets light/laser close to the bore axis for accurate aiming, with controls in easy reach of support hand. Four precision machined slots accept any accessory designed to fit a MIL-STD 1913 Picatinny rail. Beveled and dehorned for snag-free operation; extends only ¼" below frame to allow easy fit in any holster designed for use with light/laser-equipped pistols. Available in blued carbon steel, matte gray stainless steel, or extremely lightweight aluminum with matte black anodized finish. Mounts using three super-strong, heat-hardened hex-head screws; drilling and tapping of frame required.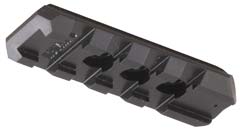 ---