FNH FS2000:

---

Aftermarket 30 Round Magazines
October 27, 2008

The FS2000 is the civilian version of the F2000 bullpup developed by FN Herstal of Belgium. the F2000 was designed to be used while wearing NBC protective clothing (nuclear, biological, chemical) Because of this the F2000,FS2000 have some unique features. The bolt will not remain open after the last round is fired, the ejection port is behind a door that doesn't open until after 3 or 4 rounds have been fired and lastly the reason for this page. The magazine well is sealed with o-rings thus preventing a magazine from dropping free. Magazines must be pulled from the weapon while depressing the magazine release. This has been one of the biggest complaints about this weapon. For me personally its a big issue as I am missing half of my 2nd,3rd and 4th fingers. It takes tremendous effort for me to remove the magazine from the FS2000. Well quite by coincidence had had begun to purchase new magazines for my AR15 and decided to try them in the FS2000 for the sake of compatibility. The general consensus is that HK magazines are the best followed by C Products. I did some research and the HK's are $45-$60 while the C Products are $12.95. Honestly I was quite surprised by the costs of the HK's considering I just bought some HK 91 mags for my CETME for $5.99 each from Top Gun Supply. In fairness to HK I'm not sure whether the retail price is high or its a supply and demand issue or a little of both.
---

C Products LLC
October 27, 2008.

So with the economy the way it is I decided to start cheap with the C Products black teflon coated stainless steel 30 round magazines. The magazine internals consist of a chrome silicon spring and a Magpul anti-tilt follower in your choice of orange or black. I chose orange to easily differentiate these from the rest of the magazines that I own. The magazines are finished very well with no sharp edges. The quality appears consistent with the 8 magazines that I purchased. To say that the C Products magazines had a profound impact on magazine insertion and removal is an understatement. They go in and out with ease like they are greased. They loaded easily and without issue. This is my first experience with the anti-tilt follower and I must say its simplicity is brilliant.
Update Sept 20, 2011 - C Products LLC is Defunct- Avoid anyone claiming to be them.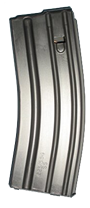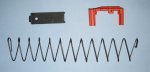 Range Results:

---
Heckler & Koch
October 27, 2008.

Purchased from Top Gun Supply.
---

D&H Industries
TBD.


Purchased from.


---