Tactical Knives:
---
Cold Steel Recon Tanto
Over the last 20 years, Cold Steel has succeeded in establishing the Tanto as a superior combat blade. The value of the Tanto styled reinforced point is now without question. Our superb Japanese Tantos are still unsurpassed for fit and finish, but are expensive, and beyond the financial reach of many knife enthusiasts. Our Recon Tanto has combined a 7" blade, classic Tanto styling, AUS 8A Stainless steel and a comfortable, western-style Kraton handle into an affordable package.
The Recon Tanto is rapidly redefining the standard for combat knives around the globe. It is well on its way to becoming the preferred fixed blade for SWAT teams and special military units. Visit your local dealer and ask about the Recon Tanto. Experience the extraordinary quality and test the distinctive razor sharp edge for yourself and you will see why, as a professional, this is a unique knife you can't afford to be without!
---
Smith & Wesson Special Ops Commando M-9 Bayonet SW1B
The Smith & Wesson SW1B is Smith&Wesson's version of the US Govt Issue M9 bayonet that includes the M10 Scabbard "improved sheath".
History of the M9:
The M9 Bayonet is a multi-purpose knife and bayonet officially adopted in 1984 by the United States. It was issued with a special sheath designed to double as a wire cutter. It was designed and developed by Charles A. "Mickey" Finn at his R&D company, Qual-A-Tec. He later produced it under the Phrobis III name, filling a military contract for 325,000 units. Buck Knives, was contracted to make 300,000 units and sold a commercial version under their own name. Finn's designs proved extremely popular, and were widely and illegally copied and sold by other makers. In 1986, Finn received U.S. Patent 4,622,707 , which helped cut down on knockoffs, though they continued to flow into the country unchecked from Asia and Mexico, cutting into legitimate American sales.
After the Phrobis III bayonet contract was completed, rights to the M9 reverted to the U.S. Army and there were many subsequent versions from other companies. It is used by the U.S., some other countries, and has also been sold commercially (in various versions).
Some production runs of the M9 have a fuller and some do not, depending upon which contractor manufactured that batch and what the military specs were at the time. The M9 Bayonet partially replaced, but is used in addition to, the older M6 and M7 Bayonets, introduced in 1957 and 1964 respectively. Many troops have retained the M7, since the M9 has a reputation for breakage, due to a combination of its relatively thin blade, and varying quality among the various contractors used.
The M11 bayonet, or M11 EOD, is a version of the M9 specialized for Explosive ordnance disposal (EOD). It has some extra features, such as a hammer pommel, but uses the same knife and sheath as the M9.
There have been four main makes of M9's: Phrobis, Buck (subcontracted from Phrobis during the original Army contract), LanCay, and Ontario. As mentioned, Qual-A-Tec developed the design, then set up the Phrobis company to handle the government contract. Starting in 1987, Phrobis subcontracted Buck, finishing up in 1989. It was around this time that Buck sold commercial M9s as well, which it did up to 1997.
LanCay got its first contract in March 1992 (taking over production from Buck) for 30 (later 50) thousand knives (with General Cutlery as a subcontractor); in 1994, there was another contract issued for about 100,000 improved M9 models. In 1999, a contract for 25,000 knives was split between LanCay and Ontario (12,500 each). Ontario Knife Company also participated in later contracts, and is one of the current (as of 2005) contractors for producing them (blades marked "M-9 / ONTARIO / KNIFE CO / USA").
Smith & Wessons SW1B:
Attributes:
Overall Length (inches): 12.20
Blade Length 7.1"
Blade Material: Black teflon coated 440 stainless stee
Plastic Handle
Nylon Sheath Scabbard with removable map pouch, screwdriver, sharpening stone, belt clip(blade & scabbard lock together to become a wire cutter)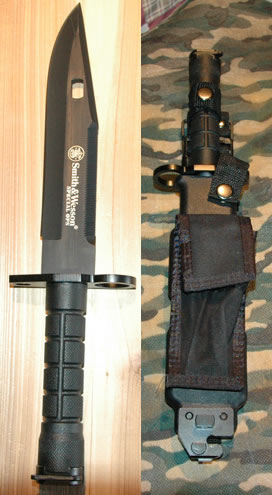 ---
---