Firearm Magazines:
---
The Magpul Ranger is a floor plate replacement for current issue USGI 30 round magazines that incorporates an integral loop, floor plate lock, and mag identifier. When installed on the base of a magazine, the Magpul Ranger provides unsurpassed speed and controllability during high stress, tactical magazine changes. Loop is made of pliable Santoprene overmolded onto a stainless steel plate. Patented design based upon the tried and true para-cord loops and duct-tape tabs currently in use with special warfare units worldwide.
Features:
Allows for rapid and controlled magazine handling
Finger loop provides a repeatable index for magazine removal from web gear
Flexible material protects magazine base from impact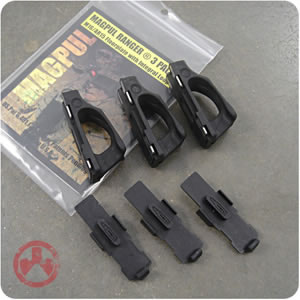 I installed these on a few magazines for my Colt AR15 and FS2000. The Magpul Ranger Floor plate's are especially helpful on the FS2000 and the weapons design does not permit the magazine to drop free when the magazine release is depressed. The magazine must be removed manually which requires a bit more effort then one might expect. These floor plate's make quick removal a breeze. The floor plate's also aid in removing the magazines from tactical pouches and gun cases. Once you try these there is no turning back. Click the image below for more information on where to purchase the Magpul Ranger Floor plate's.
---
Contents: This kit contains one (1) ISMI Chrome Silicon Spring and one (1) Magpul Gen 2 follower. These parts replace all moving items in a single USGI 30 round magazine. Add a Ranger or L-Plate at a discount with the kit.
General Information: The alloy spring steels have a definite place in the field of spring materials, particularly for conditions involving high stress and for applications where shock or impact loading occurs. Alloy spring steels also can withstand higher and lower temperatures than the high-carbon steels and are obtainable in either the annealed or pre tempered conditions. This covers Chrome-Vanadium springs as well.
Corrosion Resistance: Similar to 17-4 stainless.
Post-Treatment: ISMI springs are heat-treated and stress-relieved to improve performance. Not all CS springs are treated after winding which degrades performance.
Operating Temperature: Music wire springs have a surprisingly deficient low operating temperature of 0 deg (I'm assuming Fahrenheit) and a low maximum operating temperature of 250 deg. The minimum temperature is difficult to find and is unverified at this time but the maximum is verified. As stated above in the general information, CS has a better temp range. Minimum is unknown but maximum is 475 deg F.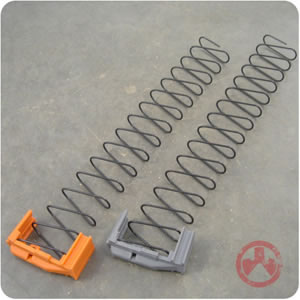 I installed these in the same magazines from the previous article with the Magpul Ranger Floor plate's. The design of the follower is simply brilliant. The follower is molded in a manner that creates a male/female relationship with the contours and bends in the magazine sides. This fit along with the legs on the front and rear keep the follower perfectly level. In addition to improving the cycling and feeding of my Colt AR15 and FNH FS2000 I have found these Magpul follower kits to aid in the loading and unloading of the magazines. This is such an improvement in magazine performance I'm going to upgrade all my old magazines and all future magazine purchases will consist of magazines that have the Magpul kits installed as standard equipment. Side Note:
---
Always know how many rounds are left at a glance. The innovative NEW Count Down magazine from CAA has a visual, color-coded indicator showing the exact number of rounds left in the magazine. 30-20 rounds have a green background 19-10 rounds have a yellow back ground and 9-1 rounds have a red background. In addition, there is a second indicator on the bottom of the magazine so you always grab a full magazine. The numbers are self illuminated for low light conditions and the operator does not have to shift positions to see the indicator. The magazine and round count indicator are both ambidextrous and ergonomic. The mechanism does not interfere with the disassembly of the magazine. This lightweight 30 round polymer .223 AR15 magazine offers 100% reliability with a non-tilting stable follower and a corrosion resistant stainless steel spring.
Visual indicator showing remaining rounds.
Color coded 30-20 (green) 19-10 (yellow) 9-0 (red).
Second visual indicator on bottom of magazine shows number and color so a loaded magazine is always selected.
Numbers self illuminated for low light conditions.
Operator does not have to shift positions to see indicator.
Ambidextrous & ergonomic.
Mechanism does not interfere with magazine disassembly.
Super Strong lightweight 30 round polymer .223 AR15 magazine.
Non tilting stable follower.
Corrosion resistant stainless steel spring.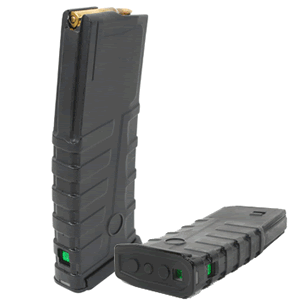 ---
ProMag GSG-A1 22 Round Magazine for the GSG-5
The ProMag GSG-A1 Magazines for the German Sport Guns GSG-5 have been eagerly waited for by American shooters for a couple reasons. The first being demand for factory magazines is greater then the ability of the manufacturer to keep the supply chain filled. The second reason is the ProMag's are made in the USA and carry a lifetime warranty. There no banning these with a stroke of a pen like their imported siblings. Lastly is the cost. I've seen the factory GSG-5 magazines anywhere between $32-$45. The ProMag's are going for about $20.95 just about everywhere. We purchased ours from surprisingly enough a store that specializes in Glock parts. After ordering they were in my hands within 3 days.
Appearance: The magazines are near exact visual clones of the factory GSG-5 magazines. If there was no branding on the base plate it would be impossible to tell one from the other, in fact the only visible differences I could detect was the color of the spring and the number of coils. The factory GSG-5 magazine has a much more polished almost chrome looking spring while the ProMag looks like typical stainless. The factory magazine has more coils then the ProMag.
Function: We are not surprised to report that the ProMag's function flawlessly in the GSG-5 and require similar effort to load as the factory mags. There was one minor detail we addressed before testing. Both of our ProMag test magazines had a burr on one edge of the magazine lips (see picture) that was removed in seconds with a nail file. It looks like where its removed from the mold and broken off leaves a slight nub behind. Much. We do not think it would have affected function in any way.
Conclusion: Go out buy up as many as you can and enjoy your GSG-5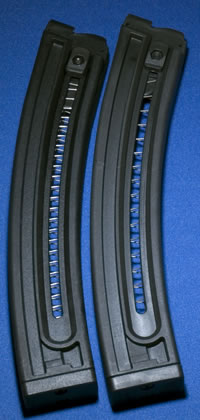 Note May 15, 2009 - Some users are reporting serious issues with the function of the magazine. Pro Mag has responded that some magazines were assembled with the incorrect spring. If you experience problems contact Pro Mag
ProMag Industries - 10654 S. Garfield Ave South Gate CA, 90280 (800) 439-2547 (562) 861-9554 (562) 861-6377(fax)
---
Designed with input from a variety of AR shooters military, law enforcement, and competitors these lightweight 30-round magazines deliver exceptional reliability in all types of extreme conditions. One-piece body of glass fiber-reinforced polymer composite has outstanding structural rigidity to resist damage from dropping on hard surfaces like concrete and side-impact crushing forces. Aggressive ridges on the outside give you a secure grip during reloads. Continuous-curve interior with slick, mirror-finish surfaces and a polymer, non-tilt follower that runs in grooves virtually eliminate risk of jams caused by uneven pressure on the round stack. Corrosion-resistant chrome-silicon spring won't lose power when a loaded mag is stored for extended periods. Seamless body, tight-fitting floorplate, and an indentation for the mag catch to grab rather than a hole through the body, keep out dust, moisture, grit, and contaminants that can impede ammo flow. Floorplate removes easily for cleaning simply by pressing the locking tab with the tip of an unfired .223 cartridge. Captive follower and floorplate locking tab stay with the spring, so they won't get lost. Flared floorplate and extra grooves near the bottom help you extract the magazine from tight-fitting mag pouches for fast reloads. Fits most pouches for USGI mags, including Brownells MOLLE pouch system. Drops free from mil-spec mag wells, and compatible with LULA loader, stripper clips, Maglula Universal Benchloader, and other loaders that fit USGI mags.

---
The PMAG (Polymer MAGazine) is a lightweight 5.56 NATO, M-16 compatible magazine. It features a pop-off storage/dust cover that alleviates pressure from the magazine feed lips, allowing for long-term storage of loaded magazines without risk of feed lip creep that often causes malfunction in standard aluminum magazines. PMAG utilizes a resilient stainless steel spring for corrosion resistance.
The MagLevel™ PMAG™ features transparent windows and a painted spring for quick determination of approximate round count.
Exceptionally rugged, combat- and competition-ready magazine functions flawlessly, even when left fully loaded for extended periods. Corrosion-proof, self-lubricating one-piece body of fiber-reinforced, molded polymer has no spot welds or joints to impair the follower, and the constant internal curve ensures smooth, unobstructed movement of the round stack. Anti-tilt follower stabilizes the stack to help prevent nose-diving and bolt-over-head failures. Heat-treated, stainless steel spring is stress-relieved for optimal performance. Included quick-release magazine cover seals out dirt and alleviates feed lip deformation caused by pressure from a full ammo stack during long-term storage. Withstands the heat from prolonged full-auto fire and is not harmed by most bore cleaners and solvents. Exterior ribbing provides added gripping surface; magazine catch notch, rather than a traditional hole, keeps dirt and debris out. Easy-to-grasp ledge on floorplate aids in extracting magazine from pouches; floorplate removes easily for cleaning. Curved-body 30-Round model is also available in MagLevel configuration with windows on both sides of the magazine and a bright, orange indicator to display ammo level. Compact, straight-body 20-Round model makes a tactical rifle easier to store and retrieve from a vehicle, and provides a stable rest for target shooting. All models available in Black, Flat Dark Earth, O.D. Green, and Foliage Green.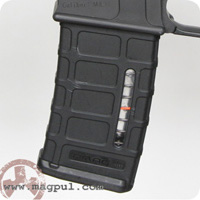 ---
The new TAPCO 20rd AK magazine offers the next generation of technology to feed your Kalashnikov. Designed with horizontal exterior grooves to offer increased styling and gripping surface, our magazine features a heavy duty spring and an anti-tilt follower for increased reliability. Constructed of reinforced composite with a metal floorplate. The magazine counts as 3 Sec. 922r Compliance Parts (when inserted into your rifle) and is backed by TAPCO's lifetime guarantee. Black, Dark Earth, OD. MSRP $17.99.
Packaged in:
Branded Hanging Bag
Cases of 20
Works with:
7.62×39 AK Rifles
Vertical Grips
Speed Loaders
Stripper Clips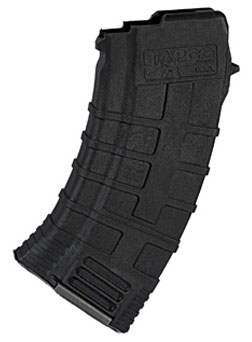 ---
Fountain Valley, CA -- SureFire, LLC, manufacturer of high-end illumination tools and tactical products, is proud to announce the release of its hi-capacity 60- and 100-round (STANAG 4179) aluminum magazines for .223/5.56mm NATO M4/M16/AR15-style firearms. These new high-capacity magazines (HCMs)—dubbed the MAG5-60 and MAG5-100—are designed to provide military units with an overwhelming tactical advantage in the delivery of firepower.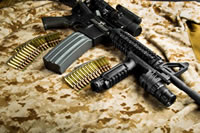 "In the current wars in Iraq and Afghanistan, ambushes are commonplace, and the outcome is often determined in the first 30 seconds," said Don Alexander, SureFire's Director of Military Sales and retired Special Forces operator with six combat tours. "Firepower and the ability to stay in the fight are key. These magazines will reduce soldier vulnerability by keeping them in the fight for longer periods of time, with less downtime spent on reloads."
In battle, it typically takes the average soldier four seconds to reload his weapon and reacquire a target, valuable time that could be spent engaging threat targets. At best, 30-round magazines allow a soldier to fire no more than 150 rounds in 30 seconds. SureFire's 60-round high-cap magazine increases that figure to 240 rounds; its 100-rounder to 293 rounds. And both will support military units planning to incorporate full-auto firepower to more of their operators.
SureFire HCMs easily and securely fit into the host weapon, with the bolt closed, when loaded with the maximum round count. The design of the magazine takes into account the allowable tolerances of cartridges manufactured to NATO and SAAMI specifications. A 4×2 quad-stack configuration features a revolutionary internal spring and follower system designed to be more reliable than current standard MILSPEC USGI 30-round magazines. This proprietary internal design also allows SureFire HCMs to be stored indefinitely while fully loaded, in preparation for deployment, which means individual units can be issued ammo supply crates with pre-loaded magazines instead of empty mags and ammo cans, another potential lifesaving benefit in critical-response situations.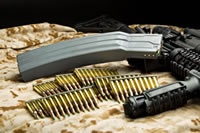 The MAG5-60 will fit into most nylon pouches with Velcro® cover flaps intended to hold two standard 30-round magazines, but double magazine pouches with stitched partitions may require some alteration. Both the 60- and 100-round HCMs can be disassembled for periodic cleaning or as required. The magazine floor plate can be easily removed from the body using a punch, the tip of a cartridge, or a variety of common tools.
SureFire HCMs are the result of an entirely new division at SureFire, in partnership with L. James Sullivan and Bob Waterfield of Arm West, LLC. Mr. Sullivan is best known for co-developing the Armalite AR-15/M16 (M16A1) rifle and the original 20-round 5.56mm box magazine. They will be assembled and distributed by SureFire's new Reno, Nevada, facility, the company's first venture outside of Southern California, and will initially be available only from authorized SureFire dealers in states without any HCM regulations. Processes are also being developed for dealers in locations that do have HCM regulations, including California, Hawaii, Illinois, Maryland, Massachusetts, New York, Ohio, and Washington, D.C. MSRP is $129 for the 60-round magazine and $179 for the 100-rounder, with orders expected to begin shipping in March of 2011.
| | |
| --- | --- |
| CALIBER | 5.56 NATO/.223 REMINGTON |
| HEIGHT | 8.7" / 22.1 cm |
| WIDTH | 1.66"/4.2 cm body, 0.88"/2.2 cm neck |
| WEIGHT-EMPTY | 6.4 ounces / 181 grams |
| WEIGHT-FULLY LOADED | 2.02 lbs / 920 grams |
| BOX MATERIAL | 6000 SERIES ALUMINUM |
| FOLLOWER MATERIAL | NYLON |
| CONSTRUCTION | SPOT WELDED |
| FINISH | MIL-L-46010 |
| COLOR | GRAY |
| | |
| --- | --- |
| CALIBER | 5.56 NATO/.223 REMINGTON |
| HEIGHT | 12.2" / 31 cm |
| WIDTH | 1.66"/4.2 cm body, 0.88"/2.2 cm neck |
| WEIGHT-EMPTY | 9.6 ounces / 272 grams |
| WEIGHT-FULLY LOADED | 3.3 lbs / 1.5 kg |
| BOX MATERIAL | 6000 SERIES ALUMINUM |
| FOLLOWER MATERIAL | NYLON |
| CONSTRUCTION | SPOT WELDED |
| FINISH | MIL-L-46010 |
| COLOR | GRAY |
Located in Fountain Valley, California, SureFire is a leading manufacturer of high-performance flashlights, weapon-mounted lights, and other tactical equipment for those who go in harm's way, or anyone who demands the ultimate in quality, innovation, and performance. SureFire illumination tools are used by more SWAT teams and elite special operations groups than any other brand. SureFire is an ISO 9001-2008 certified company.
Press Contact: Ron Canfield, rcanfield@surefire.com, 800-828-8809 ex. 2258
---