Rifle Scopes:
---
Leupold 56090 Mark 4 8.5-25x50mm LR/T M1 Riflescope
I picked up one of these to mount on my DPMS LR-308. Ill have a range report when the weather improves
---
Leupold 66600 8.5-25x50mm Long Range Target Rifle Scope
My good friend SgtStryker over at FNforum.net offered me this scope for a great price. Im going to mount in on my Remington 700 Synthetic Varmint 22-250. This to will be reported on when the weather brakes
---
Swift Riflescope's Premier SRP 8-32X50mm PA (205-678M)
We received a Swift SRP678M scope to mount to our Remington 700 Varmint Synthetic 22-250 to replace a scope that has failed to perform acceptably. We haven't as of yet decided If we are keeping the old Leupold dovetail mounts or are moving to a 1 piece base for a more tactical approach.
Designed to meet the high-performance requirements of the discerning hunter, the SwiftPremier Riflescope Collection delivers superior optics, quick target acquisition and dependable results.
These scopes are the result of years in research and development, the sole purpose of which has been to design the finest, most practical riflescope's within the capability of modern technology. Offering maximum light transmission for greater target definition in various light conditions, as well as reinforced reticle mounts, medium-profile target turrets and accommodating quick-focus eye relief. The extraordinary quality of materials and workmanship make this collection the soundest investment of its kind.
The SRP678M features the unique Customizable Adjustable Objective. This allows you to customize the scale on your focus ring allowing you to tailor the distance setting to your own needs. Your eyes are different from your buddies, so why should your scope be the same!! This scope is ideal for long-distance, target and tight-group shooting.
All SRP models come complete with Quick-thread Sunshade and objective dust covers.
Features:
USA Made, BaK7 Schott Glass
Light Amplifying Optical Coating - Up to 96% Greater Light Transmission
Fully Multi-coated Optics
Customizable Adjustable Objective
Full Saddle Construction
1" Aircraft Grade Aluminum Tube
Quick-focus Eyepiece
Medium-profile Target Turret, Windage and Elevation Adjustments
1/4" Click MOA Adjustment
Self-centering Reticle
Waterproof, Fog proof & Shock Proof
Swift Lifetime Warranty
Specifications:
Power - 8-32x50
Field of View @ 1000 yd's/m - 13ft/4.3m @ 8x, 4ft/1.3m @ 32x
Eye Relief - 3.0in/76.2mm
Length - 16.9in/42.9cm
Weight - 21.5oz/610g
Lens Coatings - Fully Multi-coated
Prisms - USA, BaK7 Schott
MOA - 1/4 in
Reticle - Quadraplex
Waterproof - Yes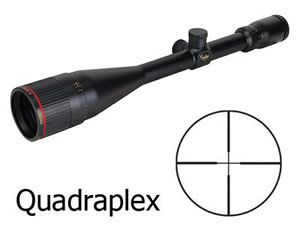 I received this scope for Christmas to replace a Tasco that currently resides on my Remington 700 BDL Heavy Barrel Synthetic Varmint Rifle chambered in 22-250. I haven't decided whether I will stick with the Leupold dovetail mounts currently installed or swap out everything for something a little more tactical in appearance and functionality. Stay tuned!!
---
NcStar Mark III Tactical 3-9x42 STP3942G
I ordered one of these to test out on an AR-15 to replace it's aging 1x-3x import optic and to possibly permanently mount on our GSG-5.
The NcStar Mark III Tactical Series 3942G 3-9x42 Compact Riflescope was created to be packed with as many features as possible, but keeping the riflescope small enough and light enough to be carried on any platform. NC Star took the top qualities of the Mark III as a starting point to create a compact rifle scope with prominent lines and solid controls. The Mark III Tactical Series 3-9x42 Compact Riflescope is infused with two distinct Quick Release options for either a standard Weaver style/picatinny rail or an AR/M16 carry handle.
Features:
Open Target Turrets
Fully Multi Coated Lenses
Built in sunshade
Quick focus eyepiece
Bullet drop compensator calibrated for the .223 cartridge with a 55 grain bullet
Reticle's illuminate in Red or Green with multiple brightness setting
Integrated Quick Release weaver style/ picatinny mounting system
Specifications:
Magnification - 3x-9x
Objective Diameter - 42mm
Field of View (feet at 100yds) - 36.8-12.0
Eye Relief - 2"
Exit Pupil - 9.3-3.1mm
Reticle - P4 Sniper
Weight - 16.7 ounces
Length - 7.54 inches
Click Value - 1/2 moa
Lens Coating - Green
Mount - Integrated Quick Release weaver style/ picatinny mounting system
Finish - Matte Black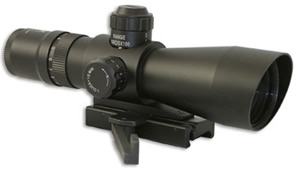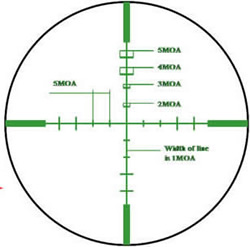 Below are two pictures of the reticle from my NcStar P4 Sniper Scope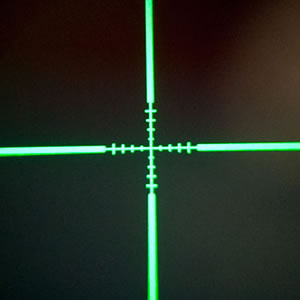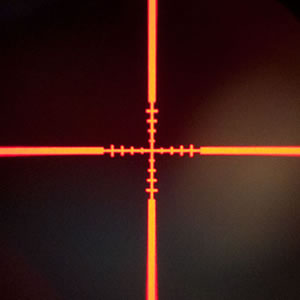 ---
Nikon M-223 Honored With Field & Stream "Best Of The Best" Award
The Nikon M-223 2-8x32 rifle scope was put through a vigorous test by a Field & Stream panel of judges and awarded "Best of the Best" for 2010. The staff of testers agreed the M-223 is innovative and the absolute best in optics.
Recognizing the popularity of AR rifles, Nikon has developed a new line of rifle scopes built to deliver extreme speed, accuracy and shooting confidence. The M-223 line offers five new rifles scopes, all engineered for the .223 Rem./5.56mm NATO round with 55-grain polymer tipped bullet with a muzzle velocity of 3240fps. With Nikon's latest reticle and adjustment technologies, the M-223 integrates the same level of quality as the flagship Monarch rifles scopes.
"Field & Stream's "Best of the Best" recognizes outstanding products in our industry, said Jon LaCorte, Senior Product Marketing Manager, Nikon Sport Optics. "We are thrilled our M-223 Series was selected as Field & Stream 2010's "Best of the Best."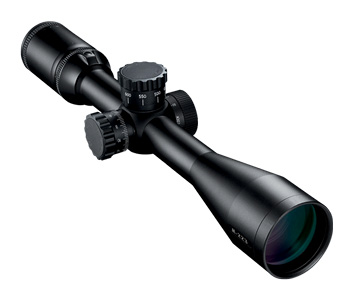 The 2-8x32 is available with Nikon's all new BDC 600 reticle or the Nikoplex reticle with Nikon's new Rapid Action Turret system; both are ballistically matched to the 223 Rem. round and offer unprecedented speed in dialing-in your shots for virtually any known distance-from 0 to 600 yards.
The M-223 2-8x32 comes standard with Nikon's Anti Reflective Device (ARD) to eliminate objective lens glare. MSRP is $349.95 for the 2-8x32 with BDC 600 reticle and $329.95 for the 2-8x32 with Nikoplex reticle.
Nikon Inc. is the U.S. distributor of Nikon sports and recreational optics, world-renowned Nikon 35mm cameras, digital cameras, speedlights and accessories, Nikkor lenses and electronic imaging products.
For more information on Nikon's full line of Rifles scopes, Binoculars, Spotting Scopes, Fields scopes and Laser Range finders, please contact: Nikon Sport Optics, 1300 Walt Whitman Rd., Melville, NY 11747-3064, or call 1-800-645-6687
---
---