Tactical Gear:
---
BlackHawk Homeland Security Discreet Weapons Case
These innovative cases from Blackhawk have all the capabilities that a true modular case should. Used in combination with our hook & loop pouches they can be set up for any mission or need. The Homeland Security Discreet Case is made to all the same high standards as the original Discreet Case including.
Removable .375" closed cell foam padding
Detachable shoulder strap and HawkTexT shoulder pad
Outside zippered pocket is lined with a bed of hook & loop to attach any hook and loop pouches
Full opening zipper for shooting mat capability
This system is truly modular in that it can utilize the hook & loop pouches from many other cases and bags. Choose the size and accessories you want and need.
The Homeland Security Discreet Case is made to all the same high standards as the original Discreet Case including the removable .375 inch closed cell foam padding, full 360 degree padding, full wrap around carry handles, #9 YKK zippers with silent zipper pulls, detachable shoulder strap and HawkTex shoulder pad. The middle of the case has two rows of BTS webbing and has fully expandable hook & loop wrap keepers for any rifle with accessories such as scopes, lights, lasers, rail mounts, etc.
The outside zippered pocket is lined with a bed of hook & loop to attach to any BlackHawk hook and loop pouch. This is a great feature which enables you to carry the mags of your choice, scopes, pistols, or any accessories. Just hook & loop the pouch on and off. The removable mag pouch system fits (3) M-16 mags, (2) M-14 mags, (6) MP-5 9mm mags, hand-held radios, (3) G-36 mags, or (3) AK-47 mags, etc. This is the same pouch as our Omega Tactical Vest mag pouches with adjustable lids.
I purchased the 36" case for my FNH FS2000 which measures 29" overall. This was my first purchase of a Blackhawk Tactical product but I had read good things about this case so I wasn't worried considering this was the most money I had ever spent on a soft weapon case. Well once again this proves you get what you pay for. The case is made very well. There are additional magazine holders available. Blackhawk lists the black ones as BlackHawk Discreet Modular M-16 Pouch 65MV01BK. I have not seen the pouches in Desert Tan nor does the Blackhawk Tactical 2008 catalog list them as available for purchase. Blackhawk tactical does have other pouches available that will probably be well suited such as the S.T.R.I.K.E. Gen-4 MOLLE System M4 Triple Mag Pouch. or any other pouch that may suit your needs.
I am currently using this case with my FN FS2000.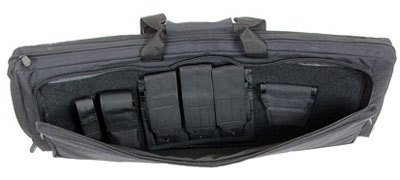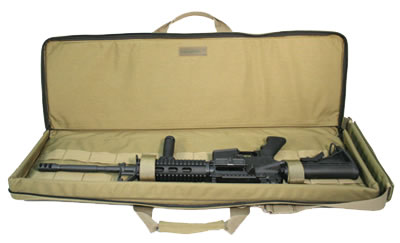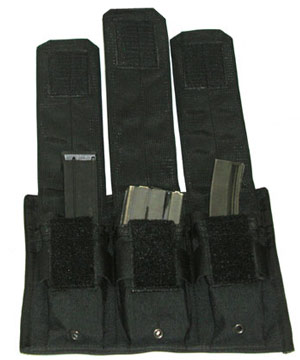 ---
Blackhawk 83BT03BK Warrior Wear Black Ops Boots
Best boots ever!! Im vey fussy about what I put on my feet. Over the last 4 years I have tried various tactical boots with prices ranging from $100 -$400 from companies like OTB, Blackhawk to name a few. Many of the boots have some very good strengths such as light weight, durable, cool etc. None has performed and lasted as well as the the Blackhawk Black Ops boot.
The Blackhawk Black Ops boot feels great from the second you get them on your feet. You didnt know boots could be this comfortable. I used my first pair of boots for over 365 days. I used them at work as well as may day to day activities through all four seasons of New England weather. The boots performed flawlessly. They keep my feet dry and warm when things are wet yet my feet dont sweat like a pig in the summer. Because these boots keep my feet from sweating I never experience cold feet in the winter. The soles offer fantastic traction for hunting, hiking and fishing. The toe is reinforced with something hard that offers some mild to protection. The laces are even better than you find on most boots today. Not the cheap import stuff that becomes unties every 10 steps. In fact the laces lasted 8 months and were the first item to wear. The laces however are not as good as the textured ones from OTB.
After about a year I decided it was time to retire the boots. I kept saying after this job or that fishing trip Ill throw them away. They just didnt seem to die. One day they just disappeared from their place on the rug but nobody knows anything or is talking.
Anyhow I cant say enough about these boots. You owe it to your feet to try them for your self. Thank me for the tip later.
Note* There is a composite toe version for when OSHA approved safety shoes are required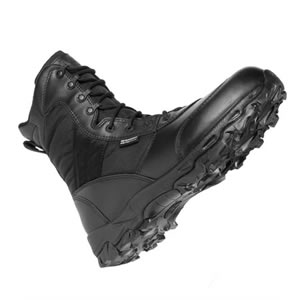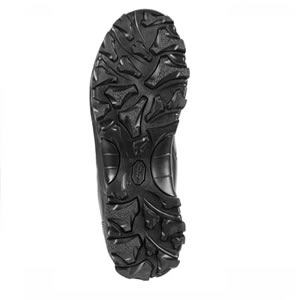 ---
---