Customize your AR-15 M4 M16:
Go to Page 2
---
This is too cool not to share. Brownells has created an interactive web page that allows you to build a virtual AR-15. The page lets you customize just about every detail from receivers,barrels,rails,sights etc with the on screen image displaying your virtual gun.

AR-15 Books and Videos
A few recommendations to start with. Brownells offers a catalog specifically for the AR-15. You will be amazed at what's available for AR-15 parts and accessories. The best part is the catalog is free. You'll see the firearm specific catalogs located on the right side of the Brownells home page.
How to build an AR-15 DVD - Get The Custom AR-15 You Always Wanted By Building It Yourself. I recently purchased this DVD. I was expectiong it to be somewhat of an infomercial, but that wasnt the case at all. I am very impressed with this DVD. A pleasant surprise was the included pdf' which contain the same content presented on the DVD. You could create your own paper manual by printing them out on your computer. You can view sample content here.

AGI-Building The AR-15 DVD - This video covers parts identification, installing and fitting all the parts, headspacing the barrel, final assembly and tuning. A number of after market accessories are covered along with examples and demonstrations of all the tools required to make the job easy.

---
One of the biggest complaints about the reliability of the AR-15/M16 stems from the fired cartridge gasses being directed back into the rifles chamber to cycle the firearm. This causes carbon to build up in the action that can negatively effect the firearms operation if the firearm isn't cleaned as directed from the manufacturer. In recent years an improvement has been designed for the AR-15. This improvement uses a piston to cycle the rifle. This piston obtains its energy from the fired cartridge gasses keeping the gasses out of the action. The result is a chamber that remains cleaner for a much longer period of time. You can now purchase AR-15's that are piston operated or you can buy the piston kit and install it yourself.
For more info visit AR15tactical.net
CMMG Drop-in conversion kit contains everything you need to replace the standard gas system on your AR-15 carbine with a reliable, positive cycling direct impingement gas piston system. Updates your AR to the type of operating system used on advanced weapons like the FN SCAR, Heckler & Koch G36, and HK416, as well as the highly reliable, classic FAL and AK-series rifles. Makes your gun run cooler, smoother, and more reliability, with less wear and easier maintenance. Because the gas no longer vents inside the receiver, fouling and carbon buildup are greatly reduced, making maintenance easier with less frequent disassembly of the receiver for cleaning. Less fouling and lower operating temperatures mean substantially reduced wear on bolt, carrier, and receiver interior for fewer malfunctions caused by worn parts. The cushioning effect of the piston reduces felt recoil to help you stay on target for fast, more accurate follow-up shots. "Straight-line" design of the replacement gas block further ensures reliable operation by venting gas pressure directly on the operating rod. Rod transmits the force directly to a lug on the top side of the one-piece bolt carrier redesigned specifically to work with the piston system. Carrier and lug are machined from a solid billet of steel to eliminate breakage that can occur with a standard carrier modified for use with a gas piston system. Requires no permanent alterations to barrel or upper receiver. You can remove the piston system any time and reinstall the original parts.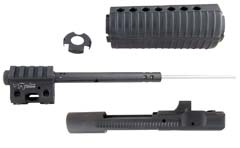 Has a great slow motion video of their unit in action here
---
AR-15 Trigger Upgrades
If the number of choices is an indicator to the popularity of an AR-15 trigger upgrade Brownells lists 2 pages of triggers. Replacing the trigger is an absolute necessity to get the most accuracy from an AR-15 and should be one of the first upgrades performed. There's several excellent choices in after market triggers for the AR-15. These choices are split into several different groups. There's kits that require replacing all the individual parts in the trigger, then there's drop in triggers that replace the trigger group with a fully assembled drop in module that's ready to go and finally there's a choice of two stage trigger or standard trigger. Some triggers are also adjustable.
American Trigger Corporations self-contained trigger/assembly installs in minutes and delivers a light, smooth, match-grade trigger pull free of grittiness, with an ultra-crisp let off and short reset. Simply remove factory trigger and safety selector, drop in the module, reinstall selector and pins, and you're ready to shoot. Completely new engagement geometry design produces the light 3-lb. pull and crisp release without compromising reliability or safety. The two-stage design is adjustable for sear engagement and over travel, with a first-stage take up of approximately 6 ounces, followed by actual sear movement taking up the rest of the weight, the reverse of the military two-stage AR trigger pull profile. Instead, the shooter can build force steadily, maintaining precise control and keeping his attention on the target. After release, reset travel is only .030", less than half the .070" typical of standard match triggers, to aid in fast, accurate follow-up shots. The sear captures the hammer at the back instead of near the pivot point to help produce the light pull and maintain safety. A second, independent, intercepting sear is positioned to block the hammer if it slips off the primary sear, as when the weapon is dropped or suffers hard impact. If the intercepting sear captures the hammer, pulling the trigger will still fire the rifle, though with a heavier pull weight. In addition, the AR Gold system uses the rifle's factory safety to positively capture the hammer, like an M1 Garand, and roll it back below the primary sear for an extra margin of safety. A lightweight aluminum housing contains the entire system and maintains the correct tolerances between the working parts. The receiver pins serve only to anchor the module in the receiver, with no effect on trigger function. Hammer and sear are wire-EDM cut from ultra-hard S7 tool steel to exceptionally tight tolerances with precision-ground surfaces for consistent contact and smoothness.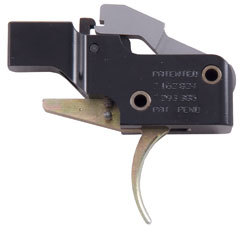 CMMG Drop-in, two-stage trigger/hammer system requires no gunsmithing to give your small-pin AR-15 a rugged, reliable trigger with a smooth, consistent pull. Ready to install as-is, straight from the package, or add two optional setscrews (included) that let you adjust take up and over travel for a precise, match-grade pull. Setscrews are accessible from above for adjustment, and can be installed after the trigger is installed in the receiver. Grinding fixtures custom designed by CMMG engineers are used for final grinding of 10 separate contact surfaces on the trigger, disconnect or, and hammer for a crisp, precise, consistent hammer release. Bronze bushings reduce friction to help ensure an ultra-smooth pull and exceptionally fast lock time. Rounded, low-mass hammer further speeds lock time and reduces wear on contact surfaces. Each trigger is function tested before it leaves the factory to ensure correct operation; works equally well in .22 LR conversions. Standard-weight trigger and hammer springs included; will work with aftermarket reduced-power springs.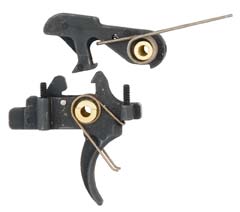 Chip McCormick Self-contained, preset trigger group replaces the heavy, factory trigger found in most commercial AR-15s and provides all the advantages of a single-stage, match-grade trigger without the need to fit and adjust multiple components. Rigid, steel trigger housing holds all the precision-fit, factory-tuned, internal components in proper alignment for easy, drop-in installation. Generous, precision-ground sear/hammer engagement surfaces offer a remarkably clean, crisp release while preserving reliable function. Each trigger assembly is tweaked at the factory to minimize take-up and over-travel, with a fixed 3½ lb. pull weight. Threaded sleeves provide an ultra-smooth, pivot surface for the hammer and trigger. Completely eliminates conventional trigger pins to save wear, reduce friction, and prevent trigger wobble. Two, slightly oversized center pins replace the standard, trigger/hammer pins to secure trigger in receiver; E-clips at both ends prevent pin walk. Available with Flat or traditional Curved trigger shoe. Small Pin models fit mil-spec receivers that use .154" hammer and trigger pins, except Colt rifles with sear block. Large Pin fits rifles that use .170" pins.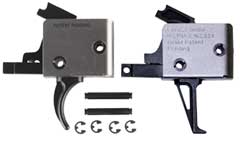 Jewell Triggers patented trigger mechanism provides outstanding reliability, function, and performance for benchrest, varminting, and other types of precision shooting. All internal components are CNC machined from stainless steel, then heat-treated to Rc 58 for extended service life. Adjustment screws are fitted with a nylon insert to maintain your trigger settings without using thread locking compounds. Features a two-stage pull that is uniquely adjustable from above the lower receiver for first stage pull weight, second stage sear engagement, second stage pull weight, and overtravel. Models available to fit rifles with small and large hammer/trigger pins.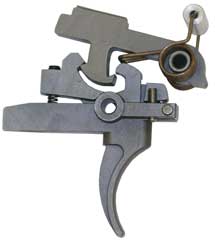 Self-contained module is ready to install in your small-pin AR and deliver an exceptionally smooth, crisp, creep-free single-stage trigger pull that feels more like a traditional bolt action than a combat rifle trigger. 100% drop-in—no gunsmithing, fitting, or adjusting required. All components are captive in the lightweight, aluminum alloy housing. Hammer is wire-EDM machined from S7 tool steel that combines hardness to resist wear with superior impact resistance to withstand heavy use without chipping or breaking. Other components are EDM cut from A2 tool steel, then heat treated to Rc 56-60 for long service life. Precision-ground engagement surfaces ensure superb reliability and a crisp, clean hammer release. Installs using your rifle's original hammer/trigger pins; proprietary design eliminates pin walkout. AR-15 model has a fixed, factory-set 3 lb. pull weight, available with standard solid or lighter-weight, distinctive skeletonized trigger shoe. AR-.308 model has a factory set 4 lb. pull weight, a solid shoe, and more hammer mass to ensure positive ignition of harder .308/7.62mm primers.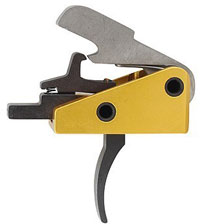 ---
AR-15 Pistol Grips
Many AR-15 type rifles are shipped with a simple military style pistol grip or a mildly ergonomic grip installed on the lower receiver. While functional in design this is an easy and relatively inexpensive upgrade providing the shooter with a more comfortable grip hopefully resulting in great accuracy and less shooter fatigue. There's grips that have custom replaceable panels of varying sizes to suit your hand size as well as grips that have finger grooves or special rubber coatings to provide good grip in adverse weather conditions.
The DPMS Tactical Palm Grip is a precisely molded, upswept grip extension and non-slip, pebble-grain finish give a solid, hand filling grip for comfortable weapon handling and faster follow-up shots. Adjustable palm rest gives exact fit to your hand, ensures correct hand placement for excellent trigger control. Features a dual palm swell, with right thumb rest and finger grooves to improve grip.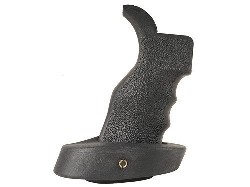 The Crimson Trace integral pistol grip-mounted laser sighting system gives you an immediate, decisive advantage in almost any light conditions-low light, darkness, even broad daylight. A squeeze of your finger on the instinctively positioned pressure pad activates the laser for an added tactical edge by instantly projecting a bright red aiming dot on the target.
Makes a great training tool by providing instant feedback to advanced shooting students learning instinctive aiming, and helps beginners learn how to achieve proper sight alignment, steady trigger pull, and consistent follow through. Ultra-bright laser is the brightest allowed by current federal law; dot diameter is approximately ½" at 50 feet. The ergonomically designed outer cover of rugged but soft, overmolded rubber also improves shooting comfort and control. Master on/off switch prevents dead batteries caused by accidental laser activation.
Fully adjustable for windage and elevation with the included Allen wrenches. Vertical Foregrip model easily attaches to any forend/handguard with a MIL-STD 1913 Picatinny or Weaver-style accessory rail on the underside and also enhances weapon retention, control, and pointability. Frame machined from billet aluminum clamps to the rail with locking bars, two crossbolts, and easy-grasp, grooved thumbscrews to prevent unwanted movement that can change point of aim. Pressure pads on either side of the grip ensure instant, reflexive activation as you grasp the grip; master on/off switch on the lower left side. Over four hours constant-on operation from two 2032 lithium batteries (included), and up to five-year inactive shelf life. Pistol Grip/Upper Receiver model fits rifles with A1/A2 carry-handle upper receivers and includes a replacement rubber overmolded pistol grip with the pressure switch located in the upper finger groove. Rugged, shock-resistant polymer grip frame houses one CR123 lithium battery (included), with the master on/off switch in a deep recess on the underside. An armature extends from the pistol grip alongside the rear of the carry handle and positions the laser unit parallel with the top of the handle. Cam-lock system tightly locks the laser housing to the carry handle to prevent loss of zero. Easily used in conjunction with ACOG and other optics, as well as factory and aftermarket "iron" sights. Maximum 20 hours constant-on operation; five year extended shelf life.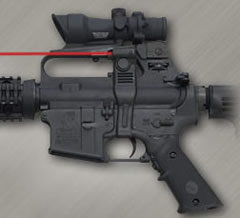 MIssion ADaptable (MIAD) modular grip system with interchangeable inserts lets you find the grip configuration that fits your hand size and mission requirements. All models come with main grip body and detachable rubber core in cap for rattle-free internal storage of three spare rounds of .223/5.56 ammo. Additional cores for storing batteries and other items are available separately, below. Front- and backstrap inserts slide on easily, yet snap firmly into place and require no glue or screws to stay put. Basic Kit comes with one straight and two different beavertail backstrap inserts, plus straight and finger-ledge frontstrap inserts. Full Kit adds two more finger-ledge front inserts, one with an integral, oversized trigger guard for more room when shooting with gloves.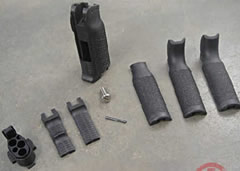 Hogue Grips has applied their OverMolded technology to AR-15, M-16 style rifles producing the ultimate rubber grip. The OEM AR-15 grip is specifically designed to retain the important lines and aesthetics of the AR, while at the same time providing a comfortable rubber grip with finger grooves and palm swells.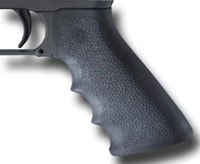 The Command Arms Tactical Hand Grip is sure to increase the performance of your rifle or carbine. Made from their own proven synthetic materials, it incorporates finger swells and a backstrap that is designed with surfacing to enhance your grip and minimize the chance of slippage should the G-27 become wet.
The integral extended beavertail provides better control during firing sequences as it allows a higher and firmer hold upon the G-27, while protecting the web of your hand . Also, the supplied insert securely seals the uniquely designed bottom of the Tactical Pistol Grip to allow a readily accessible storage area. The Tactical G-27 is designed to be ambidextrous and installs quickly.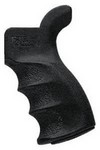 ---
AR-15 Vertical Foregrip
A foregrip will typically attach to the handguard be means of an accessory rail. There's a few interesting options in this category. There's a Grip Pod which is essentially a foregrip that doubles as a bipod. There's also foregrips that have accessory rails attached for mounting lasers and tac lights.
GPS-LE Grip Pod Vertical grip with quick-deploy bipod legs is an economical alternative for applications where the original GPS-02 Grip Pod's function and benefits are desired, but the steel reinforcements in its legs are excess to requirements. The GPS-LE (Law Enforcement) locks to the bottom accessory rail of your tactical rifle's forend, just like the GPS-02, to provide the same enhanced control during CQB and a stable bipod rest for precise long-range fire. The grip's hand-filling contours and deep grooves provide a solid purchase even when your hands are wet. Hit the large, deeply grooved release button, and a powerful spring deploys the legs instantly. Conveniently placed for thumb activation, the button sits flush with the surrounding surface to prevent accidental deployment.
Extended legs provide sufficient elevation for a standard 30-round magazine to clear the ground, and will not snag on brush, vehicle interior, or other gear when retracted. Legs and grip are made of tough, injection-molded polymer; steel cross-bolt with easy-grip thumbscrew locks directly to any MIL-STD 1913 Picatinny rail to ensure a rock-solid fit. Accepts GPRS1 and GPRS2 bolt-on accessory rails, available separately. May be used on many non-AR rifles and light machine guns with forend accessory rails.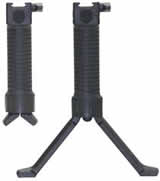 Just after attaining legend status among long-range shooters with its original F-Class bipod, Sinclair introduced an even better one. Lower, lighter, and easier to install and remove, the new F-Class Bi-Pod isn't just for competitive shooters. It's a rock-solid, prone-shooting platform that attaches to your rifle's front swivel. Weighing in at 2¼ pounds, the aluminum Bi-Pod will accept fore-ends up to 3 inches wide while providing the ability to cant the rifle.
With large, rounded feet and a height-adjustment range of from 5.5 to 10.5 inches on each leg, the Bi-Pod allows you to level your rifle at almost any angle and on almost any surface, locking it into position via easy-to-use ratcheting levers. It is available in both clear (natural) and black anodizing.
For more information, click here or contact Sinclair Intl., 2330 Wayne Haven St., Fort Wayne, IN 46803; 800-717-8211.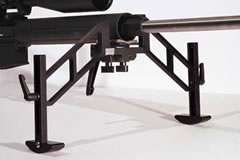 ---
AR-15 Sights
This is an are where the AR-15 can be substantially improved. If your AR-15 sight a permanently attached the parts can be upgraded with precision adjustable sights, night sights and front sight posts of different configurations. For competitive use there is even a set of National Match sights available. If you have a flattop AR-15 with rails chances are the included flip up sights are mediocre in quality. There are many aftermarket options available that are precisely machined with solid locking mechanisms. The options will include variations for standard A2 front sight gas blocks as well as the gas blocks with rails
Rugged flip-up sight features self-illuminating, Trijicon® Tritium inserts that glow in low light to help you quickly align the sight with a tritium front sight post in all light conditions. Provides instant backup when primary sight fails, with a versatile .108" diameter aperture that gives an excellent field of view for both short- and long-range targets. Regulates with mil-spec A2 carbine front sight or same-height aftermarket sight—perfect for co-witnessing with non-magnifying red dot and holographic optical sights. A2 windage knob provides precise ½ MOA adjustment. Deep grooves on the sides ensure positive grip for quick deployment, while ball detent lock resists accidental folding down during strenuous maneuvers. Clean, low profile design won't snag on other gear when folded down. Robust cross-bolt with oversized, slotted hex nut locks clamping block tightly to Picatinny receiver rail for zero sight movement. Precision machined from hardcoat anodized 6061 T6 aluminum and heat-treated 4140 steel for repeatable settings and the strength to handle the rigors of combat.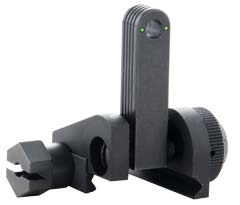 Mil-Spec, A-2-style, rear sight gives tactical rifles an accurate, reliable backup to scopes and electronic sights. Adjustable for windage and elevation; uses two, steel, thumb screws that lock the sight to Picatinny or Weaver-style bases with precise return to zero. Lets you determine correct sight settings, then remove sight for safe storage. Correct height for issue front sight when mounted on flattop receiver.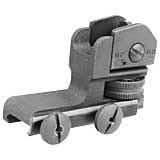 Vltor Sight Tower (VST) is precision machined from solid tool steel to provide reliable function of the gas system and the option for emergency back-up sight deployment during battle conditions. Dual clamping rings fit standard diameter barrels and can withstand up to 100 ft-lbs of rotational torque without failure. Large, hex head clamping screws can be staked after installation for added security. Short, Picatinny rail on top of the gas block is the same height as a standard M4 flattop rail and allows mounting of small tactical accessories when sight is in the folded position. Stainless steel insert accepts right- or left-side attachment of QD push-button sling loops. To avoid damage, the front sight tower is non-locking and uses spring-loaded plungers and detents for automatic disengagement if struck during combat. AK-style, front sight post is easy-to-adjust with the included sight tool.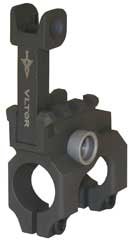 The Ameriglo AR250 Green Tritium Front/Rear Night Sight for AR-15 features green Tritium lamps and a machined steel construction. Ideal for low to no light situations, this sight is equipped with a front blade and rear ghost ring. Featuring steel construction, Tritium green lamps, with front blade and rear ghost ring included. MSRP $55-99.00.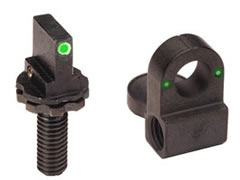 ---
AR-15 Stocks
Fulfills the tactical marksman's requirements of a precision adjustable stock that delivers rapid target acquisition, minimal shooter fatigue during extended target observation, and maximum precision in shot placement. Push-button release, 10-position length adjustment system retains the rifle's fixed A2 buffer tube and allows a 4" range of adjustment to fit any size shooter/body armor combination. Selected position can then be locked with an Allen head screw for extra security. Wide cheek rest is continuously adjustable up to 1-1/8" for height to ensure a solid cheekweld, and offers 13 positions for eye relief to suit a wide range of optics. Deeply curved, vertically adjustable rubber buttpad seats securely in shoulder pocket without slippage, even during sustained shooting. Includes two ambidextrous attachment points for quick-release, push-button sling swivels. Injection molded polymer construction provides optimal combination of light weight and impact resistance, with molded in reinforcements at stress points for extra strength.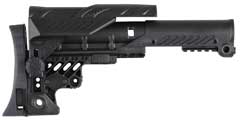 Multiple sling points are but one of the many features that make this lightweight, aluminum stock ideal for competition and tactical use. Supplied with an Uncle Mike's QD, 1.25" sling swivel and stud. A lightweight, fast handling stock for sporting, tactical and competition use. Gives three sling attachment points. Uses your existing buffer tube as the top tube to keep weight to a minimum. Closed-cell, foam over-tube provides a soft, comfortable cheek weld, plus insulates your face from vibration and inclement weather. Over-tube is formulated to withstand cleaning solvents and gun oils, UV radiation, freezing temperatures, salt water and rough handling. Machined aluminum buttplate is drilled and tapped for rubber Butt Pad (included). Installation requires no modification to rifle.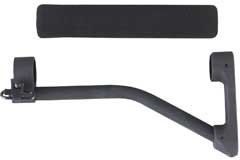 Rugged, adjustable carbine buttstock combines the solidness of a fixed stock with a unique set of convenience and comfort features to provide a highly versatile, stable shooting platform. Available in black or dark earth, the Utility/Battle Rifle (UBR) stock's tough, reinforced polymer construction stands up to the pounding of the new large-bore chambering's found in AR-style rifles. It can handle high-tempo tactical operations, while providing an extremely secure cheeckweld in almost any position. Compact, streamlined design has minimal protrusions to snag on foliage, clothing, sling, or other gear. Provides seven length-of-pull positions, with a proprietary preset system that lets you pull the release lever and instantly snap the stock open to the position that's right for you. Set your preferred preset position simply by moving a machine screw. Depress the Preset button and pull the release lever again to open the stock the rest of the way; then hit the Remove button, pull the release, and slide the stock completely off the UBR main tube. Comes with interchangeable narrow and ACR-style wide cheek pieces that can be installed in three positions to move the cheekweld point forward or back as needed. Includes a slot at the toe for a 1¼" sling, plus front and rear QD pushbutton sling receptacles that may be positioned on either side of the stock. Storage compartment for spare batteries, cleaning supplies, or other small items has a positive-locking door that may be positioned on either side. Or remove the compartment entirely to give the UBR a skeletonized look. Removable buttpad of synthetic rubber over hard-polymer core gives a comfortable, non-slip shoulder fit without impeding maneuverability. Kit includes Magpul's machined aluminum "entry length" receiver extension that replaces your gun's factory extension. If mounting on a rifle with A1/A2 fixed stock, you must also install an M4 carbine buffer and action spring (not included) for correct weapon function with UBR mounted. Instructions included.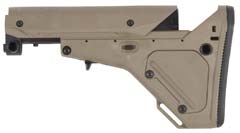 Magpul Original Equipment (MOE) carbine buttstock provides the quality, durability, and ergonomic benefits of Magpul's CTR stock in a rugged, economical, drop-in package. Strong, A-frame design is lightweight and comfortable, yet provides operator with plenty of support. Comb contour is wider than standard issue M4 stock to help shooter maintain a solid, consistent cheekweld. Streamlined exterior and protected release lever won't snag on clothing, gear, vehicle interior, or vegetation. Heavy duty, spring-loaded release lever allows fast length-of-pull adjustments and won't dig into your hand. Impact- and heat-resistant, polymer construction includes molded-in reinforcements at stress points, plus two slots for web slings and a hole for a toe-mounted sling swivel or clip-on sling. Soft, synthetic rubber buttpad increases comfort and helps prevent slippage. Mil-Spec fits 1.14" O.D. buffer tubes on Colt-manufactured M4 and similar mil-spec tubes that accept both four- and six-position collapsible stocks. Universal fits larger, 1.17" O.D. commercial carbine buffer tubes. Buffer tube, carbine buffer, receiver extension nut, and carbine-length action spring not included. Available in Black and three popular tactical colors, Dark Earth, O.D. Green, and Foliage Green.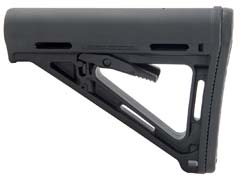 U.S. Tactical Systems AR-15/M16 BACKUP 20 BUTTSTOCK
USTS Back-up 20 M-16A2 buttstock with spare magazine storage -Now here"s an interesting idea. The Back-up 20 Buttstock for the AR-15/M16. The stock has a compartment to hold a spare 20 round magazine. Click here or the image below for more information.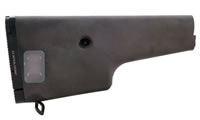 ---
AR-15 Mounting Rails and Mounts
Today's current AR-15 shooter has nearly unlimited choices for rail mounted accessories such as scopes,sights,tactical lights,bipod's and even knives can be attached via a 1913 Picatinny rail.Many AR-15's now have mounting rails standard whether its on a flattop receiver the handguard or both. A good example would be the Bushmaster Modular Carbine. However many times additional rails are added for a specific or need. A few examples for additional rails would be a scope riser for a flattop, multiple optical and back up iron sights (BUIS).
Modular riser mount clamps to flat top Picatinny cut AR-15 receivers in seconds, so you can mount a scope at correct eye level for maximum accuracy. Two, oversized, easy-grip thumbscrews and full-contact clamping along entire length of base provide rock-solid attachment to receiver without permanent modification of gun. Choose the precise rail height and angle to suit your needs; riser is secured to base with three Allen head setscrews. This mount will not shoot loose no matter how many rounds you send downrange. Use angled riser mounts when you need to raise or lower point of impact more than scope's internal elevation adjustment will allow. Entire unit-base, riser, and attached scope-can be removed quickly so you can use your rifle's factory sights. Reinstall unit in seconds without losing scope settings. True, MIL-STD 1913 Picatinny rail accepts both Weaver and Picatinny rings and mounts. CNC machined from 6061 T6 billet aluminum, then hardcoat anodized for outstanding strength and wear resistance.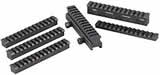 Rugged, yet lightweight riser mount positions your EOTech holographic sight .300" higher, so your rifle's iron sights are less apt to interfere with the EOTech's reticle, while preserving co-witness capability. Also helps you maintain a more comfortable, heads-up shooting form. Clamps to your flattop rifle's Picatinny rail with a single hardened steel setscrew; a securing tab up front locks into one of the rail's slots to ensure a solid, recoil-proof fit. Precision machined from solid aluminum, then mil-spec hardcoat anodized for extra strength and wear resistance. Check it out at Brownells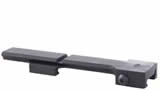 .500 inch high and including an extended rail allows a wide range of options. This mount also features a see through hole and 4 Stanag mounting holes for the ultimate in mount option. Length 7 7/8 inches, Weight 6.6 ounces.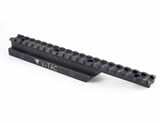 Lightweight, clamp-on rail eliminates the issue of front sight obstruction when mounting a tactical flashlight or laser sight to AR-15/M16, handguard rails. Raised, 45° offset keeps light/laser outside the sight picture when using iron sights or optics. Compact, 3-slot rail accepts a Weaver or Picatinny ring. Aluminum body with steel, clamping jaw provides superior holding strength with minimal weight increase.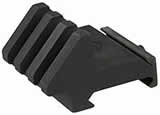 Weaver-style front base lets you mount electronic and optical sights and still retain the use of issue sights. Open center channel gives unrestricted view of sights; allows red dot and iron sights to be zeroed to the same point of impact. Provides clearance for M-4 and large diameter handguard's equipped with integral flashlights.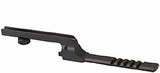 Solidly clamps to either side of an AR-15, front sight base. Features two Picatinny rails for holding lights, lasers, sling adapters and other accessories. Machined for a secure fit so it won't rotate or twist out of alignment.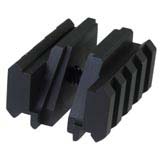 Lightweight, low-profile, rail clamps to handguard side rail to allow easy off-axis mounting of red dot sights in the 1:00 or 11:00 position. Lets operator transition almost instantly from long-range primary optic to non-magnified CQB sight without breaking cheek weld. Viewing tunnel through the mount helps minimize obstruction of operator's view of area around the target. Plenty of other uses, too; clamps to any MIL-STD 1913 Picatinny rail. Install on underside of handguard to position a laser or weapon light close to vertical forend grip for easy operation of controls with support hand. Precision machined from 6061-T6 aluminum billet, then mil-spec Type III hardcoat anodized for added strength. Side bar and crossbolt locking system ensures secure, zero-movement attachment to primary rail, yet allows removal and reinstallation of backup sight without loss of zero.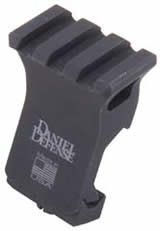 Low profile, "L-shaped" base attaches next to the vertical grip on railed handguard's to allow easy light/laser activation using your thumb, without your hand ever leaving the grip. Light/laser can be positioned at the 3 or 9 o'clock position to accommodate both right- and left-hand shooters. Includes an optional rail designed to fit any of the newer, smaller flashlights and lasers with integral rings. Precision machined from T6 aluminum billet, then hardcoat anodized for added strength and wear resistance. Steel hardware.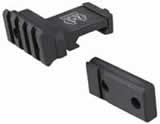 ---
Shilen is well knows as makers of some of the finest rifle barrels on the planet. It's best to have your bolt fitted and headspaced to the barrel. Brownells is offering Shilen barrels with matching bolts.

---
AR-15 Complete Upper
Theres no simpler way to change the personality of your AR-15 rifle than to have multiple complete uppers on hand. You can have different calibers barrel lengths etc.
This appears to be an interesting concept. Review the instruction sheet here.
MGI's Advanced upper receiver design features a Quick-Change-Barrel (QCB) system that permits rapid teardown of your AR-15 rifle or carbine into three, basic components (barrel, upper and lower assemblies) for fast storage in carryalls as small as a briefcase. At 15-inches overall length, this receiver/handguard combo is the perfect choice for MIL/LE personnel seeking maximum weapon concealment and portability in a compact, small arms package, plus the versatility to interchange barrels of varying length, contour, and twist rate for missions ranging from CQB to long-range sniper operations. Completely compatible with conventional, lower receivers having a small (.250) diameter front pivot pin. Ported, aluminum free-float tube features four, 6" long fixed rails, and includes a self-contained, steel barrel retainer, spring-loaded release levers and retaining block for solid barrel attachment. Accepts all standard weight, government profile barrels, and most heavy contours up to .980" diameter. Semi-stripped, A-3 flattop receiver includes forward assist and dust cover.
SPECS: 7075-T6 aluminum, Type 3 hard anodized, black, matte finish. 15" (38 cm) long. 1.7 lb. (.77 kg) wt. Requires removal of sling swivel, handguard keeper, delta ring, and barrel nut (no longer required with this upper). Fits most barrels up to .980" (25mm) O.D.

Click here for more images
Wilson Combat's brand new addition to the AR accessory list is the complete upper in .22LR. This upper has all the Wilson Combat features that you demand on your rifle: Quad-Rail, Flip-Up Front Sight, Accu-Tac Flash Hider all in the Flat-top M-4 package ready to go on your AR lower. Add the Flip-Up Rear Sight and your favorite optic to give you the most cost effective way to keep your skills sharp, while getting hours of fun shooting in with cheap ammo.
TR-M422UP
Description: Complete AR upper in .22LR.
Price: $995.00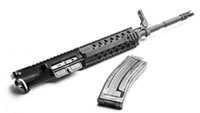 Colt Advanced Law Enforcement Carbine Upper
The Colt LE6940CK Monolithic Upper Assembly feature's Colt's new monolithic upper receiver. In addition to an uninterrupted full-length front rail, this upper receiver allows for a free-floated barrel. This LE6940CK Monolithic Upper Assembly also features a gas-block mounted front flip-up sight with bayonet lug and a MaTech backup rear sight. The barrel is Colt's standard 16.1" chrome lined M4 barrel with an A2 flash hider up front.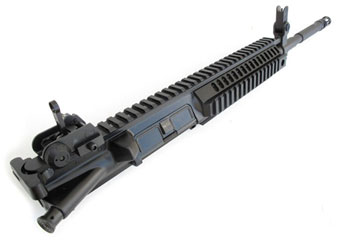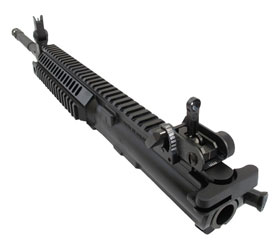 ---
Lately there has been an increase in large caliber upper receivers. These uppers allow you to use your AR-15 lower with a specially designed bolt action upper. Some are single shot while others are magazine fed.
The Tactilite is offered in two models (Tactilite T1 (single-shot) and Tactilite T2 (magazine-fed)) in three choices of caliber (.50 BMG, .416 Barrett and .338 Lapua) and three varieties of barrels: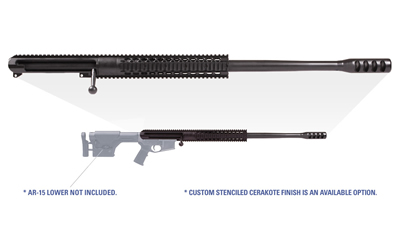 ---
Go to Page 2
---