Customize your AR-15/M16 - Page 2:
On this page you will find examples of the various options for optics, hanguards, bipods and rests for your favorite ar 15.
Return to Page 1
---
AR-15 Optics
The AR-15 being such a versatile firearm with so many configurations and calibers being available for the platform its possible to select the right optic for the task at hand. Fortunately most configuration of the AR-15 have either a mounting rail or removable handle making swapping optics at will a breeze without losing the zero point of the optic. The AR-15's that have the carry handle that cannot be removed there's quick change mounts that bolt to the handle as well as optics with the AR-15 carry handle mount built in.
Optic types are available for just about any purpose. For close quarters protection consideration would be given to dot or holographic sites with no or very low magnification. As target distance increases adjustable power dot or traditional reticle type optics should be considered. Its also quite possible to mount more then one optic on the weapon. A long range optic would be the primary optic while attached to that would be a doctor sight or small dot. That option would in some applications require tilting the gun at an angle to utilize the optic. For long range tactical optics an adjustable 4.5x-14x optic would be typical. For longer ranges such as target shooting at several hundred yards or varmint hunting an optic in the 24 or 32x would be appropriate. We will try to show some common examples below.
Aimpoint CompM2 red dot sights are now in use by many Armed Forces including elite Special Forces around the world. The CompM2, also known as the M68/CCO (when used by US forces), is the standard sight for the U.S. Army and U.S. Air Force as well as the armed forces of many NATO countries. Due to its compatibility with all generations of night vision device (NVD), the CompM2 is ready for use around the clock. The CompM2 holds up under the roughest physical handling and can withstand the most severe weather conditions and temperatures. In fact, Aimpoint CompM2 is completely submersible and will withstand pressures up to 2,5 atmospheres allowing it to be taken up to 25 meters underwater. When the CompM2 was initially released to the market, it became the benchmark against which all other combat optics are measured. While primary utilized by armed forces, hunters and sport shooters who want a professional grade sight can also use the CompM2.
Eotech HWS 555.A65
The Eotech HWS 555.A65 is a holographic optic based on the Eotech 553 sight with AA batteries (alkaline, lithium or rechargeable). An all black unit with dual ARMS throw levers with a 7mm raised base.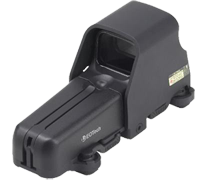 Aimpoint CompM4
The Aimpoint CompM4 series of sights are the finest sights that Aimpoint has ever produced. Improvements include improved energy efficiency that provides up to 8 years of continuous use from a single AA battery! The CompM4 sights incorporate an integral mount that eliminates the need for a separate ring, and can be customized with vertical and forward spacers to fit a variety of weapon systems. They can also be used by hunters and sport shooters that need night vision compatibility. To accommodate customers, the CompM4 series of sights are available in two versions: The CompM4 offers a high battery compartment, while the CompM4s offers a low battery compartment. In all other aspects, the Aimpoint CompM4 and Aimpoint CompM4s are identical.
The CompM4 is now the latest version of the US Army's M68 CCO (Close-Combat Optic), continuing a legacy that Aimpoint has maintained since 1997.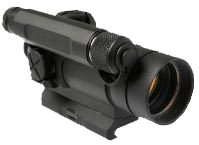 Barska 4x20 M16 Electro Sight Riflescope AC10838
Specifically designed for M-16 & AR-15. BARSKA 4x20 Electro Sight features a built-in bullet drop compensation system that is calibrated to 500 yards in 100 yards increments. It has an integrated base that easily mounts on to the carry handle of the rifle.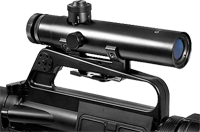 Docter Red-Dot Sight #55701
Docter Red Dot Sight Third 4th Gen 3.5 MOA utilizes two highly polished, optical quality glass lenses (compared to one plastic lens in some competitive models) sandwiched together and solidly set in the frame of the sight. A specially formulated DOCTER multi-coating is applied between the lenses, which protects the coating from scratches and abrasions. Coating on Docter Red Dot Sight 55701 assures a bright, clear sight picture, greatly reduces distracting, over-the-shoulder glare on the lenses, and eliminates parallax out to 40 yards.
Featuring a compact tubeless design the Docter Red Dot Sight 3.5 MOA Gen 4 Red Dot Scope is a low weight Docter Red Dot Sight that does not sacrifice in performance. Because of the small size and weight the Docter Red Dot Sight 4 Generation 3.5 MOA 55701 can be mounted directly on short barrel guns. The outstanding features of the new Docter Optics Red Dot Sight make it the most desirable sight of its type now available. Even though Docter Red Dot Sight 55701 is smaller, lighter in weight and more compact than most red dot sights, it is extremely strong and durable, withstanding up to 500 G's of recoil. The frame of this tactical sights red dot is made of stainless steel, brass and anodized aluminum.
The dot of the Docter Red Dot Scope #55701 model covers approximately 3.5 inches at 100 yards and is best for handgun hunting and rifle applications.
Brightness of the precise red dot is automatically adjusted in Docter Optics Red Dot Sight 3.5 M.O.A. 55701 to ambient light conditions through use of a light sensor which reduces the intensity of the dot in low light, and increases it for better visibility in bright conditions. Docter Sight Red Dot Scope 55701 has a built-in "Battery Save" mode which extends average battery life to approximately six years. Power is provided by an easy-to-replace, standard lithium Type CR 2032 3-volt battery.
The strong, all metal construction of the Docter sights, combined with hardened glass lenses, means long, trouble-free service for its owner.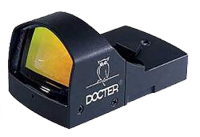 Leupold Mark 4 4.5-14x50mm LRT M1
The Leupold Index Matched Lens System® delivers unsurpassed sharpness across the visual field, brightness, and contrast for excellent target definition, even in low light.
Side focus parallax adjustment for fast, easy parallax focusing from 75 yards to infinity, from any shooting position.
Finger-adjustable ¼-MOA windage and elevation adjustments with audible, tactile clicks.
Once sighted in adjustment knobs can be zeroed.
Available with the Mil Dot, Tactical Milling Reticle® (TMR®), or Duplex® reticle.
The Mil Dot and TMR reticle's provide accuracy of range estimation for hunters and target shooters.
The 30mm main tube offers incredible strength and allows for the greater range of windage and elevation adjustment.
100-MOA each of windage and elevation adjustment.
Flip-open lens covers are standard issue with each Mark 4 LR/T riflescope.
Rugged and absolutely waterproof, LR/T riflescope's can withstand incredible abuse.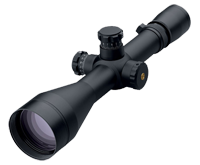 Trijicon ACOG 4x32 Advanced Combat Optical Gun Sight TA01NSN-DOC
The 4x32 ACOG Riflescope w/ 7.0 MOA Docter Optic delivers long-range and CQB adaptability. This level of flexibility hands the operator a necessary edge when the stakes are high, and the terms of engagement are uncertain.
While the ACOG can be employed for precision long-range shooting, high-stress fast-breaking action that requires split-second target acquisition will be handled with surgical precision by the Docter.
Longer range sighting through the 4x32 ACOG is comfortable and engaging. The generous field of view provides the ability to see your target and what's going on around the target. This is a rugged optic for the discerning professional who understands that success is the only acceptable outcome.
Rugged Construction forged 7075-T6 aircraft aluminum alloy housing
Flat-Top Compatible - Designed for use with M16/AR-15 firearms with flat-top receivers
7 MOA Docter Optic Water-resistant red-dot reflex sight for use in tandem with the ACOG. A wide field of view and a 7 MOA dot provide rapid target acquisition.
Self Illuminating Amber Crosshair Reticle Calibrated for 5.56 NATO. This self-illuminated reticle features three heavy posts at 3, 6, and 9 o'clock. Fine cross hairs intersect at your exact point of aim. Hash-marks on the 6 o'clock stadia provide hold-over points for long-range target acquisition. A single stadia at 12 o'clock ensures a rapid and effortless centering of your point of aim.
Trijicon's proprietary tritium-based illumination technology provides the cross hairs with a brilliant amber glow under low-light conditions. During day-time operations the reticle appears black, and remains completely visible.

---
AR-15 Bipod's and Rests
Low profile bipod features a convenient lever that locks the bipod securely to any MIL-STD 1913 Picatinny rail, but easily unlocks for complete bipod removal in just seconds. Spring-loaded safety button keeps the lever closed and prevents any chance of an accidental release. High strength, steel pivot assembly allows the legs to cant left and right so you can keep your sights level on uneven surfaces. Legs easily pull down and lock, then release by pressing the extra large spring loaded levers. Legs are individually adjustable from 7" to 9½" from bottom of rail, simply loosen thumbscrew on each leg, slide inner leg up or down, and re tighten the thumbscrews. Polymer composite feet with aggressive, non-slip soles grab and hold the surface to help prevent movement during rapid fire. Machined aluminum base and bipod are mil-spec Type III hardcoat anodized for durability.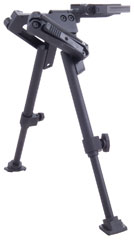 Sometimes the simplest design works the best. This compact bipod has legs that fold down and back up with the push of a button, silently and smoothly, allowing you to stay focused and on target. Individual leg height is set with a recessed push-button that totally eliminates any chance of an accidental release. Legs are preset for the optimum traverse angle and left/right cant; will never require adjustment. Non-slip, molded feet grab and hold the surface, so you won't drift off target during rapid fire. Minimum leg length is 8" from bottom of rail, adjustable in three positions up to 2½" longer to fit individual shooters. Machined aluminum base with durable, polymer composite legs. Secures to picatinny rail with steel latch and Allen head screws. Includes wrench.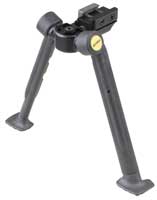 ---
AR-15 Handguard
Carbine length, two-piece vented forearm snaps solidly in place and replaces factory plastic handguard on AR-15 type rifle. Each of the four MIL-STD 1913 Picatinny rails contains 15 mounting slots for optics, lasers, vertical grips, bipod's, and lights. Two-piece design permits removal of lower section to install a grenade launcher or shotgun. Both pieces remove easily for cleaning and maintenance. Rails are laser etched with white alphanumeric position markings to aid in fast mounting and remounting of optics and accessories. Large vent holes allow plenty of air circulation for barrel. No gunsmithing, no permanent alterations to rifle required.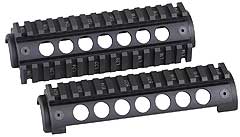 Four, integral, full-length Picatinny rails machined into a single piece of high-strength, rigid aluminum forms a handguard that delivers maximum stability and reliability. Stress-free tube design ensures complete free-float of the barrel for optimal accuracy. Barrel nut locks in place with two anti-rotation screws to ensure handguard remains locked in place, even under the added torque from vertical grips. Four, threaded, swivel stud mounting holes allow attachment of Yankee Hill threaded swivel stud at the top, bottom, or either side of the handguard. Available in Carbine or Rifle lengths. Heavy duty, Standard model features narrow cooling vents that run lengthwise along the handguard. Lightweight model is a skeletonized version specifically machined to reduce weight from the rails; oversized cooling holes provide maximum ventilation and allow clear view of the barrel for the ultimate tactical look.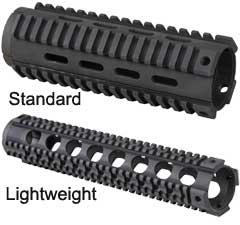 Return to Page 1
---