Remington Model 700 Customizations
---
Click the Image Below to See a New Version of this Page in the Making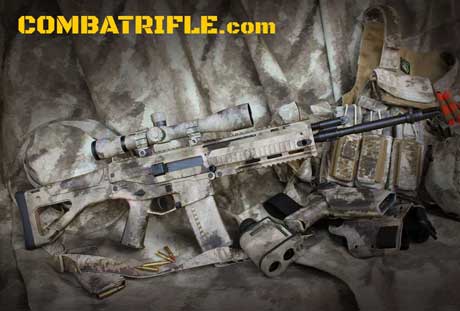 Visit Modularrifle.com for more remington 700 information

---
Sat through a second video today, this time it was "AGI BUILDING THE TACTICAL OR VARMINT RIFLE". This was looked like a pretty old transfer but the quality wasnt bad. For the most part I found the video very interesting. The author Darell Holland takes you through the process of building a custom rifle based on a V block bedded Remington 700 action and a McMillan stock. For the most part he does a good job taking you through the process in detail with much explanation as to "Why". I really enjoyed the simplicity of his shop. A milling machine, small lathe and a bead blaster was all he used. No special jigs and fixtures. This video is great for anyone who would like to know how to do the process from start to finish. I think this is one of the better AGI video's. If you have access to these metalworking machines an indicator, chamber reamer and a few basic tools this videi will instill the confidence to build a rifle.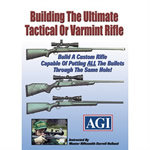 ---
These days Remington does a fine job manufacturing accurate rifles. However there may come a time when the old model 700 is not shooting groups as tight as it once did or maybe you just want the best accuracy that can be achieved from your rifle. A replacement barrel is a good investment. Its like getting a new and more accurate gun at half the price.
All barrels for a Remington model 700 will be required to be fitted to some degree by a gunsmith. If you choose a barrel such as the Shilen it requires the least amount of work as it is pre threaded with a cut chamber. This means it only needs reamed to the final dimension. Other barrels are purchased as blanks and must be cut to length, threaded and have the chambers cut and reamed for your desired caliber. In many cases the barrel will require some sort of coloring or protective coating as many barrels are sold "in the white".
Note: There are no drop in barrels for a Remington 700. All replacement barrels must be fitted and headspaced by a qualified gunsmith.
---

Download the ACCURACY INTERNATIONAL CHASSIS SYSTEM (AICS)brochure here.
From the fine folks who developed the ARCTIC WARFARE rifles comes the REMINGTON 700 AICS chassis system. THE AICS is designed for those who want the absolute best platform for their REMINGTON 700 MATCH or SNIPER RIFLE.
Accuracy International was started in 1978 by a group of national and international target shooters, one of which was a two time Olympic Gold Medalist. Designed by shooters, for shooters, the Accuracy International Chassis System (AICS) presents Remington 700 owners with an advanced chassis system that is not only superbly functional but ergonomically inclined as well. The rugged platform of the AICS combines the leading characteristics of steel and polymer. Featuring a full-length, aluminum, self-aligning, self-bedding vee block this system more than supersedes traditional bedding practices.
Technical Information:
Features:
Full Length Aluminum Chassis: Attached to the action via two bolts (included); features a self-aligning vee block bedding system.
Folding Chassis: The 2.0 AICS features a rapid deployment folding feature which is actuated by pulling the stock in the rearward position. When folded, the overall length of the 2.0 is reduced by 8" however this option adds .4lbs to the weight of the AICS. The 1.5 AICS is exactly the same as the 2.0 except it features a fixed stock.
Stocksides: Polymer stock sides encapsulate the aluminum chassis. The polymer sides provide for a secure grip, are impervious to regular cleaners/lubricants and are available in black, green or dark earth.
Adjustable Cheekpiece: Ambidextrous for right or left hand shooters. Adjustable for height as well as windage (left and right), this cheekpiece optimizes cheek weld for a superior shooting experience.
Buttpad: Includes two spacers with widths of .4" and .8" in order to create a customized length of pull specific to the user.
Sling Attachment Points: Four sling swivel attachment points (two per side) allow for multiple sling mounting positions.
Magazine: Included with the AICS is a flush fitting 5-round detachable magazine manufactured from industry-leading corrosion resistant steel.
Weight:

The 1.5 Short Action AICS weighs 5.55 lbs, the 2.0 Folding Chassis option adds an additional .4 lbs
The 1.5 Long Action AICS weights 5.75 lbs, the 2.0 Folding Chassis option adds an additional .4 lbs

Barrel Channel: Accommodates a barrel up to 1-1/4" in diameter.
---
Ipsum
---
Converts blind magazine 700 ADL to convenient hinged floorplate BDL. Improves the appearance and function of ADL rifles. Ideal when adding aftermarket stocks to an ADL. Provides a convenient, safer method of removing cartridges from the rifle. Kits include the following Remington factory parts: triggerguard, magazine, magazine follower, spring and spacer. Short Action-Small bolt face. Short Action-Standard bolt face. Long Action-Standard bolt face. Long Action-Magnum bolt face.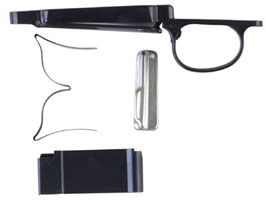 ---
Ipsum
---
Limited time from Brownells
It's simple. For nearly 50 years, the legendary 700 has been the flagship of commercial rifle actions, providing incomparable strength, proven reliability, superior accuracy, plus the popularity to support the largest aftermarket rifle parts supply in the industry. From competitive shooting and law enforcement to the wildest reaches of every huntable continent, the 700 has proven itself with match-winning performance and life-saving dependability. It still ranks the number one choice of custom gun makers and discriminating shooters everywhere.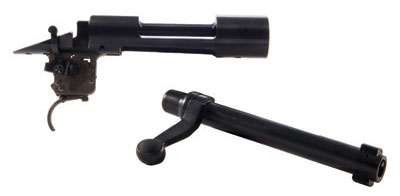 This is, indeed, a limited supply of less than 500 actions, and will not be cataloged at Brownells...or anywhere! We can only offer what we have in stock — less than 100 small, short action receivers with .223 bolt face, and less than 400 standard actions with .308 bolt face. We simply cannot guarantee availabilty of these actions at any time in the foreseeable future after this sale. Once sold out, it's back to scrounging the gun shows and searching the Internet for a lucky deal on something used, or pirating the action from a brand new gun. While supplies do last, we'll be your exclusive outlet for the most successful, modern production rifle action ever designed.
The Blackheart International® custom bolt action is a drop in replacement for the popular Remington 700 series actions, using the same stock inlet and trigger. Available in short, long and .338 Lapua length. Actions are available with .223, .308 and magnum bolt faces. The .338 Lapua length is specifically designed for the .338 Lapua cartridge. This action is .465 longer to handle the length of the Lapua cartridge and has a .050 larger outside diameter to accommodate the larger .750 bolt diameter. The increased external dimensions also provide for a larger bedding surface.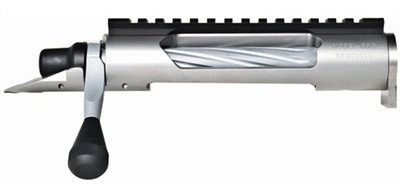 ---
Remington 700 Scope Bases
Ipsum
---
Remington 700 Tips, Tricks and Suggestions
Free Float Barrel
Pillar Glass Bed
Bipod
---