Handgun Storage:

Handgun Safes

---
GunVault MicroVault
GunVault has come out with its smallest safe ever: The MicroVault. The MicroVault's unique notebook-style design allows one to securely transport a handgun or valuables. Incredibly compact and lightweight, this safe will fit inside a briefcase or daypack and can be quickly accessed with GunVault's No-Eyes keypad.
The MicroVault features more than twelve million user-selectable access codes and audio feedback to instantly confirm correct keypad entries. A built-in computer blocks access after repeated invalid keypad entries and the tamper indicator notes invalid entry attempts. In addition the audio disable feature allows the option for stealth mode operation. Also available is GunVault's MicroBioVault, which uses biometrics to allow owners quick access to the safe's contents. MSRP $139.95 (MV500) and $215.95 (MVB500).
The GunVault MicroVault and MicroBioVault specifications:
- Dimensions: 11 W x 8 H x 2 D
- Weight: 4.5 pounds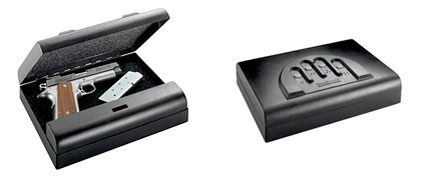 ---


Future Content
Will go here

---
Car Console Vaults
Console Vault has an interesting line of vehicle specific security lock boxes to be mounted in vehicles.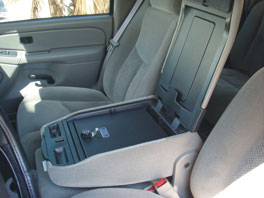 ---
---
Contact us for more info