RUGER 10/22 PRECISION RIFLE
---
INTRODUCTION

I have had a plan in the works for quite some time to build some variation of a custom competition 10/22 that would be a little different than what you see at most web sites. My initial thoughts were to buy a simple 10/22 and throw away the stock parts and build up the new one a piece at a time. As I thought about it that seemed silly and wasteful. It would have been a much different story If I already owned a RUGER 10/22 and was looking to upgrade. But I was starting with a blank slate and the options were wide open. To that end I had my eye on the CLARK CUSTOM 10/22 BARRELED ACTIONS at Brownells for some time and that ended up being the basis for this project. I will discuss the barreled action in more detail below. Another area I wanted to be different was with the stock. I did not want a rainbow colored laminate stock which seems to be the rage these days. The stock would need to be a solid colored wood or something synthetic. I was even considering an unfinished stock so I could finish it to my tastes. One of the things I had not considered was the availability of left handed or ambidextrous 10/22 stocks. Being left handed eliminated a lot of stocks. If that wasn't bad enough the left handed and ambidextrous stocks were mostly special order and I wanted a stock as soon as possible. After all was aid and done I had only one option and it was one that I was pleased with. That stock is the BELL & CARLSON RUGER 10/22 AMBIDEXTROUS ODYSSEY STOCK.
Now that the two major assemblies were found the project was born. As in typical fashion of the way I operate below you will find the parts breakdown, comments and links to purchase from if so inclined.
Enjoy!
---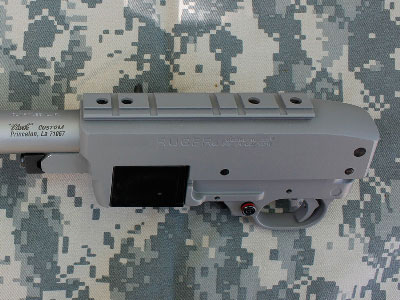 My preference would have been for the TARGET FLUTED STAINLESS 10/22 BARRELED ACTION but unfortunately by the time I placed my order the fluted model had gone out of stock so I ended up selecting the TARGET STAINLESS 10/22 BARRELED ACTION. I suspect Brownells only stocks one or two of each model and they replenish after either all are sold or a predetermined amount of time goes by. I actually think I may shot myself in the foot by posting a link to the CLARK CUSTOM BARRELED ACTIONS on my .22 forum. It was after the post that the fluted model disappeared.
SPECIFICATIONS:
Trigger job with overtravel stop.
Aluminium Receiver
Installation of Clark match barrel.
Weaver style scope base Bolt release modification.
Tune Extractor
Hone hammer & sear engagement surfaces
Overtravel screw installed in trigger
Wolff Trigger Return spring
Crisp 2.5 to 2.75 pound trigger pull
Machined from Walther premium grade blank
Clark match chamber
Recessed match crown
Heavy barrel .920" OD
Barrel length 21.5"
10 Round Magazine
Matching gray finish on barrel and receiver
Cost:
I know some of you will look at the price and say "WHAT ARE YOU NUTS?" Spend all that money on a 10/22 barreled action. Well if you consider the cost of the match barrel, replacement aluminium receiver, trigger job, tuned action, tuned extractor, trigger overtravel screws, picatinny rail and anything else I may have missed the CLARK CUSTOM might actually be a value
---

Finding a left-handed or ambidextrous 10/22 stock that was suitable for this project turned about to be the most difficult decision. In the end it really came down to one stock, the BELL & CARLSON ODYSSEY 10/22 STOCK. What made this selection a no brainer was the incredible price from Stockystocks. They were $100 or more cheaper than everybody else.
---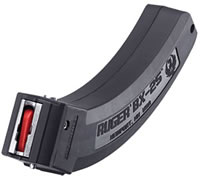 There has been a recent entry into the 10/22 magazine market. After well over 45 years RUGER has finally introduced their own in house designed 25 round magazine labeled the BX-25.
---
I settled on the Nikon ProStaff Rimfire 3-9 x 40 Black Matte Riflescope (BDC 150).
Precise, repeatable, 1/4-inch at 50 yards reticle adjustments
BDC150 reticle is .22-LR specific
Paralax-free at 50 yards
Fully multicoated optics
Nitrogen filled and o-ring sealed
Hand-turn reticle adjustments
Waterproof/Fogproof
Quick focus eyepiece
Uses 1″ rings
---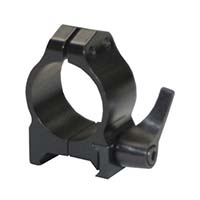 I went with the WARNE MAXIMA QUICK DETACH SCOPE RINGS based on a recommendation from a friend and fellow RUGER 10/22 nut. Scope rings are one of those things that is very difficult t to judge quality on based upon a few internet pictures. It isn't until you have a set of WARNE MAXIMA SCOPE RINGS in your hand do you appreciate the precision, quality and workmanship that goes into these scope rings.
---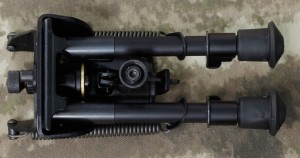 The bipod was an easy choice. I bought a HARRIS BIPOD HBRMS 6"-9" The height was the hardest thing to settle on. In the end I decided if it was too low I could always put something under the legs. If it was too tall it would be difficult to shoot with properly.
The part that I wasnt sure of was how to mount the sling stud in the alumium channel if the stock. As it turns out this mounting system, a T-Slot is a standard. Well actually two standards. There's an American Mount HB6A and a European Mount HB6. The Odyssey stock utilizes the European style 3/8" HB6.
---
RUGER 10/22 OTHER UPGRADES
There's a few items left over after all is said and done.
---
Very important detail from CLARK CUSTOM. NO HYPER VELOCITY AMMUNITION or damage and accelerated wear may result voiding the warranty. Use only standard high velocity ammunition.
That said I placed an email into CLARK CUSTOM regarding what ammunition they test fire for accuracy with these rifles. I have not heard back. Perhaps I sent one too many emails or got picked up by a spam filter. Without hearing back from CLARK CUSTOM I will start off with a few of my favorite types of match rimfire ammunition.
Federal Premium Gold Medal Ammunition 22 Long Rifle 40 Grain Lead UltraMatch UM22

Federal Champion Target Ammunition 22 Long Rifle High Velocity 40 Grain Lead Round Nose (The cheap Walmart Bulk .22's)

RWS R-50 Ammunition 22 Long Rifle 40 Grain 213-4187

RWS Match Ammunition 22 Long Rifle 40 Grain 213-4225

RWS Target Rifle Ammunition 22 Long Rifle 40 Grain 213-2478

Eley Match Ammunition 22 Long Rifle 40 Grain Lead Round Nose A01100

Eley Tenex Ammunition 22 Long Rifle 40 Grain Lead Round Nose A00100

CCI Green Tag Competition Ammunition 22 Long Rifle 40 Grain Lead Round Nose

Lapua Midas+ Ammunition 22 Long Rifle 40 Grain Lead Round Nose
---