Combat Rifle Faq:
---
The "Picatinny Rail" is a term that has evolved in the firearm industry from a military standard, specifically MIL-STD-1913 (AR) which was adopted on February 3, 1995. The title of the publication is "Dimensioning Of Accessory Mounting Rail For Small Arms Weapons" and this document specified exactly what the dimensions and tolerances were for any mounting systems that were to be submitted for acceptance by the military. The term "Picatinny" comes from the place of origin for this system, the Picatinny Arsenal located in New Jersey. MIL-STD-1913 specifies the dimensions required for consideration, including length, width, height, and angles and the tolerances allowed for each measurement. The key distinction of the MIL-STD-1913 lies in the specification for the profile and the recoil groove.
What are the differences between the "Picatinny" and the "Weaver" systems? The profile of the two systems is virtually identical. Depending on the quality of the machining done by the manufacturer, the two systems should be indistinguishable from the profile. The key difference lies in the placement of the recoil grooves and with width of the grooves. MIL-STD-1913 (Picatinny) grooves are .206" wide and have a center-to-center width of .394". The placement of these grooves has to be consistent in order for it to be a true "Picatinny" MIL-STD system. Weaver systems have a .180" width of recoil groove and are not necessarily consistent in a center-to-center measurement from one groove to the next. In many instances, a Weaver system has a specific application that it is machined for, so interchangeability is not necessarily an issue. A MIL-STD-1913 system must adhere to the specifications listed above in order for it to be considered MIL-STD, since the military desires uniformity in the recoil grooves to allow for different systems to be mounted on the weapon with no concern for compatibility.
Now, what does this mean to you? Boiled down, it means that accessories designed for a Weaver system will, in most cases, fit on a "Picatinny" system. The reverse, however, is probably not the case. Due to the larger recoil groove, "Picatinny" accessories will not fit a Weaver system. There are, of course, exceptions to every rule, but for a good rule-of-thumb, "Picatinny" won't fit Weaver, but Weaver will fit "Picatinny". View the actual picatinny specs in .pdf format. File 1, File 2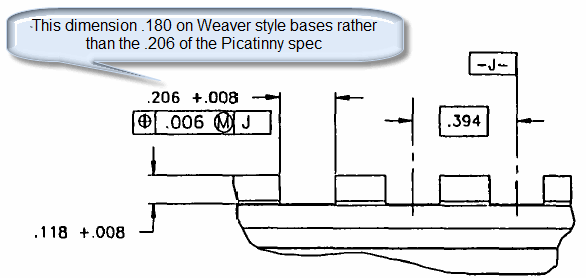 ---
So you have an AR-15 variant and you want to perhaps replace the trigger or use your lower receiver with an upper receiver that is not the original unit shipped with the gun. Well if your gun is not manufactured by Colt and was manufactured to Mil spec's you should be fine. However if you own a Colt and depending on when it was manufactured there are differences in the trigger/hammer pins as well as the front and rear takedown pins that may cause some grief or confusion at first glance. Well don't sweat it any longer its not really a big deal. For triggers there's a few manufacturers who offer triggers for either style gun. Use the dimensions below to determine your needs. These dimensions listed are for the mil spec or "small pin" and are the standard AR-15 configuration. Its also quite possible to have a Colt that has a mixture. When mating upper and lower receivers you only need to be concerned with the front takedown pin. If your front take down pin is larger then what's listed below fear not. DPMS has addressed the issue for about $3 with their offset bushing #LR-OB. or for about $8 you can utilize the DPMS AR-15 Receiver Adapter. Click the images below for more information.
Front Takedown Pin .248"
Rear Takedown Pin .248"
Trigger and Hammer Pins .155"
Bushmaster also seems to have addressed the pin size issue as well. The Offset Pin adapts a Colt Lower Receiver (with large hole) to M16 Forward Assist type Upper Receiver with smaller hole. The Reverse Offset Pin Allows mounting a Colt Upper Receiver with large pin holes to a mil. spec. (small hole) push pin type Receiver.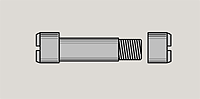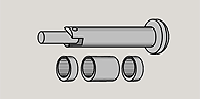 I have also heard that its possible to utilize the JP Enterprises Rear Tensioning Takedown Pin but have been unable to verify it as fact.
---
No. Wikipedia explains it nicely about 2/3 of the way down the page and an article with chamber illustrations here. Safety Note: Only shoot the caliber of ammunition specified by the guns manufacturer.
After writing the above I found this write up from Guns & Ammo magazine and felt it worthy of the reprint below.
Some AR-15 purists may be a bit confused when they just read me to say that the new Stag M6 SV is designed as a pure accuracy tool, with a mil-spec 5.56mm NATO chamber instead of a commercial SAAMI-spec .223 Remington chamber. Confused because many reference sites that attempt to explain the differences between the 5.56mm and the .223 chambers wind up saying something like "The 5.56mm and .223 Rem chambers are nearly identical, except for lead, which is longer in a 5.56mm chamber… You can fire .223 Remington cartridges in 5.56mm chambers with this longer lead, but you will generally have a slight loss in accuracy and velocity over firing the .223 round in the chamber with the shorter lead it was designed for." That may be theoretically true, but other issues trump; for one, the fact that the 5.56mm round, loaded to military specifications, typically has higher velocity and chamber pressure than the .223 Remington, and firing higher-pressure 5.56mm cartridges in a .223 chamber with the shorter lead can dramatically increase chamber pressure. In some cases, this higher pressure could result in primer-pocket gas leaks, blown cartridge case heads and functioning issues. The 5.56mm military cartridge fired in a .223 Remington chamber is considered by SAAMI to be an unsafe ammunition combination. So today we see most high-quality accuracy AR-15 models offered with 5.56mm chambers instead of .223 chambers, so people won't be loading .223 chambers with 5.56mm ammo; the other way is OK. It's a safety issue, not an accuracy one.
Besides, the accuracy "penalty" is much overrated. AR-15s designed for competition-grade long-range shooting, like the Stag M6 SV, are intended for use with ballistically stable, heavy-bullet loadings, which deliver best from barrels with rapid-twist rifling (like the M6 SV's 1:8 twist), and are designed to take advantage of the 5.56mm chamber's longer lead, which allows such bullets to be seated longer for increased performance. And even with factory ammo, the differences are only really apparent if you're operating at the 1,000-yard match level. To prove the point, I put the new Stage M6L SV through a series of benchrest firings at both 100 and 200 yards with a representative range of bullet weights in commercial .223 Remington ammunition--looking to see if this "sub-optimum" cartridge/chamber combination would keep the gun from reaching Stag's claimed one-half -MOA performance standard.
Bottom Line: If the barrel is stamped 5.56 you can fire both 5.56 and .223 ammunition. If the barrel is stamped .223 you can only shoot .223 ammunition out of it.
---
No. Others will disagree
There's an informative article here from the Fulton Armory and here at the Book of Kai that explains the differences. Safety Note: Only shoot the caliber of ammunition specified by the guns manufacturer. This information should be stamped on the gun. If it is not stamped on the gun contact the manufacturer.
Note: Links "here" and "Book of Kai"above no longer active. Sorry
---
It is a decision based on how you intend to use your AR15 and what bullet weight you plan to utilize the most. This has been best explained other more knowledgeable folks then I. Check out the links below.
---
The receiver extension tube, buffer tube mil spec versus commercial question comes up often. Identification is easy. The mil spec tube outside diameter measures 1.140" and the commercial tube outside diameter measures 1.170". When replacing your buttstock chose the correct one for your diameter tube. Consider though a buttstock designed for a commercial extension tube will fit over a mil spec extension tube. The buttstock will however have a lot of undesirable play.
Examples of each: Colt is mil spec, DPMS is commercial.
Download the pdf's below for detailed information.
When choosing a receiver extension tube to build a rifle there is little difference as long as you buy the same type. The actual threads that attach to the lower are the same on both extension tubes. There's only one compelling reason to choose the mil spec tube and that's the variety of buttstock options available. In general there are less commercial dimensioned options but the lines are getting closer.
A note on quality: There are purists that will favor one tube over another for its dimensions or the method of manufacturing. I say don't sweat it, I have never heard of any buttstock extension tube failing without significant effort from a human.
---
NO, The lower receiver is not large enough to accommodate the .308 Winchester/7.62x51 Cartridge
---

---
Contact us for more info