Shooting News 2:
News Page 1 2 3 4 5 6 7 8 9 10 11 12 13 14 15 16 17 18 19 20 21 22 23 24 24
---
FNH has just released some info on the 2009 product line, read below.
McLean, Va. FNH USA has new products and many modifications to its line for 2009. Highlights include:
SCAR 16S and SCAR 17S As close to USSOCOM as you can get without enlisting.
Experience the civilian-legal semi-auto only version of the rifle chosen by U.S. Special Operations Command as its first new rifle since the early 1960's. The SCAR 16S is chambered in 5.56X45mm NATO (223 Rem.) while the SCAR 17S fires the 7.62X51mm NATO (308 Win.) cartridge. The innovative gas-operated, short stroke piston system reduces fouling for greater reliability. The side folding polymer stock is fully adjustable for comb height and length of pull and is colored authentic USSOCOM Flat Dark Earth. Both 10 and 30-round detachable box magazines(DBM) are available, and the ambidextrous operating controls instantly adapt the SCAR S-Series to any user.
Accessories available for the SCAR include vertical foregrips, rail protective covers, extra magazines, and a nylon tactical sling.
FNAR Standard and Heavy Bolt action accuracy in an autoloading rifle
A descendant of the legendary Browning Automatic Rifle (BAR), the FNAR -- available in standard or heavy -- puts autoloading speed and bolt-action accuracy into one powerful package. Chambered in 7.62x51mm NATO (308 Win.), this versatile rifle offers an ambidextrous magazine release and a standard contour 20" cold hammer-forged MIL-SPEC fluted barrel with hard-chromed bore and target crown. Models with 10 or 20-round detachable steel box magazines (DBM) are available. A one-piece, receiver-mounted MIL-STD 1913 optical rail comes standard with a trio of similar accessory rails attached to the stock's fore-end for mounting a battery of tactical lights and lasers.
Accessories available for purchase include rings, scope and a bipod.
FN Five-SeveN with fixed C-More combat sight
A new configuration of the extremely easy-to-shoot, low recoil autoloading Five-SeveN pistol includes a fixed C-More combat sight. Firing the high velocity 5.7x28mm cartridge, the Five-SeveN sports a hammer-forged and hard chrome lined barrel for enhanced accuracy and extended service life. It is available in matte black, olive drab, or flat dark earth frames and can also be purchased with an adjustable three dot target sight or a fixed C-More Systems day sight.
FNP Shooter's Pack Everything you need in a lockable case
Selected models of the FNP-45, FNP-40 and FNP-9 handguns are available with the FNP Shooter's Pack. Complete with a matte black Blade-Tech™ molded polymer belt holster, adjustable belt paddle assembly, molded double magazine belt pouch and a yellow polymer training barrel, this tidy package is enclosed in a special lockable hard case ideal for storage or transportation.
PS90 RD
An ultra-compact C-More reflex sight is now standard equipment on the PS90 RD (Red Dot). Chambered in the high velocity 5.7x28mm cartridge, the PS90 operates on a straight blowback operation and fires from a closed bolt for greater accuracy and reliability. The PS90's civilian legal 16.04" cold hammer-forged MIL-SPEC barrel has an integrated muzzle brake to reduce recoil. Dual magazine latches, cocking handles and an innovative synthetic thumbhole stock with a molded-in sling attachment point help make the PS90 fully ambidextrous.
New this year, to go along with the PS 90 is the PS 90 Fitted Soft Case with a black cordura outer shell and reinforced corners, padded handle and heavy duty lockable nylon zippers.
---
Hornady is launching their new line of Critical Defense ammunition loaded with the new FTX bullet at the SHOT Show. Hornady's Steve Johnson said that he was the one to test it against other hollow points on defense media (like blue jeans and leather) and found that the materials used in Hornady's Critical Defense ammo do not enter the cavity of the bullet nose and distort the expansion process like other hollow points do. Conventional hollow points have always had issues with the cavity becoming clogged with fibers from clothing, rendering them ineffective in terms of expansion in soft tissue after they encounter the clothing barrier. But Hornady's Critical Defense cartridge plugs this with their closely-guarded rubber material making for a clean penetration and predictable expansion with every shot. Nickel cases eliminate corrosion and premium low flash propellants deliver maximum velocity in short barreled handguns. To start Hornady is offering this in .380 Auto (90-gr./1,000 fps/200-ft.lbs.), .38 Special (110-gr./1175 fps/337-ft. lbs.), .38 Special +P (110-gr./1270 fps/394-ft.lbs.) and 9mm Luger (115-gr./1140 fps/332-ft.lbs.).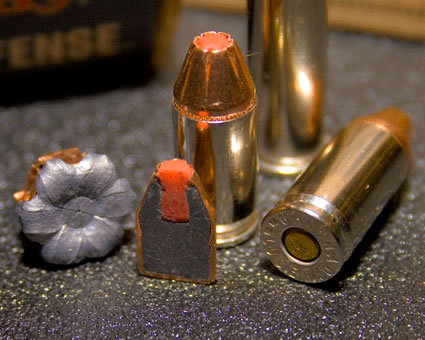 ---
The new LaRue OSR is a complete rifle, built from the ground up, using a newly designed upper-receiver platform, combined with a lower, inspired from our successful 5.56 MM lower. Both upper and lower are CNC-machined from billet, for the optimum fit and consistency...translating into maximum accuracy at the range. The OSR comes standard with a 16.1" LW-50 stainless steel barrel, with other barrel lengths available upon request.
The revolutionary one-piece continuous upper-rail has a built-in 20 MOA cant, and allows optics to be mounted anywhere on the upper surface. This single-piece backbone provides monolith-strength with the ability to replace the upper rail with a variety of cant packages for any application.
Base Model $2,485.00
Base Model comes complete with A2 Rifle Stock and A2 Grip as shown above, plus two M110-compatible, 20-round magazines. Scope, rings and bipod not included in price.

Read the news release here for the Larue Tactical Stealth OSR
---
McLean, Va. FNH USA announces the exciting FN SCAR™ 16S for the civilian enthusiast was delivered to its dealer base at year end 2008. This first group of rifles is part of a one-of-a-kind initial production run.
These limited FN SCAR 16S initial production edition rifles are unique and were specially engraved by FNH USA, LLC on both sides of the receiver rather than on one side only. In addition, this FN SCAR 16S initial production edition rifle has been specially packaged in a durable, lockable, waterproof Hardigg® Storm hard side case that is ideal for storage and transportation. They also have been delivered with a certificate of authenticity.
This Certificate of Authenticity attests that the FN SCAR 16S rifle listed above is part of the initial limited production edition that marks the 2008 introduction of the FN SCAR Semi-Automatic Rifle in the United States of America.
The semi-automatic FN SCAR 16S is a modular, lightweight and highly effective rifle with exceptional durability. It features:
A free floating, cold hammer-forged MIL-SPEC barrel with a hard-chromed bore
An innovative gas-operated, short stroke piston system for fouling reduction and improved reliability
Fully ambidextrous operating controls that allow adaptability for any user
A receiver-integrated MIL-STD 1913 optical rail plus three accessory rails to allow use of a wide variety of tactical lights and lasers
A side-folding, polymer stock that is adjustable for comb height and length of pull
High-velocity 5.56x45mm NATO (223 Rem.) cartridge chambering
The SCAR is available in authentic USSOCOM Flat Dark Earth with a 16.25" barrel length and either a 10 or 30-round magazine and weighs only 7.25 lbs