Shooting News 9:
News Page 1 2 3 4 5 6 7 8 9 10 11 12 13 14 15 16 17 18 19 20 21 22 23 24 24
---
WEAVER OPTICS Tactical Series Riflescopes
Weaver has come out with a new tactical line of riflescopes for the precision shooter. The new Tactical Series (MSRP: $890.95 - $994.49) includes two magnification options and is currently available in stores now.
These new tactical scopes are manufactured to the strictest tolerances in order to perform in the harshest environments. From rugged one-piece construction and waterproof/shockproof/fogproof performance to argon purged tubes and fully multi-coated lenses with extra hard exterior coatings, these new tactical scopes help deliver precise shot placement under adverse conditions.
Other factors that establish these new scopes as serious contenders in the tactical market include:
Powerful 5 time magnification
First focal plane reticles
30mm tubes
Side focus parallax adjustment
Serious shooters will also appreciate the reset-to-zero turrets and Mil Dot reticle as they choose between the 4-20×50mm or 3-15×50mm offerings in matte finish.
For more information on this product, visit www.weaveroptics.com.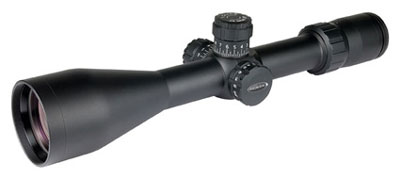 ---
GG&G Spring Actuated Flip Up Front Sight
GG&G's new Spring Actuated Flip Up Front Sight For Tactical Forearms has been redesigned to be lighter in weight and quicker in deployment. Although specifically designed to provide the correct sight height when mounted on a tactical forearm, the sight can also be installed on gas blocks that are the same height as the upper receiver. During the redesign process, GG&G developed a less expensive method to CNC machine the components which allows for a reduced MSPR while remaining built to quality standards here in the US.
With just a push of a button, the front flip up sight can be quickly deployed on target. The sight not only springs into an on target position, but solidly locks into the deployed position, preventing accidental depression of the sight during a tactical situation.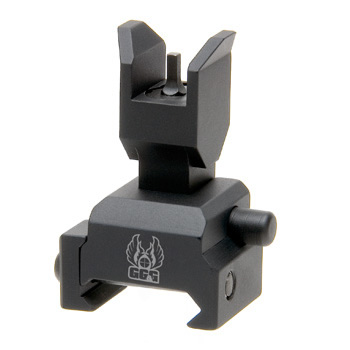 Another push of the button and the sight is free to be folded into the locked down position. The sight actuator button has been located on the left side of the sight, facilitating easy operation with the off hand, leaving your fire control hand in the proper tactical position—near the trigger.
Not only is the sight set for use on the AR-15, but will co-witness when mounted to the tactical forearm of an AR-10. The sight stem has been designed to fold rearward. The dovetail interface can be easily installed with the included wrench.
As an option, a Trijicon Tritium AR-15 Front Sight Post can be ordered with the sight for increased accuracy in low light operations. This tritium front sight option is the perfect addition for police and tactical users who may be moving in and out of darkness in real time.
For more information on this and other GG&G products, visit www.gggaz.com.
---
GG&G A2 Back Up Iron Sight (BUIS)
Improved and Redesigned for 2008, the GG&G A2 Back Up Iron Sight (BUIS) provides the operator with an easy-to-install and easy-to-operate flip up rear sight, and includes the all important locking detent. Improvements include a more tactile and ergonomic windage knob, a counter sunk crossbolt, and more streamlined body.
The GG&G A2 BUIS is always at the tactical ready once placed in the up position. The sight cannot be folded down without depressing the spring assisted detent release button located on the left side of the sight base, eliminating the possibility of accidentally lowering the sight. This sight is used by elite armed forces and law enforcement teams worldwide.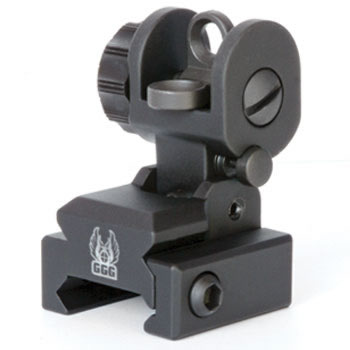 Here are additional features of the A2 BUIS:
Weighs a bit more than 2 oz.
Standard military A2-style double peep aperture, allowing for end user known point of impact.
Full windage adjustment with improved knob.
Made of aluminum alloy and hard coat anodized in non-reflective black mil-spec finish to provide combat durability.
Options to request installment of XS same plane aperture or Trijicon Tritium aperture
A2 Back Up Iron Sight $124.95
A2 Back Up Iron Sight With Tritium Aperture $169.95
A2 Back Up Iron Sight With XS Aperture $169.95
For more details, or information on other GG&G products, visit www.gggaz.com
---
SPRINGFIELD ARMORY 3.8 XD(M)
Moving beyond comfort and fit, Springfield Armory explores new territory in tactile response, technological advances, innovation and personalization with the introduction of the new 3.8 XD(M). Visit www.the-m-factor.com for full details. Features include:
(M)ajor Grasp Slide Serrations
Deeper, longer, and more slide serrations equals a better more penetrating grasp.
(M)odel Contour Frame
The ideal grip angle of the XD® has been carried over to the XD(M)™, but slightly modified contours in the grip will leave you wondering whether you're gripping the gun or it's gripping you.

(M)ega-Lock Texture
The "all-terrain" look of the new XD(M)™ isn't about cosmetics, it's about function. The angle and depth of each contour in the grip has been calculated for maximized control vertically, horizontally and torsionally.
(M)elonite
Traditional black oxide finishes are a few millionths of an inch thick and offer no corrosion resistance. The rugged Melonite® finish on the XD(M)™ is a salt bath nitriding process that leaves a thick, corrosion-resistant, hard surface.
(M)atch Grade Barrel
Rivaling aerospace manufacturing, the XD(M)™ match-grade barrel takes precision manufacturing to a whole new level never available within the firearms industry.
(M)inimal Reset Trigger
The new XD(M)™ trigger has the shortest travel than any currently available polymer pistol along with a similarly short reset which keeps you on target with greater ease for faster, more accurate follow-up shots.
(M)ega Capacity Magazine
The XD(M)™ is the largest capacity production polymer pistol in both the .40 caliber and 9MM, respectively, accommodating 16+1 and 19+1 rounds.
(M)aximum Reach Magazine Release
The modified contour of the new XD(M)™ grip is most evident near the magazine release. Operation of the magazine release is easily accomplished by virtually any size hand without twisting or adjusting from the shooting grip.
(M)ould-Tru Backstraps
Springfield has added another level of comfort with with the new interchangeable backstraps. Personalize your grip by choosing one of three backstraps for a more custom fit.
(M)ulti-Adjust Rail System
A triple-position Picatinney rail readily accepts lights, lasers or other accessories. More importantly, it allows them to be adjusted to the shooter's hand position.
(M)ulti-Use Carrying Case
Your total XD(M)™ experience starts the day you open your case. In fact, it starts with your case. This rugged case is as durable as the XD(M)™ it houses and can be re-tasked to protect any number of items from a laptop to multiple XD(M)™ pistols.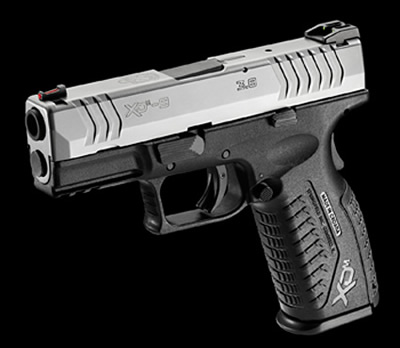 ---
Ruger Announces the SR9c
Sturm, Ruger & Company, Inc. is proud to announce the Ruger SR9c compact pistol, the first extension in the SR9 striker-fired pistol family.
The SR9 is one of the slimmest and most ergonomic 9mm pistols on the market today, and the compact model offers an even smaller, more concealable option, ideal for discreet carry.
"The SR9c compact pistol is a welcome addition to the SR9 line, giving customers a very comfortable carry option in this reliable, 9mm platform," said Mike Fifer, President & CEO. "Incorporating the best features the full-sized SR9 has to offer, the SR9c gives Ruger a strong entry into the compact 9mm field. It feels great in your hand and it's a lot of fun to shoot."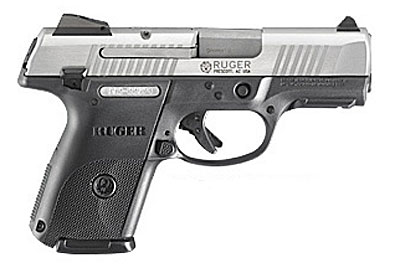 The SR9c compact pistol weighs in at 24 oz. and features an overall length of 6.875", a height of 5.00", and the same slim 1.27" grip width as the full-sized SR9. It comes with two magazines that provide options in both capacity and grip size. The standard magazine holds 10 rounds and features a flat bottom butt plate; a finger grip extension floor plate is also included. The second magazine features a grip adapter and holds 17 rounds, instantly transforming the smaller, compact grip into a full-sized 9mm grip. The 3.50" barreled pistol features an integral accessory rail that accommodates most lights and lasers.
The SR9c compact pistol utilizes the same adjustable, high-visibility 3-Dot sight system as its full-sized predecessor, setting it apart from many compact pistols that rely on fixed sights. New serrations are located on the front portion of the slide, making it easier to both manipulate the slide and to press check the chamber. The SR9c is available with a glass-filled nylon frame and through-hardened slide in either a brushed stainless or blackened finish. State compliant variations are available where necessary and ship with two 10-round magazines.
Just like the original, full-sized SR9, the SR9c is loaded with modern safety features like a 1911-style ambidextrous manual safety, internal trigger bar interlock and striker blocker, trigger safety, magazine disconnect, plus a visual and tactile loaded chamber indicator.
---
Ruger GP100 and Blackhawk now in .327 Federal Magnum
Sturm, Ruger & Co., Inc. is proud to announce two more Ruger® revolvers chambered in the impressive .327 Federal Magnum caliber.
The Ruger New Model Blackhawk® and the Ruger GP100® will now benefit from the flat-shooting, high-velocity performance of the .327 Federal Magnum cartridge.
The .327 Federal Magnum offers near-.357 Magnum performance with less recoil, pushing a 100-grain American Eagle load at an astounding 1,655 feet per second out of the 5-1/2" barreled New Model Blackhawk, and 1,525 feet per second out of the 4.20" barreled GP100. In addition to the high-velocity performance, cylinder capacities have been increased, with the New Model Blackhawk holding eight rounds and the GP100 holding seven.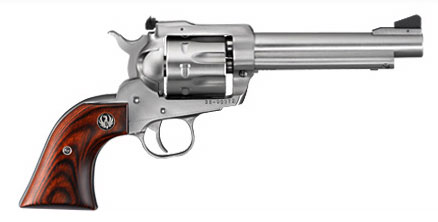 "We worked with Federal Premium Ammunition to introduce the first .327 Federal Magnum cartridge in our mid-sized SP101® revolver, and we're excited to expand this well-received round into our full-sized New Model Blackhawk and GP100 product lines," said Vice President of Sales and Marketing Chris Killoy.
"The performance of this round is remarkable, and the longer barrels and heavier weights of these two models ramp velocities to new levels and keep recoil amazingly minimal. We feel pairing these revolvers with this cartridge will give our customers two more great options for recreational shooting, handgun hunting, or self-defense."
The New Model Blackhawk in .327 Federal Magnum has a 5-1/2" barrel and overall length of 11.38". It weighs 48 oz., holds eight rounds, and features a fully adjustable rear sight and a stainless steel finish. New Model Blackhawk revolvers have earned a reputation as the best value on the market due to their durability and affordability, and this new .327 Federal Magnum variation only compliments this already extensive family of single-action revolvers.
The new GP100 in .327 Federal Magnum features a 4.20" stainless steel barrel and an overall length of 9.50". It weighs 40 oz., holds seven rounds, and includes a fully adjustable rear sight. All GP100 double-action revolvers are known for their rugged construction and reliable performance, utilizing solid steel sidewalls (no side-plates) and frame widths that are increased with extra steel in critical areas that support the barrel. GP100's are built to last, and the addition of the .327 Federal Magnum adds diversity to a proven product line.
---