Shooting News 7:
News Page 1 2 3 4 5 6 7 8 9 10 11 12 13 14 15 16 17 18 19 20 21 22 23 24 24
Plastix Plus - AR15 Display and Cleaning Stands
I stumbled across these guys recently. They manufacture some pretty interesting items for displaying and servicing AR15 type rifles. I purchased the PPAR-12 Cleaning Station with Barrel Support and Parts Tray. The unit consists of a tray with a magazine dimensioned and profiled block (vise block) in the center screwed and welded in place. This block is designed to hold the lower receiver while the gun is being serviced. I selected the model with the outer raised lip which serves as a parts tray. I ordered mine direct and had it in 3 days. Ill get some pictures up soon. Plastix Plus, if you read this how about a few .308 versions for DPMS and Armalite's.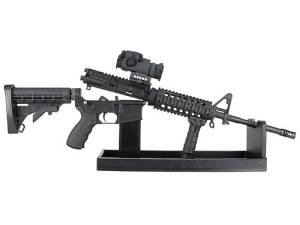 ---
Unlike most rail systems on the market today that focus strictly on hanging the most gadgets from your rifle, our new Quad Rail was designed for serious shooters by serious shooters. Our unique Quad Rail gives you a more comfortable hand hold on the forend that you would expect from a custom rifle, while maintaining four rails for accessories. Full length top and bottom rails offer 7 ¼" of usable picatinny rail, while sides have 1 1/2" of rail for mounting lights, lasers, slings, etc. Besides the 17 ½" of usable rail, 8 threaded ¼" x 20 tpi holes allow for maximum attachment options. It is precision CNC machined from 6005A T5, hard anodized for maximum durability. If you demand the very best while maintaining current tactical options, Wilson Combat Quad Rail is the one.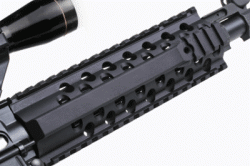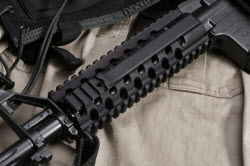 ---
Yankee Hill Machine YHM-9474 Rail Extension
We just purchased one of these to be certain we can get correct eye relief when we mount our NcStar Mark III Tactical 3-9x42 STP3942G scope on the GSG-5. In addition to adding about 2" in additional length to our scope mount this extension rail will give us an additional .500" in height which should keep the GSG-5's rear sight and the scopes eye piece from interfering with each other.

---
Uplula Universal Semi Auto Handgun Magazine Loader
Hand-held loader fills standard centerfire pistol magazines quickly and easily, so you spend less range time loading mags and more of it shooting. Smooth, positive operation protects fingers and thumbs while you load hundreds of rounds painlessly—as fast as one round per second. Also lengthens magazine life by reducing wear and tear on feed lips. One size fits all; no inserts, spacers, or adjustments needed to change calibers. Hold the magazine upright with the bottom resting on a solid surface. Place the loader over the top of the mag, press down lightly while squeezing the lever to depress the follower, drop in a round, and work the lever quickly to push it into the mag. Repeat the process until the magazine is full. Constructed from tough, reinforced, black polymer. Locks closed when not in use, so it takes up minimal space in pocket or range bag. Fits single and double stack 9mm, .357, .40, 10mm, and .45 ACP magazines, plus some .380 mags. Will not load Glock 6-round single stack .45 caliber or Smith & Wesson 7-round single stack 9mm, or magazines with less than 8mm between feed lips.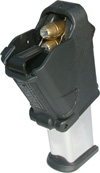 We picked up ours at Brownells.
---
Taurus 738 TCP -

source Tactical Life

Make way for the lightest Taurus firearms ever created. The 8.5-ounce 738 TCP (Taurus Compact Pistol) in titanium slide and 10.2-ounce 738 TCP in blue and stainless slide are not only the lightest semi-autos in the Taurus line; they are lighter than any of Taurus' small frame revolvers too. The TCP offers 6+1 shots of .380 ACP or 8+1 shots with an included extended magazine, durable polymer frame and low-profile fixed sights. Available in blued, stainless or an even more lightweight titanium slide version, the TCP has a reliable, short, crisp single action/double action trigger pull. No detail was spared in the creation of the feature-laden model including ambidextrous magazine release, unique fish-scale pattern on the slide for positive pull and functioning and generously sized trigger-guard for quick, intuitive access. Standard safety features for the TCP include a visual and tactile loaded chamber indicator and the unique Taurus Security System® that allows users to securely lock the gun using an inconspicuous key-lock. Available Summer 2009.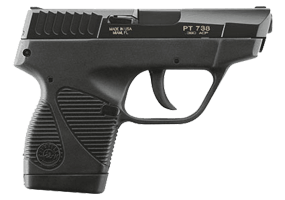 ---
DPMS REPR
Originally developed as a submission for the USMC's solicitation for a lightweight precision rifle, the DPMS REPR (which stands for Rapid Engagement Precision Rifle) boasts a host of new and intriguing features.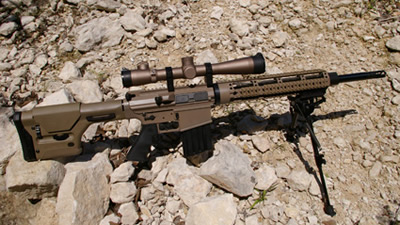 Based off the company's LRT-SASS platform, the .308 Win. rifle sports a dark tan earth coating on its upper and lower receivers as well as on its free-floated, four-rail fore-end. In addition, the rifle sports a flat dark earth Magpul precision rifle stock that is fully adjustable for cheekweld height as well as length of pull.
The 18" barrel will sport a slim REPR contour with a Remonite finish and is topped off with a threaded muzzle and flash suppressor (although there will be an optional suppressor system).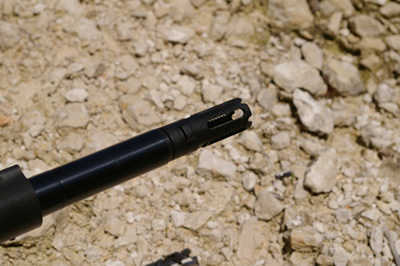 In addition, the REPR will employ a revolutionary Ventilator gas system that redirects a claimed 40% of excess gas in the direct gas impingement system away from the inside of the receiver's chamber/locking lugs area. This is accomplished through a lengthened gas key on the bolt carrier that works in concert with vent holes in the forward portion of the rifle's upper receiver.
The MSRP is $2,159.
For more information, keep an eye out at www.dpmsinc.com.
---
DPMS CSAT Perimeter and Tactical Rifles
Developed by DPMS with Paul Howe of Combat Shooting and Tactics, the CSAT Perimeter and Tactical rifles in 5.56×45mm offer users a pair of top-end, limited-edition tactical AR carbines.
Sporting 16" barrels, the primary difference between the two variants is the Perimeter's heavier contour barrel as compared to the Tactical's lighter AP4-countour M4-style barrel.
Both carbines feature four-rail free-floated fore-ends and six-position Magpul CTR collapsible stocks. Mated to the fore-ends is a LaRue offset flashlight mount and a Novatac 120T-O tactical flashlight as well as a Midwest Industries rail-mounted sling swivel.
Working in concert with the carbines' fixed front sight posts is a full-featured detachable rear sight assembly mounted on the A3-style flat-top upper receivers. The rear sight sports the XS Sights CSAT aperture with an ingeniously simple CQB notch cut in its aperture designed for use at 7 yards.
Both carbines feature laser-engraved CSAT markings on the right side of the magazine well on their lower receivers.
MSRP of both carbines is $1,799.
Exclusive distribution of both carbines is by RSR and CSAT. For more information on DPMS, visit www.dpmsinc.com.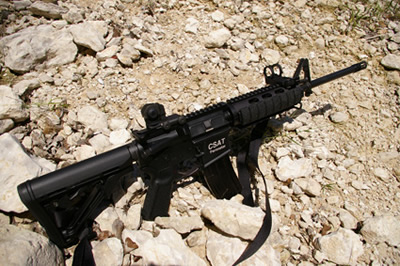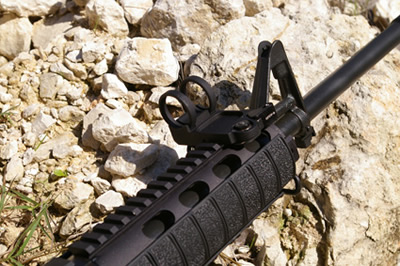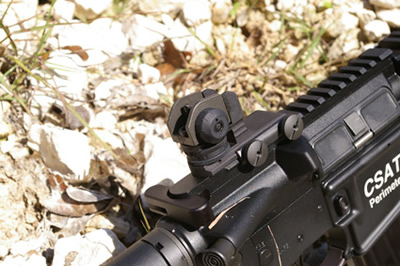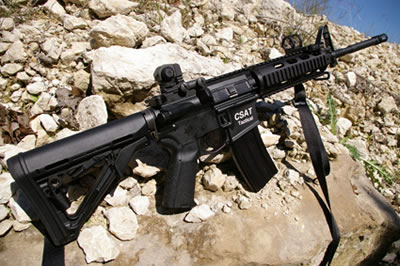 ---