Shooting News 3:
News Page 1 2 3 4 5 6 7 8 9 10 11 12 13 14 15 16 17 18 19 20 21 22 23 24 24
---
With the return of the Colt Delta Elite Pistol, the time-tested Colt Government Model® is once again available in 10mm. Colt was one of the original pioneers in adapting a combat pistol to the potent 10mm cartridge, and the first to successfully manufacture a 10mm caliber pistol in the United States. The Colt Delta Elite pistol had been a favorite amongst combat shooters, and offered the power to hunt medium size game in the legendary M1911-style pistol. The Delta Elite 10mm offers near 41 Magnum ballistics in a semi-automatic pistol.
Built by American Craftsman, this winning combination of an 8 + 1 capacity full size handgun with 10mm ballistics marks the return of the Delta Elite.
The newest edition of the Colt Delta Elite is true to the original design, with a forged stainless steel frame, slide, slide stop, and barrel. Features such as Wrap Around Rubber Grips with Delta Medallions, White Dot Sights, Arched Main-Spring Housing, Combat Hammer, and 80 Series Firing System give the Delta Elite the winning combination of proven capability, endurance and classic appearance that is sure to appeal to the handgun enthusiast and retro collector alike.
FEATURES
White Dot Sights
Aluminum Trigger
Combat Hammer
Original Roll markings
8 + 1 Capacity
Wrap Around Rubber Grips with Delta Medallions
Chambered in 10mm
80 Series Firing Pin Safety System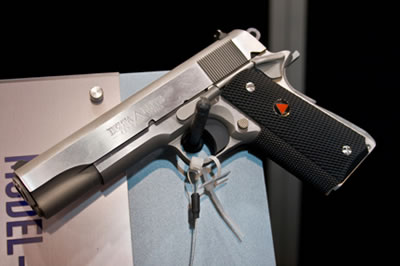 ---
Smith & Wesson's NEW model 642 PowerPort Pro Series is a powerhouse snubbie soon to be featured in Combat Handguns Magazine. Lighter than the Model 637, and available as a double action only model, this new addition to the Pro Series line is a sure bet for concealed carry options. Stay tuned and check back for more details about this new gun.
Specifications:
Model: 642 Pro Series
Frame Size: Small
Caliber: .38 S&W Special +P
Capacity: 5 Rounds
Action: Double Action Only
Barrel: 2-1/8″ Black Stainless
Front Sight: Drift Adjustable, Dovetail Ramp White Dot
Rear Sight: Square Notch
Overall Length: 6-1/2″
Weight: 15.4 oz.
Grip: Synthetic Finger Groove
Frame Material: Anodized Aluminum
Cylinder Material: Stainless Steel
Finish: Matte Black
Other Features: Ported Barrel, Blue Penetrate Trigger and Hammer
For more information on this and other Smith & Wesson products, visit Smith & Wesson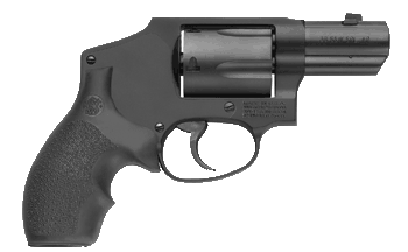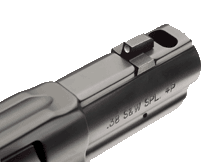 ---
What's most impressive about this pump action shotgun is the price: $319. That's retail! Very good value and it might earn quite a bit of interest from the LE crowd. With that said, it is a 12 gauge with a 3-inch chamber and an 18-inch smoothbore barrel (both chromed for durability). It weighs just 6.5 lbs. and includes a tubular magazine that holds 5 shells for a total of 6 shells (with one in the chamber). This model comes with Winchester's Inflex Technology recoil pad for comfortable shooting and quick follow-up shots. Great for home defense too! Since the military stopped procuring Model 1200s years ago, this is a welcome return for Winchester to the tactical market.

---
The Wilson Combat Accu-Tac AR flash hider sports a three-pronged external profile and Wilson's exclusive external accurizing flutes, improving muzzle harmonics over other blast dispersing brakes. These extensively tested features effectively dissipate flash and minimize muzzle signature, but unlike many competitive AR muzzle devices, the Accu-Tac has no negative impact on accuracy. Hardened 4140 steel, fits standard, GI threaded AR barrels.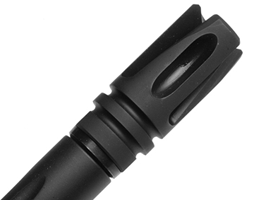 ---
Colt's Manufacturing Company LLC has determined that the Slide Lock Safety and the Recoil Spring Guide Pad in certain Colt model pistols were not manufactured to Colt specifications and must be replaced. All of these Colt models were sold after March 2007 and the range of serial numbers affected by this product recall is as follows:
1911 WWI Replica(O1911) - 4597WMK To: 5414WMK
1918 WWI Replica(O1918) - 1001WWI To: 3431WWI
New Agent(O7810D) - GT01001To: GT04505
Combat Elite(O8011XSE) - CG10000E To: CG11293E
Defender(O7000D) - DR33036 To: DR35948
Talo Night Defender(O7000NDF) - NDF0001 To:NDF0400
Read the Colt 1911 recall notice in its entirety here. Visit Colt
---