Shooting News 12:
News Page 1 2 3 4 5 6 7 8 9 10 11 12 13 14 15 16 17 18 19 20 21 22 23 24 24
---
ArmaLite, www.ar10t.com, www.GunBroker.com, and www.GunsAmerica.com Team Up In A Fundraiser For NSSF.
(Geneseo, IL) ArmaLite, Inc. is pleased to announce that it is one of the partners in an extraordinary effort to benefit the National Shooting Sports Foundation. This partnership is in honor of NSSF's 50th anniversary in 2011. At the request of www.ar10t.com, ArmaLite has donated two AR-10(T) rifles chambered in .338 Federal. Both rifles include a beautiful laser etching of NSSF's 50th Anniversary logo on their mag wells. (Details on the rifles are here:
NSSF has granted www.ar10t.com special permission to have the rifles etched with the NSSF logo and to be the official host of the auction. The rifles will be auctioned; one on www.GunsAmerica.com, the other on www.GunBroker.com; from November 5 through November 19, 2010. A portion of the proceeds will go to NSSF.
ArmaLite is proud to be part of such a cooperative endeavor to benefit the NSSF in its mission "to promote, protect and preserve hunting and the shooting sports."

About NSSF
The National Shooting Sports Foundation is the trade association for the firearms industry. Its mission is to promote, protect and preserve hunting and the shooting sports. Formed in 1961, NSSF has a membership of more than 5,500 manufacturers, distributors, firearms retailers, shooting ranges, sportsmen's organizations and publishers. For more information, log on to www.nssf.org.
About ArmaLite
ArmaLite has one of the broadest product lines in the firearms industry. We manufacture and sell semiautomatic rifles in a variety of calibers including 5.56mm and 7.62mm, long range super-accurate bolt action rifles in calibers including .308 Winchester, 300 Win Mag, 338 Lapua, and 50 BMG, and classic 9mm pistols. Visit: www.armalite.com
About GunBroker.com
GunBroker.com is an informative, detailed, secure and safe way to buy and sell firearms and hunting/shooting accessories. GunBroker.com promotes responsible gun ownership. Aside from merchandise bearing its logo, GunBroker.com sells none of the items listed on its Web site. Third-party sellers list items on the site and Federal and state laws govern the sale of firearms and other restricted items. Ownership policies and regulations are followed using licensed firearms dealers as transfer agents. Currently GunBroker.com has over 1.7 million registered users, with more than 400,000 auctions running at any time and over 3 million unique monthly visitors to the site.
About GunsAmerica.com
GunsAmerica.com is where America buys and sells guns. We connect gun buyers and gun dealers to make the gun buying process easy and efficient. GunsAmerica.com provides a suite of dealer services that allows consumers to find the exact gun they want through the On Demand system and select a dealer that is close to them. There are over 90,000 guns listed for sale at any given time and we offer a means for shooters to find the gun they are looking for at the price they want. Visit: www.gunsamerica.com
---
Geneseo, IL- In February 2010, ArmaLite announced the return of its popular Hog Gun, the AR-10(T) Carbine. Within 10 days every one of them was gone. Now, nine months later, IT'S BACK, it's in stock, and you can have one for this year's hunting season.
But if you want one, don't wait. This finely crafted weapon has been produced once again in a small batch. Quantities are limited and will not last long.
"This AR-10(T) Carbine combines the light weight and compact size of the carbine with the accuracy of the Target Model to give you a rifle that outperforms all other carbines.
You will be ready on your next hunt with the easy carry and weather resistant stainless steel barrel chambered in 7.62 NATO." says Tacticle-Life.com.

Model: AR-10(T) Carbine with Free Float Handguard in Black
Caliber: .308/7.62mm NATO
Barrel: 16″ Stainless Steel Barrel
Rifling Twist: RH 1:11.25″
Muzzle Device: Flash Suppressor
Front Sight Base: Gas Block with Picatinny Rail
Upper Receiver: Forged Flat Top Receiver with Picatinny Rail and Forward Assist
Trigger: Two Stage National Match
Overall Length: 37.5″
Weight: 8.6 lbs
Accuracy: 1 MOA
Included with Rifle: One 10 Round Magazine, One 20 Round Magazine, Black Case, Limited Lifetime Warranty.
Your Price: $1,892.00 EA
ArmaLite has one of the broadest product lines in the firearms industry. We manufacture and sell semiautomatic rifles in a variety of calibers including 5.56mm and 7.62mm, long range super-accurate bolt action rifles in calibers including .308 Winchester, 300 Winchester Magnum, 338 Lapua, and 50 BMG, and classic 9mm pistols. Visit: www.armalite.com.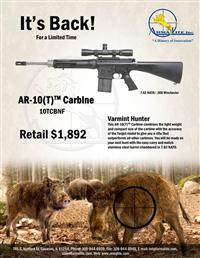 Read the original press release here.
---
Look here for an article on these fine folks shortly. In the meantime visit the Custom Firearm Stands website.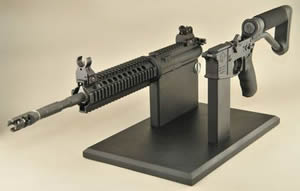 ---
For some time if I saw some shooting related product that was new, unusual or a good buy on ebay I would post thinks on my websites. This was beneficial for visitors, sellers and myself as ebay would pay a few pennies a click. Not a big deal and everyone wins.
Well last week something changed and I was no longer allowed to log in to my ebay partner account. This prompted me to contact support. Several hours later I received the following reply.
During a recent review, we've found that you have violated the ePN Code of Conduct by placing links on websites with unacceptable material. Your account has been terminated and 100% of your pending commissions will be reversed. You are not eligible to rejoin eBay Partner Network.
Violations:
https://tactical22.net/index.html
https://ar15tactical.net/
https://308ar.com/index.html
As stated in the ePN Code of Conduct section (d)(2), these practices are prohibited.
D. Unacceptable Placements
2. You will not place Links or Promotional Content in connection with topics that eBay Partner Network in its sole discretion considers to fall in any of the following categories:
a. sexually explicit materials
b. violence
c. firearms or weapons
d. illegal goods, services or activities e. gambling or betting f. discrimination based on race, sex, religion, nationality, disability, sexual orientation, or age g. libel or defamation h. content aimed at children i. content that is otherwise misleading, obscene or hate-oriented
Sincerely,
eBay Partner Network Quality Team"
I find it beyond comprehension that on one hand ebay will allow the sales of firearms related products while on the other hand not allow a firearm related site to have partner links. A complete hypocritical position on the part of ebay.
Going forward I am on a personal mission to inform visitors of my sites about Ebay's anti gun policy.
I encourage you the visitor to seek alternative pro gun or at the least gun neutral sources for your all of your purchases. Don't support those who don't support us.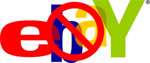 ---
BEAVERTON, Ore. – Leupold's Tactical Optics Division has upgraded its Mark 4®Extended Range/Tactical (ER/T®), Long Range/Tactical (LR/T®) and Mid Range/Tactical (MR/T®) riflescopes to give American warfighters and snipers an even greater edge on the modern battlefield. The upgrades also offer numerous optical advantages for hunters, competition shooters and other civilian shooting enthusiasts.
Primary upgrades include Leupold's Xtended Twilight Lens System™, as well as options such as M5 0.1 mil windage and elevation adjustment dials, Horus reticles, front focal plane reticles and third-generation illuminated reticles. Selected options can be retrofitted for existing Mark 4 riflescopes, depending on model.
These upgrades further enhance our field-proven line of Mark 4 riflescopes," said Kevin Trepa, Leupold's vice president of tactical sales and marketing. "Our mission to serve the unique needs of American warfighters and demanding civilian shooters continues as we develop precision optics to help them take maximum advantage of the reach and power of their rifles."
New ER/T, LR/T and MR/T models feature the Xtended Twilight Lens System – Leupold's best lens coating technology for low-light conditions. The system utilizes Leupold's index matched glass with lens coatings designed to optimize the transmission of low-light wavelengths. As a result, shooters receive a crisper, brighter sight picture in dim light than ever before.
Following are key features of the available options:
M5 windage and elevation adjustment dials have audible, tactile1/10 (0.1) milliradian clicks to match range-estimating, mil-based reticle options. This allows fast and easy correction in the field, resulting in greater shooting precision
Horus reticles are mil-based and employ an advanced two-dimensional grid system that helps enhance both accuracy and ease of use. The fine grid marks do not obscure targets and thus allow rapid engagement, while the intuitive design can dramatically reduce training time. Horus reticle options include the H26, H27, H36, H37 and H58.
Front focal plane reticles allow the operator to use the scope on any magnification while retaining the exact spacing of range-estimating reticle features (the reticle magnifies with the image).Consequently, the operator can accurately estimate range and calculate holdovers at all power settings.
Leupold's third-generation illuminated riflescope reticles advance the technology with an array of features designed to provide a user-friendly, intuitive system for fast target acquisition in tactical low-light situations. Third-generation illumination offers a 15 percent brighter reticle, eight different intensity settings (two compatible with night-vision equipment) and redesigned control dials to enhance ease of use.
While no single Mark 4 riflescope can be fitted with all the upgrade options, numerous variations exist and most models are capable of accepting multiple upgrades. To determine specific options available for particular scopes, contact Leupold Tactical Optics at 1-800-LEUPOLD.
Ready for deployment, Mark 4 ER/T, LR/T and MR/T riflescopes are waterproof, fog proof and shock proof. A 30mm main tube provides exceptional strength and allows for a wide range of windage and elevation adjustment. Exhaustive testing in the factory and field ensures durability. Flip-open lens covers are standard issue. Each scope comes in a matte black finish and is covered by the company's Tactical Optics Warranty.
Leupold has offered precision optics for tactical applications since the 1985 introduction of Ultra riflescopes, which were designed to excel under the most extreme battlefield conditions. Today, more long-range Leupold Tactical Optics are in service with the U.S. military than any other brand. For more information on Leupold Tactical Optics, go to Leupold.com
Leupold & Stevens, Inc., the preeminent American-owned and -operated optics company, employs more than 600 people in its state-of-the-art facility near Beaverton, Ore., where rugged, dependable, high-performance Golden Ring® and Mark 4 optics are designed, machined and assembled. Leupold is a fifth-generation, family-owned company whose products are sold worldwide to military warfighters, law enforcement personnel, hunters, competitive shooters and wildlife observers. The product line includes rifle, handgun and spotting scopes; binoculars; rangefinders; flashlights; mounting systems; and optical tools and accessories.
---
Five units will soon deploy with the new M27 infantry automatic rifle, a 5.56mm weapon that may one day replace the M249 squad automatic weapon. A total of 458 rifles will be delivered by the gun's maker, Heckler and Koch, and meted out to five battalions working up for deployments to Afghanistan.

They are:
• 1st Battalion, 9th Marines, out of Camp Lejeune, N.C.
• 2nd Battalion, 4th Marines, out of Camp Pendleton, Calif.
• 1st Battalion, 3rd Marines, out of Marine Corps Base Hawaii.
• 1st Light Armored Reconnaissance Battalion, out of Pendleton.
• And 1st Battalion, 25th Marines, a Reserve unit out of Fort Devens, Mass.
The Corps has tentative plans to buy about 4,100 M27s, but Gen. James Conway called for limited fielding before he retired as commandant in October. He was concerned the new weapon, carrying a 30-round magazine, would not provide enough firepower to establish fire superiority in combat.
Lt. Gen. George Flynn, deputy commandant for combat development and integration, told reporters Nov. 16 in Washington that he expects the battalions involved in the limited fielding would have the weapons by this month. They're all expected to deploy in 2011.
"We're going to be anxious to see what the test results or what the feedback are for when the battalions actually take it out on deployment," said Flynn, speaking at a Defense Writers Group breakfast.
It's a matter of matching the correct weapon with needs downrange, Flynn said.
Source: Dan Lamothe for Military Times
---
A leap forward in camouflage technology smartly breaks up the silhouette of America's most popular M4-Type Carbine. The Bushmmaster M-4-Type Carbine in A-TACS is now available. For more information check out www.bushmaster.com.

---
FORT SMITH, ARKANSAS - (May 13, 2010) - Umarex USA, the leader in firearm replication, introduces the Colt Government 1911 chambered in .22 L.R. The dedicated .22 long rifle (LR) platform is a new, licensed reproduction available in three rimfire variants-Government models 1911, 1911 Rail Gun, and 1911 Gold Cup.
Umarex USA introduced the Colt M4 and M16 Tactical Rimfire replicas in 2009 and is continuing its relationship as United States importer for Colt .22s manufactured by Carl Walther Germany under license from New Colt Holding Corporation. Adam Blalock, President and CEO for Umarex USA said, .22 caliber pistols are utilized for their cost economy and target shooting capabilities. Our team is absolutely stoked about this opportunity to offer shooters a high quality authentic Colt 1911 .22 pistol! And the timing couldn't be better, with the 1911 celebrating 100 years.
All three Colt Government rimfire models are dedicated .22 L.R.s, but they're engineered in true replica form with fully functioning thumb and grip safeties and the 1911's authentic half-cock mechanism. Grips and sights can be interchanged with after-market accessories and the barrel is threaded to accept a suppressor. The Rail Gun incorporates original features like a skeleton trigger, combat-style sights, beavertail grip safety, extended thumb safety, and a commander-style hammer.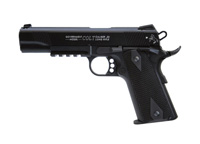 There are already a couple of .22 caliber 1911 pistols on the market, but none bear Colt's trademarks, full functionality, and quality, said Richard Turner, Vice President of Sales and Marketing for Umarex USA. If the barrel size was the same, you wouldn't know the difference by just looking at it.
The new Colt .22 replicas will be available through select distributors, local firearm dealers and some national retailers beginning in November 2010. They will come with one 12-round magazine and retails will range from $399 to $450 depending on the model.
Umarex was established in 1972 as Uma Mayer Ussfeller GmbH and served the market for tear gas and signal pistols followed by air rifles. After acquiring Reck Sportwaffen Fabrick Karl Arndt, they reorganized ultimately under Umarex. The company's Reck PK 800 enjoys worldwide acclaim and appears on the market as the perfect replica of the Walther PPK. Umarex has now become the largest maker of replicas by offering numerous German-made air guns, tear gas, signal pistols and replica firearms. Umarex is Europe's largest marketer of air rifles and Umarex USA is North America's fastest growing airgun and replica rimfire gun company. Umarex USA markets their airguns, airsoft, paintball and rimfire products under famous brands such as Walther, RWS, Smith & Wesson, Browning, Heckler & Koch, Ruger, Beretta, Colt, Magnum Research and others. For additional information regarding Umarex USA visit .
---
Remington MSR Modular Sniper Rifle
The new Remington ® Modular Sniper Rifle (MSR ™) combines lethal accuracy at 1500 meters with a highly user-adjustable folding stock, free-float tube, and the potential to change barrel lengths and calibers within minutes from 338 Lapua Magnum to 300 Winchester Magnum to 7.62mm NATO at the user level. From the oldest name in US firearms – the proven sniper rifle manufacturer of over 13,000 M24 systems since 1987 – comes the next generation capability in long range military sniping. This system truly never has to leave the battlefield.

Designed for operators, by operators. The Remington ® Modular Sniper Rifle (MSR ™ ) combines lethal accuracy at 1500 meters with a user adjustable folding stock, free-float handguard, and the potential to change barrel lengths and calibers within minutes at the user level from 338 Lapua Magnum to 338 Norma Magnum to 300 Winchester ® Magnum to 7.62mm NATO. This patent-pending system addresses long range and medium range needs of the modern battlefield in one package designed to meet multiple emerging US armed forces requirements. The MSR is mission-adaptable with just a change of a bolt face, barrel, and magazine, and features lightweight, efficient design and optimal material selection for performance and corrosion resistance – this system truly never has to leave the battlefield.
Download the two Remington MSR Brochures Below
---
---