Shooting News 4:
News Page 1 2 3 4 5 6 7 8 9 10 11 12 13 14 15 16 17 18 19 20 21 22 23 24 24
---
VORTEX StrikeFire AR 15 Red Dot Scope
When the situation demands fast shooting and a big scope with a narrow field of view won't cut it, VORTEX OPTICS' new StrikeFire red dot riflescope lets you shoot quickly with both eyes open! With unlimited field of view and eye relief—nothing gets you on target faster than this tough, shockproof and waterproof red dot scope.
Waterproof and fogproof with nitrogen gas purging for reliable work in harsh weather
Shockproof with rugged one-piece 30mm aluminum alloy tube.
High recoil caliber rating—tested with .375 H&H Magnum for 1000 rounds.
Included extra-high 30mm ring puts scope's bore center 37 mm (1.46 inches) above the base height. Commonly used for mounting with a Flat Top AR15, providing absolute co-witness with iron sights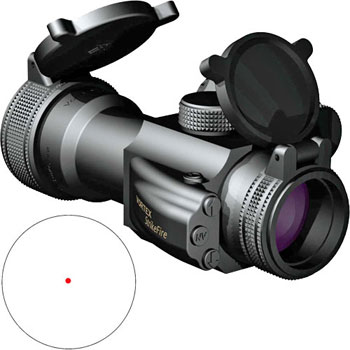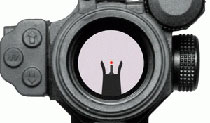 ---
Winchester Hyper Speed HP and new 555 Round Bulk Pack
The new Hyper Speed HP load is a very hot load that matches the ballistic characteristics of the CCI Velocitor round. The Hyper Speed HP, like the Velocitor, features a copper plated 40 grain hollow point bullet. The bullet has a published velocity of 1435 fps at the muzzle, which works out to be 183 ft-lbs of muzzle energy.
A significant difference between the CCI load is that is will be sold in a 100 round box, rather than the CCI 50-round box. This suggests it may be quite a lot cheaper that the Velocitor. If it is, I will defiantly consider switching to this for my hyper velocity needs.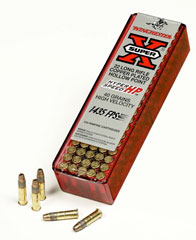 Winchester is also introducing a 555 round bulk pack, giving it a slight edge quantity wise over the Federal 525 and 550 bulk packs. The bulk pack features high velocity (36 grain / 1280 fps) rounds with copper plated hollow point bullets.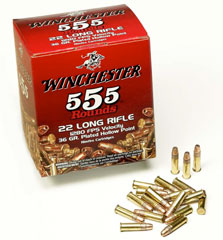 ---
Winchester Xpediter .22 LR Hyper Velocity
Winchester announced their second .22 LR "Hyper Velocity" round. The Xpediter round has similar performance to the new non-toxic Winchester SUPER-X .22 Long Rifle. It pushes a 32 grain lead hollow point bullet at 1,640 fps.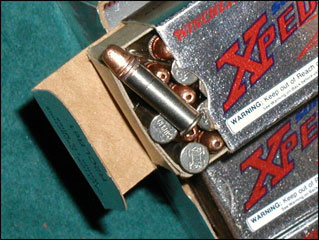 ---
"What is... the DoubleStar DS-420 Handguard," answered DoubleStar President, Teresa Starnes. The question, "Name the 12-inch handguard designed at the request of law enforcement to outfit their AR rifles with 20 inch long barrels. The handguard consists of a 4-rail picatinny system, is aircraft aluminum tough, and has a unique oval shape that fits both large and small-handed shooters." The DoubleStar DS-420 Handguard is a full 12-inches of aircraft-grade 60-61 T6 aluminum. This offers a tremendous weight advantage and strength to men and women in uniform, as well as shooting sports enthusiasts. The four-sided picatinny rail is a mil-spec system. This universal system enables you to mount a variety of tactical accessories to the forearm of the rifle. The 12 inch oval design leaves ample room for you to add accessories and allows both large and small hands the ability to grip the 20 inch barrelled AR rifles.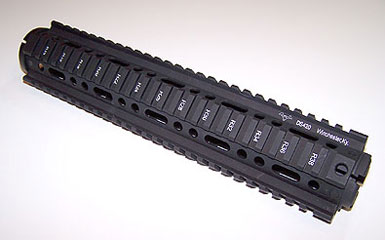 DoubleStar Vice-President Jesse Starnes said, "The DS-420 Handguard was specifically created in response to requests from law enforcement officers' for a longer tactical forearm to fit the 20 inch barrelled AR rifles. Our unique oval design allows for lights, lasers and other accessories to be mounted on the forearm and at the same time gives shooters of all hand size the ability to properly grip the rifle." The snap-on installation has a spring pressure that forces the handguard against the front handguard cap. A tight fit forms, eliminating any side to side movement. This precision fit provides a stable base of placement for all tactical accessories.
DoubleStar Corp. is a Kentucky-based firearms manufacturer specializing in tactical weapons for the law enforcement, military and shooting sports markets. More information about DoubleStar's product line is available on its website at www.star15.com. Orders can also be placed by calling 1-888-736-7725 toll-free from 9 a.m. to 5 p.m. eastern time Monday through Friday.
The DS-420 retails for $189.99 and is available by calling 1-888-736-7725.
---
McLean, Va. (July 29, 2009). FNH USA announces the new FN TSR (Tactical Sport Rifle) is now shipping to distributors and dealers. Configurations include:
FN TSR XP USA (arriving at dealers now)
223 REM: 20" fluted barrel; six-round magazine
FN TSR XP (additional models available by year end 2009)
308 WIN: With 20" and 24" fluted barrels; four-round magazine
300 WSM: With 24" fluted barrel; three-round magazine
Built at FN Manufacturing in Columbia, SC, the TSR has a new three-lever tactical sport trigger with an adjustable pull weight from three to five pounds and is factory set at 3.75 pounds. Both models have MIL-SPEC cold hammer-forged barrels for long bore life. Models feature an internal magazine with a hinged floor plate (FLP) or detachable box magazine (DBM). Included is a one-piece steel MIL-STD 1913 optical rail, with additional elevation built-in for quick sighting and proper scope height.
The Model 70 design bolt-action receiver is available in ultra short, short magnum and long action lengths and mates to a full aluminum bedding block molded into the FN/Hogue® synthetic stock that's covered with a textured olive drab OverMolded rubber surface. Premium recoil pad and multiple sling studs are standard equipment.
For more information on the FN TSR XP and FN TSR XP USA, visit www.fnhusa.com.
FNH USA is the sales and marketing arm of FN Herstal, S.A., Belgium. Its corporate mission is to expand its global leadership position in defense, law enforcement and commercial markets by delivering superior products and the finest in training and logistical support. Visit www.fnhusa.com to view the entire line of FNH USA products and services. FNH USA, P.O. Box 697, McLean, VA, 22101, U.S.A.
---
LASERLYTE K-15 Kryptonite AR-15 Green Laser
The cutting edge LaserLyte K-15 Kryptonyte Green laser is a modern military styled laser for the modern rifle. The K-15 Kryptonyte is designed for use with the modern rifle, carbine or any weapon with three-inches of Picatinny or weaver type rail. It is constructed of aircraft grade 6061 aluminum with T3 hardness. The entire aluminum body is black anodized with Level 2 hardness.
The concise laser engraved markings clearly display the user-friendly features. The K-15 Kryptonyte is fully adjustable with hex drive screws protected by sealed turret caps. The offset design of the laser aperture allows for more flexible mounting options. The recessed activation selector can be changed to off, constant on and momentary on. The momentary on feature is used with the 10-inch long tape switch that can be mounted with provided Velcro strips.
The bright green dot makes target acquisition fast and efficient. The green laser can be seen in daylight up to 100 yards. At night the laser can be seen up to a mile away. The features, styling and versatility of the K-15 Kryptonyte provides unmatched performance for a laser sight in the market. Powered by one CR-123 battery, the K-15 Kryptonyte offers 1.5 hours of continuous on. The unit measure 3 inches in length is 2.43 inches wide, 1.37 inches high and weighs 5.4 ounces. MSRP $249.95.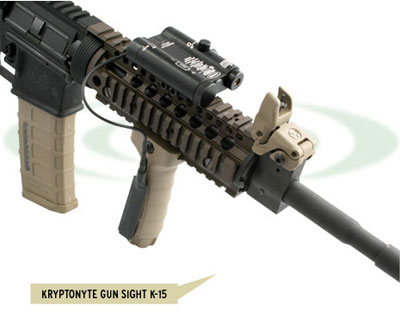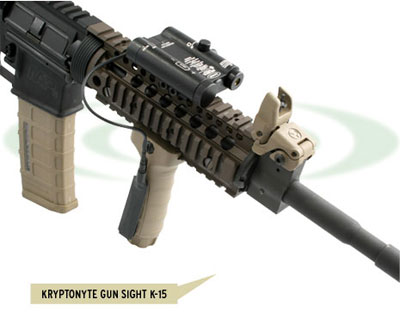 ---
Contact us for more info