Shooting News 14:
News Page 1 2 3 4 5 6 7 8 9 10 11 12 13 14 15 16 17 18 19 20 21 22 23 24 24
---
The good folks at A-TACS just sent along this image of an ACR all decked out in the A-TACS camo. Click the picture for the full sized version. Enjoy!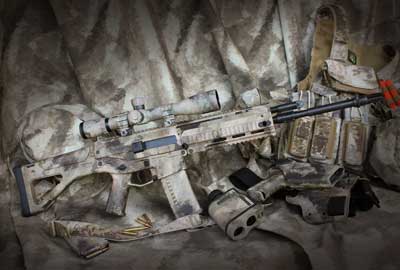 ---
Bushmaster Firearms Intentional, LLC has become aware
of a possible firearms performance issue that may develop with a small number of ACR rifles and we are requesting you discontinue the use of this rifle immediately, and contact us at your earliest convenience so that we can make the necessary arrangements to have the rifle returned to us for inspection and update if necessary.
All Bushmaster produced ACR rifles are impacted by this notification. During routine testing, Bushmaster discovered a design flaw which could result in multiple rounds firing continuously when the trigger is pulled. This unexpected firing of multiple rounds creates a potentially dangerous situation. Since the safety and quality of our firearms is our utmost concern, Bushmaster is implementing the following corrective action plans to correct the effected firearms as quickly as possible.
Therefore, we are requesting your timely assistance with the following action:
1) Please immediately discontinue the use of your ACR rifle(s).
2) Contact our Customer Service Department at 1-800-883-6229, (Monday-Friday, 8:30 AM -6:00 PM EST).
Please have the serial # of your firearms(s) available when you call.
3) We will provide you with return shipping instructions and issue you a RMA # (Return Authorization Number).
This will assist us in processing, and updating of your firearm and returning to you as expeditiously as possible.
The shipping address for the return of your firearm is listed below
Please contact us prior to shipping
Bushmaster Firearms International, LLC
Attention: Dept. ACR 999 Roosevelt Trail
Windham, ME 04062
customerservice@bushmaster.com
4) This process will be accomplished at no cost to you and will be completed as expeditiously as possible.
We apologize for any inconvenience this may cause you, and we will return your firearm to you as expeditiously as possible.
If you have any further questions concerning this request, please call us on the above noted toll free number between the hours of 8:30 AM and 6:00 PM Eastern Standard Time.
Thank you for in advance for your cooperation in resolving this important matter.
Sincerely,
Customer Service Division
Bushmaster Firearms International, LLC
Nod to Steve at thefirearmblog for reporting this first
---
(Geneseo, IL) ArmaLite is pleased to announce it has a new custom gunsmithing shop. It's called ArmaLite's Premier Services Division. As an introductory offer, Premier Services Division is offering a special deal to ArmaLite customers. Click here for more information.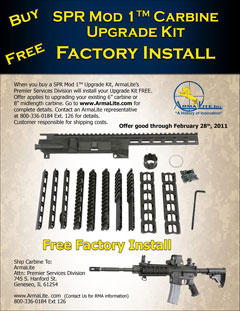 About: ArmaLite has one of the broadest product lines in the firearms industry. We manufacture and sell semiautomatic rifles in a variety of calibers including 5.56mm and 7.62mm, long range super-accurate bolt action rifles in calibers including .308 Winchester, .300 Winchester Magnum, .338 Lapua, and 50 BMG, and classic 9mm pistols. Visit us at armalite.com
---
The EZ CAR™ Rail is the perfect drop in replacement for your plastic hand guards. The EZ CAR™ Rail from Daniel Defense has been engineered to offer a rock solid mounting platform for all your AR accessories. The EZ CAR™ Rail easily replaces factory installed plastic hand guards, and it offers a Mil-Spec quad rail that installs in seconds. As simple to install as a traditional hand guard, the EZ CAR™ Rail mounts to a standard delta ring and hand-guard cap of a carbine length gas system with no modifications to the host weapon.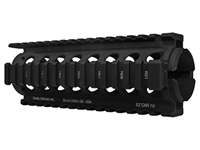 Engineered and produced at the Daniel Defense state-of-the-art manufacturing facility in Black Creek, GA and finished in rugged Mil-Spec Type III hard coat anodizing, shooters are sure to appreciate the latest lightweight quad rail to come from Daniel Defense. Precision CNC machined from Aircraft Grade 6061-T6 Aluminum and Military Specification Type III Hard Coat Anodized for a rock hard lasting finish. The EZ CAR™ Rail weighs in at an amazing 9 Ounces.
Uninterrupted upper rail platform
ZERO Modification to host weapon
Light weight
User installed with no special tools
Aircraft Grade Aluminum
Aircraft Grade 6061-T6 Aluminum
Military Specification Type III Hard Coat Anodized
9 Ounces!
Made in the USA!
---
The newest edition of ArmaLite's popular catalog is available on-line and in hard copy.
(Geneseo, IL) ArmaLite, Inc.® is pleased to announce that its new 2011 catalog is now available on line here. The new catalog features the latest in ArmaLite's fine quality firearms and accessories including many new third party items from top level manufacturers like MAGPUL and TRIJICON. You may also order a hard copy of the ArmaLite catalog by calling 800-336-0184 or by visiting Armalite and following the instructions.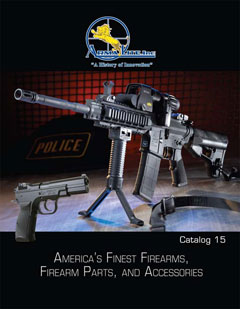 About Armalite:
ArmaLite has one of the broadest product lines in the firearms industry. We manufacture and sell semiautomatic rifles in a variety of calibers including 5.56mm and 7.62mm, long range super-accurate bolt action rifles in calibers including .308 Winchester, .300 Winchester Magnum, .338 Lapua, and 50 BMG, and classic 9mm pistols. Visit us at www.armalite.com.
---
Sturm, Ruger & Company, Inc. announces a new model of the simple, rugged and reliable Mini Thirty® Rifle, the Mini Thirty Tactical Rifle. Like all Ruger® Mini Thirty rifles, which have been extremely popular since first introduced in 1991, the Mini Thirty Tactical allows shooters to fire the 7.62 X 39 round in an affordable, quality, American-made auto-loading rifle.
The Mini Thirty Tactical has a blued 16-1/8" barrel with flash suppressor and comes with a black synthetic stock. The rifle weighs approximately 6.75 pounds, has an overall length of 37.5 inches, and is shipped with one 20-round magazine.
The sighting system on the Mini Thirty Tactical includes an adjustable "ghost ring" aperture rear sight and a protected, non-glare post front sight. Patented Ruger scope bases are machined directly into the receiver and can never shoot loose. A set of Ruger scope rings is included at no charge with each rifle. Side ejection of cartridge cases easily clears the lowest-mounted optics, and a patented recoil buffer helps protect optics from damage from repeated firing.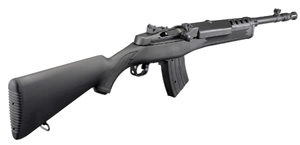 ---
Ruger SR-556 Chambered in 6.8 SPCII
Sturm, Ruger & CO., Inc. (NYSE:RGR) is pleased to announce the new Ruger SR-556/6.8, a new chambering in the popular SR-556 two-stage, piston-driven, AR-Style rifle. The new SR-556/6.8 brings the power and downrange authority of the 6.8 SPC cartridge in a two-stage piston rifle that runs cooler and cleaner than traditional gas-driven, AR-style rifles. Packaged with one five-round magazine and two twenty-five round magazines, the SR-556/6.8 is an ideal hunting rifle for those who appreciate the versatility of the customizable and ergonomic AR-style platform. The 6.8 SPC has ample power for hunting medium-sized game, and the greater muzzle and downrange energy enhances the capability of the SR-556 in defensive or tactical roles as well.
The SR-556/6.8 retains all the features of the original SR-556 that make it an outstanding value in the AR-style rifles. The patent-pending, two-stage piston delivers a smooth power stroke to the one-piece bolt carrier, which softens recoil, aiding both shooter comfort and durability of the rifle. The four-position gas regulator allows the shooter to tune the rifle to the ammunition being fired and environmental conditions present. A chrome-lined, cold hammer forged barrel provides accuracy and longevity, Troy Industries Folding BattlesightsTM, Quad Rail and rail covers add considerable value to the package, as does the Hogue Monogrip, six-position stock, sight adjustment tool, and the padded carry case, all included with the SR-556/6.8.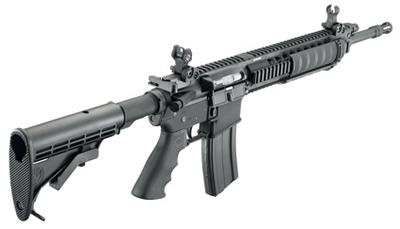 The SR-556/6.8 maintains the mid-length gas system and the heavy (.850") barrel contour under the handguard of the original SR-556. The 1:10 twist barrel has a standard SAAMI 6.8 SPC chambering, is 16.12" long, is threaded 5/8-24, and is capped with the effective and distinctive Mini-14/SR-556 flash suppressor. The SR-556/6.8 weights 7.75 pounds without a magazine. For more information on the SR-556/6.8 or any of the other rifles, pistols, or revolvers offered by Ruger, please visit www.Ruger.com, or see your local firearms dealer.
---
(Geneseo, IL.) ArmaLite, Inc® is pleased to announce that its new AR-10(T) .260 Remington is in stock and available for immediate shipping.
It's the rifle you want, in the caliber you asked for. The new ArmaLite AR-10(T) chambered in .260 Remington. This is ArmaLite's legendary "T" to a "tee." Its 22" stainless steel Match barrel and National Match trigger perfectly complement the flat shooting, ultra-accurate .260 Remington Cartridge.
The AR-10(T) in .260 is a hunter's dream for game as small as bobcats and as big as brown bears. Marksmen will value its dead on accuracy in match shooting. The .260 is especially suited to younger or novice shooters because of its low recoil. ArmaLite's customers have been asking for this rifle. Now, it's in stock and ready for shipping. See your ArmaLite dealer for details.
About:
ArmaLite has one of the broadest product lines in the firearms industry. We manufacture and sell semiautomatic rifles in a variety of calibers including 5.56mm and 7.62mm, long range super-accurate bolt action rifles in calibers including .308 Winchester, 300 Winchester Magnum, 338 Lapua, and 50 BMG, and classic 9mm pistols. Visit: www.armalite.com
---
Revolutionary 1-8x40 dual function sight designed for complex engagement situations; visit Booth #328 to try out the lighter, sleeker new DTS product.
Jan. 12, 2010 – Kruger Optical will present its Dual Tactical Sight™ Gen II at the 2011 SHOT Show. Visitors will have the chance to try out the revolutionary 1-8x40 tactical sighting system in Booth #328 of the show, Jan. 18-21 at the Sands Expo and Convention Center in Las Vegas.
The patent-pending dual-function sight created a stir when the Gen I prototype was introduced at the 2010 SHOT Show. Since then, Kruger's engineers have been busy refining and perfecting the scope in response to market and end-user feedback. The resulting Gen II product is shorter, lighter and stronger, with improved functionality.
"We got a great response when we introduced the original DTS at SHOT last year," said Kruger President Mark Thomas. "However, we also heard a lot of really good ideas for making the product even better. At that point, we made the decision to stop production and redesign the product in response to the needs of the market. It is our intent as a company to provide innovative products that meet or exceed the ever changing needs of our customers, and we feel the DTS GEN II product has accomplished just that."
Thomas said he expects the product to be available at the retail level during the first quarter of 2011.
Designed for complex engagement situations, the DTS incorporates two separate sighting systems into a single scope.
The scope has two modes: a high-resolution 1x reflex sight with red-dot reticle for close quarter engagement, plus a 2-8x40 long-range zoom sight with Mil-dot reticle for long-range sighting. The product includes two separate aiming systems, each viewed through the same sight window. The user can switch between modes with the flip of a lever, with no head movement and without looking away from the target.
The product has been designed for the extreme demands of the tactical professional who requires one optical sighting device that can be used for close or long range target engagement. It is also ideal for other applications, such as dangerous game hunting, Thomas said.
"This is a unique product that is the culmination of years of development," Thomas said. "For the tactical-minded user, this product is Christmas all over again. There is nothing like it on the market today … this is the only product that incorpo rates two separate aiming systems in one sight window. We really believe it is going to increase accuracy, cut down on training time and save lives."
The Gen II version incorporates several significant improvements over the original GEN I model, Thomas said. It features a unique, ultra-strong carbon fiber molded body, which is shorter, lighter and more durable than the GEN I version. It also has unlimited eye relief in reflex mode, with a large viewing window for extremely fast target acquisition.
Unlike other dual-function systems on the market, the DTS does not require any bullet-drop calculations when changing modes, thus saving time and preventing errors. The sight features a patent-pending, extended range elevation system for long-range impact adjustments, with resettable clicks and a Geneva-style revolution counter.
The scope's rectangular shape and square viewing window are also key to the product's performance. The square shape allows for an extremely wide f ield of view and large viewing window, making it easier to acquire and maintain a target.
A zoom lever makes magnification adjustments quick and easy. All controls on the product are ergonomically designed to be user-friendly and easily adjusted without breaking line of sight.
The scope's illumination system features six brightness levels for varying light conditions. Each brightness setting alternates with an "off" setting, so the user can turn the scope off and then immediately return to the previous setting.
The scopes are engineered and manufactured in Kruger's Sisters, OR, manufacturing facility, from U.S. and imported parts.
One-touch illumination system with six brightness levels, with an "off" setting between each level.
Locking ¼' windage and elevation adjustments with "unlocked" indicator.
Rapid Target Technology (RTT) eyebox combing large exit pupil with long, constant eye relief to ease target acquisition.
Mil-dot reticle calibrated at 8x.
1x reflex sight with 1-mil red dot.
Waterproof/fogproof/argon processed.
Picatinny accessory rail attachment.
Integrated mount system.
Shockproof.
30 ounces.
Patent pending design.
Walter Seace, Sales Manager for Kruger Sports Optics, is available to discuss the DTS at (909) 468-5688, or by e-mail at walters@krugeroptical.com. He will also be available at Kruger's booth #328 at the show.
Kruger Optical is a full-service provider of quality sports optics. Headquartered in Sisters, Oregon, and Walnut, California, the company has been providing binoculars, riflescopes, spotting scopes and other optics products, as well as optical engineering services, since 1998. With 150 years of combined experience in optical product development and marketing, Kruger Optical's talented and dedicated staff is committed to developing innovative, high performance products for the discerning customer. To learn more, please visit our website at https://www.krugeroptical.com.
---
ARMALITE® AR-50A1™ NATIONAL MATCH AR-50A1™ National Match Making The Best Even Better

(Geneseo, IL) What do you do with the best high-powered competition and tactical rifle in the world? At ArmaLite, you make it even better.
ArmaLite proudly introduces the AR-50A1 National Match at the 2011 SHOT Show in Las Vegas. Please come see our new rifle at Booth 12564.
The AR-50A1 National Match is similar to our standard AR-50A1 with some VERY important differences. The AR-50A1 NM is produced from selected components: The National Match's 33 inch barrel is three inches longer than the standard AR-50A1's barrel. The barrel has eight flutes. The flutes help with cooling and reduce unnecessary weight while maintaining accuracy-enhancing stiffness. The barrel has a 50 BMG Match chamber instead of a standard military chamber.
The result: sub MOA accuracy. We weren't kidding when we told you we've made the best even better.
ArmaLite has also developed a "Skid System" for the AR-50A1 National Match. It's meant for serious match use and comes standard, NOT as an expensive add-on. The ArmaLite Skid System provides parallel rests on the rifle that are parallel with the bore of the rifle so when it recoils it will recoil straight back. This has been requested by match shooters, some of whom have made their own. The front skid attaches to the slot in the forestock similar to the way bipod rails are attached. The rear skid attaches to the buttstock. Armalite developed the Skid System without modification to the AR-50A1's original parts so the system can be used by shooters who already own an AR-50A1 and want to use their original stock with NO MODIFICATIONS.
Looking for more reasons the AR-50A1 NM achieves sub-MOA accuracy? Here they are:
The heart of the rifle is its metallic stock-to-action interface. The patented V-Lock™ Bedding Wedge and V-Block Stock assure absolute strength and repeatability for superb accuracy. The aluminum stock reinforces the receiver like a bench-rest sleeve.
It's not just the bedding that improves accuracy. Independent testing has proven the AR-50A1 muzzle brake to be the best in the industry for both recoil control and accuracy. It scrapes away turbulent muzzle gasses and lets the bullet break into clean air for amazing accuracy.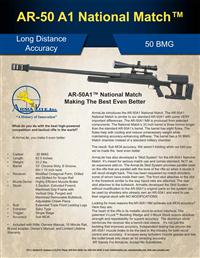 AR Stands For ArmaLite: Accept No Substitutes.
Caliber: .50 BMG
Length: 62.5 Inches
Weight: 33.2 lbs.
Barrel: 33" Chrome Moly, 8 Groove, RH 1:15 inch twist
Receiver: Modified Octagonal Form, Drilled and Slotted for Scope Rail
Muzzle Device: Highly Efficient Muzzle Brake
Stock: 3 Section: Extruded Forend, Machined Grip Frame with Vertical Grip, Forged and Machined Removable Buttstock, Adjustable Cheek Piece
Bolt: Extended Triple Front Locking Lugs
Extractor: Sako Type
Trigger: Single Stage
Accuracy: sub MOA
Included with Rifle: Owner's Manual,
15 Minute Rail, Bipod adapter
Owner's Manual, and Limited Lifetime Warranty
---
---