Shooting News 5:
News Page 1 2 3 4 5 6 7 8 9 10 11 12 13 14 15 16 17 18 19 20 21 22 23 24 24
---
BUSHNELL Elite 6500 Tactical Riflescopes
This year Bushnell adds two new tactical riflescopes to the Elite 6500 line with features that meet the needs of tactical and military marksmen. With their 6.5x magnification range (1:6.5 ratio from low to high power), the Elite 6500 riflescopes offer one of the widest zoom ranges in the industry. The new tactical scopes include a 2.5-16×42mm and a 4.5-30×50mm.
The Elite 6500 tactical scopes feature a new tactical matte finish that further reduces glare and reflection. Also new are tactical-style turrets that have been added for easy finger-tip adjustable windage and elevation controls. These scopes are available with Mil-Dot reticles. The 30mm tube construction delivers plenty of light and provides more adjustment for windage and elevation. Each scope features side parallax and focus adjustment. The 2.5x models can be adjusted from 10 yards to infinity and the 4.5 x models adjusts from 25 yards to infinity.
Like all Elite riflescopes they offer fully multi-coated optics with RainGuard, ensuring a consistently sharp, clear view even in the worst conditions.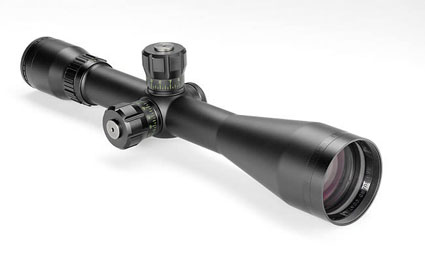 ---
Daniel Defense Resumes Normal Operation
Following a difficult period of downsizing and furloughs, Daniel Defense, Inc. resumed normal operations at their state of the art manufacturing facility today. Recent drops in small arms sales had forced the Savannah area small arms manufacturer to balance out production and sales levels, resulting in nominal layoffs, and a week-long furlough for the majority of both manufacturing and administrative personnel.
The week-long furlough sparked a torrent of online discussions within the firearms community as many AR enthusiasts contemplated the ominous impact of a firearms manufacturer expressing difficulty in this economy. Everyone at Daniel Defense was elated by the amount of supportive, encouraging, and optimistic comments made by everyday shooters and enthusiasts. Jay Duncan, Vice President of Sales & Marketing spoke on this subject by saying, "We are very confident about our position in the market place, and feel our strong relationships with our dealers, distributors and most importantly our customers, will pull us through the other side of this difficult market shift. We are encouraged by the support of our customers and the firearms community, and will work diligently to continue providing the products and service that have earned their trust."
Optimistic about Daniel Defense's recovery from this unfortunate series of events, Marty Daniel, CEO and Founder of Daniel Defense clearly expressed his combined empathy for those who lost their jobs, and confidence in the professional skills of the fine personnel that fill Daniel Defense's payroll. "Layoffs are very personal, so we did our best to avoid layoffs as long as we could. Unlike simply turning off a machine, our employees' families, income and way of life were dramatically complicated. Our employees are our most important asset, and there isn't a single employee laid off that we aren't working to get back. We hired the most hard working, and skilled designers, programmers, operators and assemblers in the industry. As we restructure ourselves to address demand and market status in the most fiscally responsible manner possible, our primary goal is to bring as many of these fine people back to work."
Daniel Defense is poised for continued successful operations as they continue steady production of the Daniel Defense DDXV Carbine, a lightly accessorized version of the acclaimed DDM4 Carbine.
In addition, to meet market demands for a shorter version of the new Omega X 12.0 rail system, Daniel Defense has released Version 2 of the DDM4 Carbine - The DDM4v2. This top-tier rifle includes all the same features and benefits of the DDM4, but is equipped with a 7 inch version of the Omega X rail system.
In response to these recent events, Daniel Defense continues their commitment to providing shooters with the most dynamic and valuable small arms solutions available by properly balancing the utmost in quality and tactical engineering with considerate pricing structures.
Media Contact:
James P. Mason
Marketing Manager
Daniel Defense, Inc.
101 Warfighter Way
Black Creek, GA 31308
912-851-3225
---
Benelli Announces MR1 Carbine in 5.56 NATO
ACCOKEEK, MARYLAND-- A combat carbine has to perform the first time, every time. The ultra-reliable ARGO (Auto-Regulating-Gas-Operated) system incorporated into the new Benelli MR 1 does it for the U.S. military, and now can be the centerpiece of an effective home defense plan. The MR 1 rifle, Benelli's latest offering, is chambered in 5.56mm NATO (.223 Rem.) and uses the battle-proven ARGO system-the same system developed by Benelli for the M1014 and used for over a decade in multiple conflicts by the United States Marine Corps.
The sights are a military-style aperture, adjustable for windage and elevation in the field, using only a cartridge rim. A Picatinny rail allows mounting of both conventional and night-vision sights, while retaining metallic-sight capability. All steel parts are black phosphated and aluminum parts are hard-anodized in a matte finish for low visibility and corrosion resistance. The Benelli MR 1 carbine comes standard with a five-round magazine, and can also accept standard M16 magazines. An optional Picatinny tri-rail forend kit is available for mounting a laser aiming device, front handle, illuminator and other accessories.
The MR 1 features a stainless steel, self-cleaning piston that operates directly against the proven rotating bolt, thereby eliminating the need for complex linkages found on other inferior gas systems. This piston-driven system (ARGO), perfected by Benelli, incorporates a gas port located just forward of the chamber where the gases are hotter and cleaner, resulting in less fouling and more reliable cycling. In function testing the MR 1 exceeded the military requirements without malfunction. The result is a Benelli carbine with Marine-tough reliability able to function under the harshest environmental conditions.
"The MR 1 is another great development, and certainly a major milestone for Benelli," said Stephen McKelvain, Benelli's VP of Marketing & Communications. "Any shooter who appreciates accuracy and reliability will have to own a Benelli MR 1."
Specifications:
Model MR 1
Caliber 5.56mm NATO (.223 Rem.)
Barrel Length 16 inches
Sights Military-style Aperture Sight
Metal Finish Black phosphate & hard-anodized in matte black finish
Stock Tactical Pistol Grip
Average Weight 7.9 lbs.
Overall Length 37.1 inches
Bore Characteristics Hard chrome lined with a 1-in-9 right hand twist
Method of Operation ARGO (Auto-Regulating-Gas-Operated)
MSRP $1299

Benelli's newest 223 Remington gauge semiautomatic clearly stems from a military background. A highly versatile rifle, the MR1 easily adapts to the shooter's every need -- from self-defense, to target practice and even hunting. Robustness, reliability, precision and safety are some of its main characteristics, along with manoeuvrability and rapid fire.
"IWA is always an excellent arena to introduce new products and this year's was no exception" said Mr. Lucio Porreca, Benelli's Sales Manager "sure, the looming crisis was noticeable in some booths, but we at Benelli are confident in our product-line and continue to be a driving force that - rather than backing down - invests in new products and technologies. No matter how far Benelli has come, we always go farther. Even in times of crisis" he concluded.
---
Trijicon's new RMR Sight is a patent-pending new generation Ruggedized Miniature Reflex designed to improve shooter precision and accuracy with any style or caliber of weapon. Unlike other red dot sights on the market, this innovative solution is designed for superior durability under the most extreme conditions. The experts at Trijicon also designed the new RMR sights to be as strong as the company's renowned Trijicon ACOGs, and provide ease of sighting and adjustment, solving important issues often associated with other red dot sights.
Trijicon's new design begins with a rugged, forged aluminum housing — one that is extremely sturdy, yet lightweight. This advanced housing encases premium quality optics for superior performance in every tactical, shooting or hunting situation. Other advancements in the Trijicon RMR sights include new large, easy-to-use adjusters that allow for quick one MOA per click adjustment for windage and elevation using a common screwdriver or shell casing. The Trijicon RMR provides rapid target acquisition and enhances the shooter's capabilities in a wide variety of applications.
In keeping with Trijicon's commitment to battery-free illumination, a battery-free model features dual illumination using Trijicon's patented fiber optics and tritium, and comes in dot sizes of 9 or 13 Minutes of Angle (MOA). This model is the world's first battery-free mini reflex sight, measuring a mere 1.78"L X 1.24"W X1.03"H and weighing in at only 1.22 oz.
For more information on features and specs, visit www.trijicon.com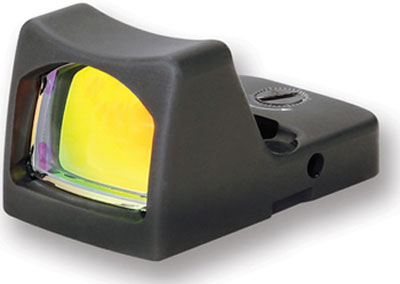 ---
Extreme Shock Ammunition's "Green" 223 55 CT-2
CLINTWOOD, VA – Extreme Shock Ammunition, known for producing the world's most advanced ammunition, has added the .223 55 grain CT-2 (Copper Training/Tactical) to its innovative line of lead free, environmentally friendly, or "green," ammo. This round was engineered for tactical and training purposes.
The 223 55 CT-2 is specifically engineered to offer all the same desirable characteristics of Extreme Shock's compressed Tungsten core ammunition. The CT-2 is the economical solution to a Firing Range's lead nightmare. This round will allow ranges to operate on expensive target steel without fear of steel damage or injury from ricochet. The CT-2 projectile consists of a patented compressed copper powder blend of the highest quality. Each round is encased in a copper jacket and topped with a green ballistic tip to aid in fragmentation and identification. Loaded to safe SAAMI pressure specifications, the CT-2 is safer for use in firearms than other brands of frangible or training ammunition.
The 55 grain CT-2 is available in a 20 round box with an MSRP of $20.18 as well as a 6 round blister pack with an MSRP of $6.05.
To learn more about the full range of products offered from Extreme Shock Ammunition, please visit www.extremeshockusa.net, call Extreme Shock USA at (276) 926-6772
---
Winchester Ammo Awarded Homeland Security Contract
Winchester® Ammunition was recently awarded a contract by the Immigration, Customs and Enforcement (ICE) division of the Department of Homeland Security to supply a maximum of 200 million, 40 cal. rounds over the next five years.
Winchester has a proud tradition of providing high quality ammunition to our nation's law enforcement agencies, said Dick Hammett, president, Winchester Ammunition. "No matter if they're protecting our block, our city or our borders, each special agent is an invaluable resource and we are committed to giving them the best products available."
The load selected for this contract is a 135-grain, hollow point designed for the office of Field Operations of Customs and Border Protection. It will fall under the Winchester® Ranger® line of products.
For more information about Winchester Ammunition and its complete line of products visit www.winchester.com.
WINCHESTER BALLISTICS CALCULATOR
The new Winchester® Ammunition Ballistics Calculator is the most innovative program on the market, using cutting-edge technology to offer ballistics information for shooters and hunters.
The Winchester Ballistics Calculator allows users to choose their type of ammunition and compare up to five different Winchester products with easy-to-read, high-tech ballistic charts and graphs. You can customize shooting conditions by entering wind speed and outside temperature, adjust zero marks for sighting in - then print the ballistics for later reference on the range or in the field. The calculator is now live at www.winchester.com/ballistics.
---
Weatherby Introduces New Shotguns For Youth, Waterfowlers
The Youth Synthetic has a short 12 1/2-inch length of pull, 24-inch barrel and only 5 3/4 pounds of weight. The Waterfowler sports Mothwing Marsh Mimicry™ camo on the stock and metalwork, with the exception of the matte black bolt. Utilizing the moth's biological patterns, Mothwing camo is designed to mimic and disappear into the surrounding environment.
"Like all SA-08 semi-auto shotguns, the Youth Synthetic and Waterfowler are precisely balanced, and feel trim and lightweight," said Brad Ruddell, Weatherby's vice president of sales and marketing. "They offer the utmost in load versatility, as well as performance-tested reliability and very affordable prices. The Youth Synthetic is easy for young hunters and shooters to handle, while the Waterfowler helps marshland hunters stay well concealed in their environment."
Both models feature the proven dual valve system, which allows shooters to quickly adapt the shotguns to accommodate the widest load ranges, from ¾ ounce to heavy 3-inch magnum. Another benefit of the dual valve system is reduced recoil as compared to traditional single valve shotguns.
Other key features of the Youth Synthetic and Waterfowler:
injection-molded synthetic stock is durable yet lightweight
alloy receiver further reduces weight and improves overall balance
unique drop-out trigger system can be removed and reassembled quickly for easy cleaning
chrome-lined barrels can withstand years of high-volume shooting and reduce the effort necessary to keep the barrel clean barrels have lengthened forcing cones for improved patterns and less shooter fatigue
vented top rib for smooth follow-through after the shot, also dissipates heat
Weatherby's screw-in Integral Multi-Choke System is compatible with the Briley® thread pattern; each shotgun comes with Improved Cylinder, Modified and Full choke tubes that allow shooters to tailor their shot patterns for specific hunting applications
The Youth Synthetic is available in 20 gauge, has a black stock and matte black metalwork to reduce glare, and a brass bead front sight. Retail prices start as low as $449.
Available in 12 gauge, the Waterfowler offers a choice of 26-inch or 28-inch barrel length. The gun weighs a light 6 1/2 pounds. Manufacturer's suggested retail price is $649.
For more information, contact a local Weatherby dealer, call the company at (805) 227-2600 or visit www.weatherby.com.
Founded in 1945, Weatherby, Inc.'s line features the popular Vanguard® and legendary Mark V® rifles, over/under and side-by-side shotguns in the classic Athena® and Orion® lines, semi-auto and pump shotguns, premium ammunition and security/shooting accessories. The company is based in Paso Robles, Calif., and invites all hunters and shooters to visit and join its free online community at www.weatherbynation.com.
---
Guns and Gear On VERSUS Features Small Guns and Great Ammo
This week on Guns & Gear:
The show that brings you coverage of the stuff you want features ammo, guns, holsters, and more, this week on Versus.
The EMP is the smallest 1911 Springfield Armory makes and they didn't try to make a full size 1911 small, they built it from the ground up. Some of the best ammo for hunters, Nosler Trophy Grade, is featured. A unique concealed carry holster from Crossbreed Holsters. The Trail Boss from Olympic Arms is what we call a "Barbeque Gun". And we talk gun cases with Brownells.
You can also see segments from previous episodes and find out more about the products featured on the show at www.gunsandgeartv.com.
Guns & Gear airs on Versus and Versus HD on: Tuesdays at 3:00pm EST, Wednesdays at 8:30am EST, Thursdays at 8:30amEST
Versus is available to 75 Million TV Households on cable systems, Direct TV and DISH Network. For more go to www.versuscountry.com.
---