Shooting News 10:
News Page 1 2 3 4 5 6 7 8 9 10 11 12 13 14 15 16 17 18 19 20 21 22 23 24 24
---
Robinson Arms Sues Remington, Bushmaster, RRA, and Magpul
Robinson Arms, manufacturers of the XCR have filed suit yesterday in US District Court for Utah against Remington, Bushmaster, Rock River Arms, and Magpul Industries based on alleged infingement of their patent (Multi-caliber ambidextrously controllable firearm #7,596,900) issued 6 October, 2009 and initially filed in August of 2003.
Specifically, the weapons alleged to have violated Robinson's patent are the Remington/Bushmaster ACR, Magpul Masada/Massoud, and the RRA LAR-8. All of these weapons feature a magazine release that is manipulated by the trigger finger from within the trigger guard as well as a similar bot hold open device.
Both Bushmaster and Remington are part of the Freedom group, owned by Cerberus Capital Management. So for taking on Freedom Group I give them an "E" for Effort. Of note is the timing of the suit, just days before SHOT Show as well as Robinson's announcement on their website that they would be exhibiting after all in a booth (#20034) shared with Serbu.
---
KRUGER Dual Tactical Sight
The Kruger Optical 1-8×40 Dual Tactical Sight (DTS) was created for complex combat situations. The U.S.-made sight is actually two scopes in one compact package. For close combat situations, the sight is a high-resolution 1 MOA dot with a 60 MOA circle reflex sight. A flip of a lever transforms it into a 2-8×40 sniper scope with mil reticle.
All adjustments can be quickly made while looking through the sight, so there is no need to lose sight of a target. A patent-pending "zoom-slider" makes magnification adjustments quick and easy.
Other features include:
Brightness-controlled "smart" illumination system
Locking ¼' windage and elevation tactical adjustments
Fully multicoated optics
Made in the U.S.A. (manufactured in Oregon from U.S. and imported parts)
Waterproof/fogproof/nitrogen processed
Shockproof
Length < 11.5"
For more information on this and other Kruger products, visit www.krugeroptical.com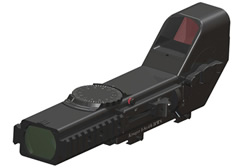 ---
STEYR AUG
Two decades after it was banned from importation, the venerated and much-sought-after Steyr AUG has made its triumphant return to firearm stores across America. Now built stateside by Steyr subcontractor Sabre Defense—legendary for its tactical rifles and its unrivaled M2HB and Minigun barrels currently in use by the U.S. military—under the watchful eyes and to the exacting tolerances of Austrian engineers, the new Steyr AUG/A3 SA USA made its debut at the 2009 SHOT Show and is now available in 5.56×45mm (.223 Rem.).
After the importation ban in 1989, the legendary AUG/A1 frequently commanded in excess of $5,000, but the svelte, utilitarian Austrian bullpup in its upgraded, modern A3 configuration is now available at a fraction of that. With an overall length of 28.15 inches including its 16-inch heavy barrel, the uncompromising, clean-running AUG/A3 SA USA measures 8 inches shorter than an AR-15 carbine with a comparable barrel length and an extended stock, making the AUG the ultimate home-defense or ranch rifle. And while the AR-15's often maligned gas-impingement system expels a large quantity of operational gas—and all the accompanying carbon and unburned powder—directly into the bolt carrier within the receiver, all gas used to cycle the utterly reliable short-stroke gas-piston AUG design exits the system within an inch of the barrel's gas port. The new AUG/A3 SA USA also has two gas adjustment settings.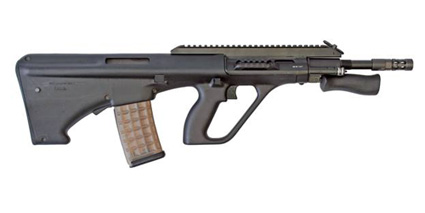 The AUG/A3 SA USA was engineered specifically with the American marksman in mind, and it incorporates all the features that AUG aficionados have always desired in the platform. An innovative muzzle brake design tames recoil exceptionally effectively, providing for accurate second shots on target. The new last-round bolt-hold-open feature provides a subtle "feel" indication that the magazine is empty, and after a magazine change, the low-profile bolt release is conveniently located on the left side of the stock. The redesigned charging handle, forward on the left side of the receiver, also serves as a forward assist.
The most obvious departure from the AUG of two decades ago is the lack of an integral optical sight. In keeping with its A3 designation, the new AUG is of a flat-top design with a marked, 25-position Picatinny rail. This makes sighting options almost limitless—from low-powered, long-eye relief optics to high-powered scopes to iron sights or even a combination of both. AUG purists need not fret; a Picatinny version of the original integrated Austrian "donut reticle" 1.5X optical sight is also available from Steyr Arms. A smaller side rail also has been added for the integration of one of the many illumination or laser devices on the market.
Of course, the AUG/A3 SA USA has all the classic features and benefits that established it as the pinnacle of modern rifle design, including expedited disassembly as well as simple conversion to left-hand operation, which requires replacement of the standard bolt with the optional left-eject bolt. It also features a quick-change barrel with a collapsible forward grip. The AUG/A3 SA USA includes two transparent polymer 30-round magazines, a cleaning kit that stores in the rifle's buttstock, a factory sling, a soft carry case and an owner's manual. Suggested retail is $2,295.
For more information about the AUG/A3 SA USA, visit its microsite at www.steyrarms.com/microsites/aug.
---
EAA EZ Pistol
By popular demand, EAA is introducing a ported carry version of the very popular EZ pistol. The EZ Carry Pistol has a 3-34 inch barrel for easy conceal and is rounded for an easy draw. The ports help reduce felt recoil. The EZ Carry comes in a 2-tone finish with a black frame and matte stainless slide. Available in 9 mm and .40 SW, the EZ has proven to be perfect for concealed carry and with the introduction of the ported carry model, the EZ line now rivals that similar looking handgun in quality and variety, while besting it in both features and price. Some of the standard features on the EZ Carry are ambidextrous controls, 3 dot sights, double action/single action, skeletonized hammer, lightweight frame, integral accessory rail, full length claw extractor, firing pin block safety and a tactile loaded chamber indicator.
EZ Carry:
Caliber: 9mm & .,40 SW
Capacity: 9mm-14+1; 40 SW-10+1
Finish: 2-tone - black frame with matte stainless slide
Overall Length: 7.5″
Barrel Length: 3.75″
Width: 1.5″
Height: 5.5″
Weight: 32 oz.
MSRP: $620
For more information, please visit www.eaacorp.com.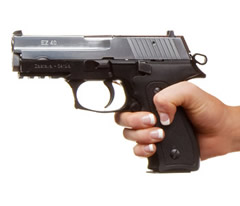 ---
Mesa Tactical Urbino Tactical Stock for Benelli and Remington shotguns
Mesa Tactical, a Costa Mesa, CA manufacturer of professional grade tactical shotgun accessories, today introduced a line of rugged, comfortable pistol grip stocks for the Benelli M1, Benelli M2, Benelli M4, Remington 870 and Remington semi-automatic tactical shotguns.
Called the Urbino Tactical Stock system, the stocks were developed based on the specific needs of law enforcement and military professionals. Injection-molded in glass-filled nylon, the stocks feature a "tactical"12½ inch length of pull (LoP) for enhanced weapon control, especially with body armor; optional field-adjustable cheek riser to provide improved cheek weld when used with optics; optional Limbsaver® butt pad for greater shooting comfort, especially during long training or certification courses; shock-absorbing rubber grip sleeve to reduce shooter fatigue; and a variety of standard and proprietary sling mounting options.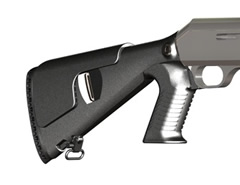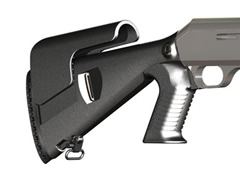 The Urbino Tactical Stock takes many of its design cues from the Benelli factory tactical stocks. "But the Benelli stock was a point of departure for us," says Mitch Barrie, president of Mesa Tactical and the primary developer of the Urbino Tactical Stock. "We thought it was the most comfortable stock for tactical shotguns, but like all factory stocks it was too long for tactical applications. Our law enforcement and military customers urgently needed a stock with a reduced LoP. They were also clamoring for a stock for the Benelli M4, which is beginning to see wide adoption by law enforcement special weapons teams." mesatactical.com
---
S&W Bodyguard line with integrated INSIGHT laser
Debuted this week at the 2010 Shooting Hunting & Outdoor Trade (SHOT) Show in Las Vegas, Nevada, the BODYGUARDS combine the latest advancements in laser technologies with Smith & Wesson's innovative design and manufacturing capabilities. The new BODYGUARD line features a uniquely designed compact frame, an integrated INSIGHT laser and several other new high-tech advantages.
INSIGHT Laser
At the core of the new BODYGUARD line of firearms is the capability of the INSIGHT laser. Allowing for optimal accuracy, both the BODYGUARD 380 and 38 are fitted with a red laser sight produced in conjunction with Insight Technology. A world leader in the design, development and manufacture of tactical lasers, Insight Technology designed the integrated laser system to perfectly mate with the new pistol and revolver. Accurate, durable and easily adjusted, the integral laser provides shooters with added confidence by enabling quick sight acquisition under low light conditions.
The integrated laser sighting system enables faster target acquisition for shooters of all experience levels. By working closely together and designing the firearm and laser sight system to be integral, Smith & Wesson and Insight Technology have achieved a value positioning that allows more firearm customers to afford laser sighting system technology.
To activate the laser, users simply operate the push-button design located on top of the laser sight for the revolver and on the sides of the forward frame for the pistol. Ambidextrous and easily manipulated while holding the firearm in the shooting position, the laser sight features three modes. By pushing the button once, the laser is on a constant-on mode. A second push of the button enables the laser to go into pulse mode while a third press turns the laser off. The INSIGHT laser is equipped with an automatic five-minute auto off timer, to preserve battery life. In constant on mode, the laser provides three hours of continuous run time. The laser sight can be adjusted for both windage and elevation and no assembly is required. Two Energizer 357 or equivalent batteries power the laser on the BODYDGUARD handguns.
"With its advanced features and quality components, the new BODYGUARDS offer an easy-to-use, accurate and lightweight self-defense firearm," said Golden. "The new BODYGUARD 380, 38 and their integral laser sight systems have been meticulously engineered from the ground up. Simple yet sophisticated, the new BODYGUARDS provide the satisfaction, durability and reliability that have become synonymous with Smith & Wesson firearms."
BODYGUARD 38 Revolver
Chambered in .38 S&W Special +P, the BODYGUARD 38 continues Smith & Wesson's line of reliable small-frame self-defense revolvers. The BODYGUARD 38 delivers the optimal combination of accuracy and simplicity. With its lightweight design, the BODYGUARD 38 allows for discreet carry and its hammerless design provides a snag-free presentation. The five-shot revolver features a short 1.9-inch barrel, which contributes to a compact overall length of 6.6 inches
Weighing in at 14.3 ounces, the BODYGUARD 38 features a one-piece aluminum alloy upper frame along with a steel reinforced polymer lower frame. The barrel and cylinder on the revolver are both stainless steel. The stainless steel cylinder is coated with a durable, non-reflective, matte black PVD finish for long term carrying and low light presentation. Designed to accommodate both left and right-handed shooters, the revolver features an easily manipulated ambidextrous cylinder release on the top of the frame. The revolver is further enhanced with an ergonomic one-piece rubber grip and a smooth trigger pull.
On the right side of the frame, the revolver has been fitted with an integral INSIGHT laser, allowing precise shot placement in low light conditions. For fast target acquisition when the laser is not in use, the revolver sports a notch-style rear sight and a pinned black blade front sight. The BODYGUARD 38, with its double-action only design, can be easily concealed for discreet carry.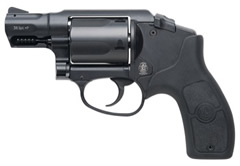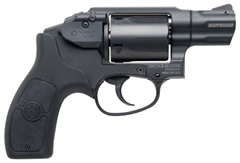 BODYGUARD 380 Pistol
Compact, sleek and ergonomic, the BODYGUARD 380 delivers personal protection in an easy-to-carry platform. Chambered for .380 ACP, the lightweight pistol features a high-strength polymer frame with a black, Melonite® coated stainless steel slide and barrel. The new BODYGUARD 380 is standard with a 2 ¾-inch barrel, which contributes to an overall length of 5 ¼-inches and an unloaded weight of only 11.85 ounces.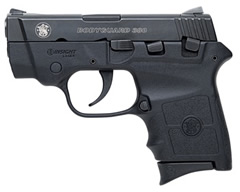 The new pistol features a double-action fire control system, which allows for rapid second-strike capability. The BODYGUARD 380 has been further enhanced with a smooth trigger pull. Adding to its simplicity, the BODYGUARD 380 is standard with a manual thumb safety and an external take down lever and slide stop. On the lower portion of the frame, the pistol has been fitted with an integral INSIGHT laser, which is easily operated by both left and right-handed shooters. With its slim-line ergonomic grip, the pistol is comfortable in the hand and points naturally. To help aid in quick sight acquisition when the laser is not in use, the pistol includes black, Melonite-coated, stainless steel, drift adjustable dovetail sights. The BODYGUARD 380 is standard with a 6+1 magazine capacity.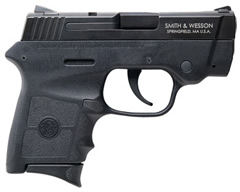 ---
HK to make new rifles in U.S. facility
Columbus, Georgia — Firearms maker Heckler & Koch announced today that it will manufacture two new rifle designs in a newly opened U.S. factory in 2009. The new rifles, the HK MR556 and HK MR762, are inspired and influenced by the HK416 and HK417, two highly acclaimed models designed and produced by Heckler & Koch's Oberndorf, Germany plant.
The rifles will be produced at a new HK manufacturing facility in Newington, New Hampshire. The facility is collocated within an existing 70,000 square foot facility. HK began manufacturing pistols in the U.S. in late 2008.
"We've reached a major milestone in our objective to establish a production presence in the U.S.," said Wayne Weber, executive vice president of the U.S. business unit of Heckler & Koch. "The new HK45 pistol is the first HK product officially 'Made in the USA'. It is our goal to strategically transfer production of select HK products to the U.S., with the HK45 Compact being the next product to come off the U.S. production line and shortly thereafter, the HK MR series rifles."
"It is our intention for all U.S. made HK products to equal the quality and reliability of the products made in Germany," Weber added. "By establishing American-based manufacturing, we can compliment our German production and ensure that HK can be more competitive in the U.S. and comply with government contracts requiring U.S. manufacturing. HK products made in the USA will be fully compliant with federal solicitations giving preference to domestically produced products. Additionally, it will provide a boost to the U.S. economy by creating more opportunities and business for many of our U.S. subcontractors and suppliers."
The HK MR556 and HK MR762 models, caliber 5.56 x 45 mm and 7.62 x 51 mm rifles respectively, will be produced at the Newington facility from American and German made components. To comply with German government regulations, certain design changes were made in the rifles to make them adaptable to the commercial sporting market.
The semi-automatic HK MR series rifles use an HK-proprietary gas piston operating system recognized for ultra reliability and will have German-made cold hammer forged barrels. These are some of the same key features critical to the success of the HK416 carbines used by leading U.S. and foreign law enforcement and military customers. The HK416 is widely viewed as a leading candidate in a possible competition to replace the U.S. military's current M4 carbine.
About Heckler & Koch
Heckler & Koch is the world's premier small arms systems company and a major supplier to global military, law enforcement agencies, and civilian shooters. An innovative leader in design and manufacturing, Heckler & Koch provides technologically advanced firearms, logistical support, training, and specialized services with the highest standards of innovation and reliability to its customer base. Heckler & Koch's well-known range of products include the USP series pistols, MP5 submachine gun, the MP7 Personal Defense Weapon, the G36 weapon system, the HK416 enhanced carbine, and the recently introduced HK45 and P30 series pistols.
For further information, please contact:
HK-USA Public Relations
Tel: 1-703-450-1900 extension 226 in the USA
Email: pr@heckler-koch-us.com
American Website: www.hk-usa.com
Global Website: www.heckler-koch.com
---
Hornady Releases Superperformance 308 Winchester Match Cartridge
(Grand Island, Neb.) - Hornady® unveils the next generation of match ammunition - the Superformance™ 308 Win 178 gr BTHP Match. Achieving 2,775 feet per second from a SAAMI spec 24" test barrel, this new load is approximately 175 fps FASTER than any comparable commercial load available today! Topped with the NEW 178 gr BTHP Match bullet featuring a .530 ballistic coefficient, this Superformance™ offering provides industry leading ballistic performance.
"The new 178 grain BTHP Match bullet was purpose built, and optimized specifically for the 308 Winchester chamber. It features an aggressive ogive as well as an extremely efficient boat tail that makes this projectile highly effective aerodynamically, yield less wind drift and allows the shooter to obtain flatter trajectories. Accuracy results were excellent. We shot a .680" group at 200 yards with our test equipment, and field tests out to 1250 yards yielded 8 inch, not 8 MOA, but 8 inch total circumferential groups." - Joe Thielen - Hornady Project Engineer
Remaining supersonic to approximately 1,275 yards, this new load provides a 200 to 250 yard advantage over anything else currently available in 308 Winchester. Because Hornady incorporates its Superformance™ technology, there is no increase in pressure, barrel wear or felt recoil. It also offers incredible temperature stability and excellent accuracy potential.
"When we combine this high B.C. match bullet with our Superformance™ propellants, the result is a completely new load specifically designed to maximize every aspect of the 308 Winchester." - Dave Emary - Hornady Senior Ballistician.
Founded in 1949, Hornady Manufacturing Company is a family owned business headquartered in Grand Island, Nebraska. Proudly manufacturing products that are "Made in the USA" by over 300 employees, Hornady Manufacturing has become a world leader in bullet, ammunition, reloading tool and accessory design and manufacture.
For further information regarding Hornady products visit our web site at www.hornady.com. Media members interested in Hornady products for editorial review should contact Steve Johnson at sjohnson@hornady.com.
---
---