Shooting News 6:
News Page 1 2 3 4 5 6 7 8 9 10 11 12 13 14 15 16 17 18 19 20 21 22 23 24 24
---
EOTECH Cross(X) Power Source 2-0: XPS2-0
The XPS2-0 is the latest addition to the EOTech HOLOgraphic Weapon Sight (HWS) family. The XPS2-0, or Cross(X) Power Source, maintains many of the same speed and accuracy benefits, but now in a smaller, more lightweight package. EOTech has redesigned the HWS body to accept a single, transversely positioned, CR123 Lithium battery. The new XPS2-0 requires much less rail space than the discontinued N alkaline battery sights and provides roughly three times the battery life (approx. 600 hours). In addition, the XPS offers three incredibly fast reticle options that includes a new 2-dot pattern that is ballistically calibrated to the .223 round. Offered in both night vision and non-NV, the XPS2-0 is the shortest and lightest HWS developed to date, and ideal for any shooting situation and weapon platform. Visit https://www.eotech.com for more information.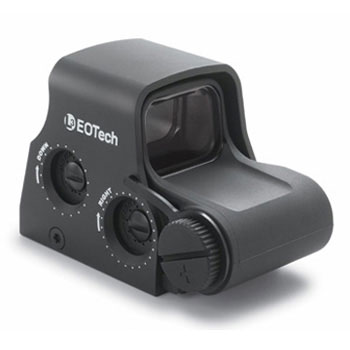 ---
Beretta Announces New Delivery of Px4 Storm SD Pistol
ACCOKEEK, MD (August 11, 2009) – Beretta U.S.A. Corp. announces new delivery of Px4 Storm SD (Special Duty) pistols in 45 Auto caliber to its distributors.
According to Gabriele de Plano, Vice President of Tactical Marketing, Beretta will continue to ship limited quantities during the rest of the year. "The SD was developed to meet the very demanding requirements of the original 45 caliber JCP (Joint Combat Pistol) specifications, and given the ongoing demand for handguns this particular model is expected to sell through very quickly," said de Plano.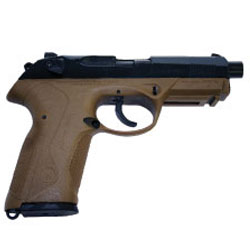 The SD features a distinctive dark earth colored frame, extended barrel (suitable for threading), special corrosion-resistant finishes and materials, and three magazines: One flush (9 rounds) and two extended (10 rounds). The pistol and magazines come in a custom fitted, dark earth, waterproof tactical case. Included accessories are two additional backstraps and magazine release buttons, as well as a cleaning kit, gun oil and cable lock. Beretta, established in 1526, is the oldest industrial dynasty in the world tracing its roots through 16 generations of continuous family ownership. Firearms bearing the Beretta name have been sold for almost 500 years.
Beretta USA Corp. was founded in 1977 and supplies the standard sidearm to the U.S. Armed Forces. Today, Beretta manufactures, distributes and markets a complete line of firearms, accessories and apparel. Beretta also owns and operates six retail Beretta Gallery stores worldwide. For additional information, visit www.berettausa.com
---
LASERLYTE Subcompact V2 Laser + FlashLyte Package
LaserLyte has paired its Subcompact V2 laser and FlashLyte to create the smallest laser and light package available. This combo pack fits on all subcompact pistols and any larger gun with rails. The system features three mounting options for maximum versatility. Additionally, the laser and light can be used individually or together. MSRP $199.95
LaserLyte Laser and FlashLyte Specifications:
Product Number: LL-1
Compatible Firearms: All firearms with rail systems
Power Output: 5mw, 25 lumens
Batteries: 4-A76, 3-393
Battery Life: 1.5 hours plus
Weight: 2.3 oz., 65.20 g
Length: 1.80 in., 45.72 mm
Width: 1 in., 25.40 mm
Height: 180 in., 45.72 mm
Laser Range at Night: 500 yd., 457 m
FlashLyte Range at Night: 10 yd., 9 m
MSRP: $199.95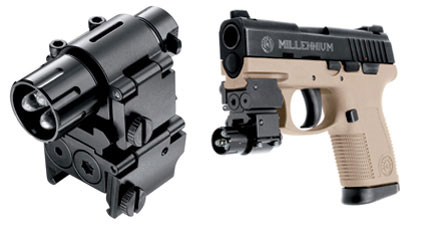 ---
New Home Defense Shotgun Round from Remington - Remington HD™ Ultimate Home Defense Loads
Remington has announced a new shotgun load featuring a tungsten-bronze pellet load, which is being marketed for home defense. Remington's Press release:
Madison, NC – For nearly sixty years, law enforcement agencies and judicious gun owners around the world have relied on the Remington Model 870™ shotgun as their defensive firearm of choice. For 2009, Remington announces a new ammunition product designed to enhance the effectiveness of your shotgun in a home defense scenario – Remington HD Ultimate Home Defense.

Remington HD Ultimate Home Defense shotgun ammunition features the same pellet material as the popular Wingmaster HD™ tungsten-bronze hunting ammunition and is offered in two loadings. Consumers can choose from a load of BB's for the highest terminal energy or a duplex mixture of #2 and #4 pellets for excellent pattern density and outstanding stopping power with a reduced chance of over-penetration. Both loads are 12 gauge, 2 ¾-inch with 1 1/4 ounces of shot at 1250 feet per second. At the most commonly encountered home defense distances, Remington HD Ultimate Home Defense produces very tight patterns for one-shot confidence.

HD Ultimate Home Defense ammunition is the perfect complement to Remington's recently expanded line of tactical shotguns. Recent additions to the line include the Model 870 Express® Tactical with XS® Ghost Ring Sights and the Model 870 Express Tactical with Gray Powder Coat Finish. Both shotguns are 12 gauge and feature 3-inch chambered 18 ½-inch barrels which are threaded for the included Tactical Extended Rem™ Choke. Average weight for both models is 7 ½-pounds, overall length is 38 ½-inches and both guns are equipped with a black synthetic stock and fore-end.

The Model 870 Express Tactical with XS Ghost Ring Sights is optimized for rapid target acquisition and precise shot placement with a front XS blade sight and a receiver-mounted picatinny rail with an integrated XS Ghost Ring rear sight. This "Remington exclusive" sighting system is fully adjustable for windage and elevation.

The Model 870 Express Tactical with Gray Powder Coat Finish has a bead-sighted barrel and the receiver and barrel are finished with a gun metal gray powder coat for increased durability and reduced glare.

Regardless of which shotgun you employ in defense of your family, a magazine full of HD Ultimate Home Defense will have things that go bump in the night fearing you for a change.
Ballistics:
12 gauge – 23/4 inches, 1250 fps at the muzzle, 1.25 ounces of BB shot. 12 gauge – 23/3 inches, 1250 fps at the muzzle, 1.25 ounces of a duplex load of number 2 and number 4 shot
---
Sturm, Ruger Announces The New Ruger 10/22 VLEH Target Tactical Rifle
Southport, CT – Sturm, Ruger & Co., Inc. (NYSE:RGR) announces the Ruger 10/22VLEH Target Tactical rifle, a new version of the 10/22T Target rifle that provides many of the features offered in the Hawkeye® Tactical bolt-action rifle.
The 10/22VLEH starts out as a 10/22® Target Model. It retains the precision-rifled, cold hammer-forged, spiral-finished barrel, but the barrel is shortened to 16-1/8" to reduce weight and improve handling. The .920" OD match-grade barrel is capped with a target crown that protects the rifling at the muzzle.
The 10/22VLEH barreled action resides in a Hogue® OverMolded® stock. This non-slip, rugged stock has been an aftermarket favorite among 10/22 enthusiasts, and is now offered in a factory-standard rifle. The straight-comb Hogue® stock provides double palm swells, a varminter-style forend, and is complete with swing swivel studs and a thick, comfortable recoil pad.
The 10/22T target trigger is standard in the 10/22VLEH, offering a factory-crisp trigger with a lighter pull weight, allowing this precision-made rifle to meet its full accuracy potential.
Finally, this full-featured rifle includes a precision-adjustable bipod for steady shooting from the bench.
Assembled with an empty ten-round rotary magazine, the 10/22VLEH Target Tactical weighs 6-7/8 pounds (without bipod). It has proven itself to be a highly accurate rendition on the Ruger 10/22, famous for its ruggedness and reliability among rimfire autoloading rifles.
For more information on the 10/22VLEH Target Tactical rifle, and other great Ruger products, please visit our website at www.ruger.com.
---
VORTEX OPTICS Razor HD 5-20×50mm Riflescope
Vortex Optics new Razor HD 5-20×50mm riflescope was designed from the ground up to meet the needs of military and law enforcement precision shooters. Packed with more than a dozen unique performance and optical features, the Razor delivers superior ranging and accuracy at extreme distances – and absolutely reliable performance in the most demanding shooting conditions.
With its 35mm one-piece tube machined from aircraft-grade aluminum, the Razor offers an incredible 36 mrad / 125 MOA adjustment range for windage and elevation; enough to accommodate for bullet drop at the most extreme distances. The optically-indexed lenses are precision-ground from XD optical glass and fully multi-coated with Vortex's advanced XR coating to deliver the highest level of edge-to-edge brightness, resolution and clarity obtainable with today's optical technologies. A unique, multi-element apochromatic (APO) objective lens virtually eliminates chromatic aberration across the entire field of view so targets can be more clearly defined at longer distances – and camouflage patterns more easily spotted and identified.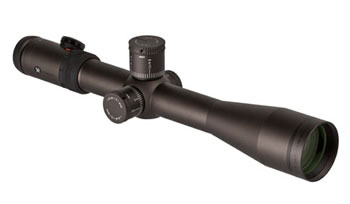 Vortex's proprietary RZR (Rapid Zero Return) Zero Stop mechanism stops the elevation turret from dialing below sight-in range using a rotational-blocking steel design (patent pending) that's mechanically more reliable and accurate than other systems that block the vertical movement of the turret. The RZR Zero Stop is fully sealed from the elements – even when being set. Delivers precise return to zero after temporary elevation corrections have been dialed without the need for the user to count clicks.
With generous 3.9 in. eye relief through the entire 5-20X range of magnification, absolutely waterproof/dustproof/shockproof construction, and a hard-anodized matte Stealth Shadow Black finish, the Razor HD 5-20mm riflescope truly represents the state-of-the art in combat-ready rifle optics. MSRP $2,499.00. Visit www.vortexoptics.com for more information.
---
GOULD & GOODRICH Model 931 Duty Holster
Gould & Goodrich's model 391 duty holster offers a fast, smooth draw and a revolutionary, patented retention system designed to meet the needs of law enforcement professionals as they face the rigorous demands of their jobs
This advanced system gives you the option to deploy the strap release lever and change your holster's status from Triple Retention to Double Retention. Or simply press the thumb slide for a synthesized release of the strap and internal retention device.
When you holster your weapon, you get instant audible retention with a single motion.
The model 391 is constructed of high grade, durable Black Kydex and solid stainless steel for maximum durability. The holster's outer shell resists scuffing under the stress of normal activities. A sueded liner protects your gun's finish. The holster offers a rear sight pocket and front sight channel. Multiple finishes are available in right- or left-hand versions.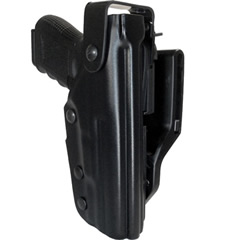 ---
WILSON COMBAT 6.8 SPC
After a tremendous amount of research and testing by Bill Wilson and the Wilson Combat team, the company has come out with custom AR platform rifles chambered in 6.8 SPC caliber.
The 6.8 SPC (6.8×43mm) was developed by the United States Army Marksmanship Unit to offer superior downrange lethality over the 5.56 NATO/.223 Remington in an AR pattern service rifle, with minimal loss of magazine capacity and a negligible increase in recoil.
Boasting outstanding accuracy and reliability, the 6.8 SPC is capable of pushing a .277 caliber, 85gr bullet to over 2900 FPS with their match-grade, Spec II chambered 16" barrels. Appropriate hand loading can achieve even higher velocities and enable the use of heavier projectiles up to 130 grains, dramatically improving terminal ballistics over a 5.56 Nato/.223 Remington at long range.
This added ballistic performance makes the 6.8 SPC perfect for home protection and SRT/SWAT teams. For more information and images, visit www.wilsoncombat.com/h_hog3.asp
FEATURES
Wilson Combat forged 7075 flat top upper receiver, marked 6.8 SPC II
Wilson Combat forged 7075 lower receiver
Stainless medium weight (.740" at the muzzle) match grade barrel with 4 groove / 1-11 twist, SPC II chamber, M4 feedramps, 16" or 18"
Mid-length gas system, with lo profile gas block
LMT enhanced bolt and carrier with NP3 coating
Wilson Combat quadrail
Wilson Combat Accu-Tac flash hider, 5/8"-24
Wilson Combat single stage TTU (tactical trigger unit) approx 4# pull
MAGPUL CTR butt stock and MIAD pistol grip with tactical trigger guard
Armor Tuff polymer finish in black, green, grey or tan
One C-Products 15 round magazine
Carry sling
Wilson Combat nylon assault case
Available Options:
TR-WCR68-16 Wilson Combat Recon 6.8 SPC 16″ $2,350
TR-WCR68-18 Wilson Combat Recon 6.8 SPC 18″ $2,350
TR-WCR68UP16 Complete Wilson Combat Recon 6.8 SPC Upper 16" $1,025
TR-WCR68UP18 Complete Wilson Combat Recon 6.8 SPC Upper 18" $1,025
---