Shooting News 11:
News Page 1 2 3 4 5 6 7 8 9 10 11 12 13 14 15 16 17 18 19 20 21 22 23 24 24
---
Calico Announces New Line of Tactical Firearms
Calico Light Weapon Systems has announced that their new Calico Tactical series of firearms will begin shipping to distributors and wholesalers on May 14, 2010. The Tactical series is based on Calico's patented helical-feed 50 and 100 round magazines, and feature aluminum quad rails for mounting optics and accessories.
The polymer rifles and pistols feature ambidextrous controls, static charging handles, and downward ejection of spent rounds. Chris Holmgren, president of Calico Light Weapon Systems, stated, "We have spent the past three years upgrading the operation with a new CNC manufacturing process, higher quality materials, and a zero-tolerance quality control system. The Calico Tactical Series of weapons proves that Calico is a viable competitor in the firearm industry."
The new rifles include the 9mm Liberty I-T and Liberty II-T carbines, as well as the M-100T .22 LR carbine. For pistol shooters, the 9mm Liberty III-T is available. Select-fire law enforcement and military pistols and carbines are also being produced. The Calico Tactical series marks the first new product offerings from the Hillsboro, Oregon based manufacturer since 1995. Calicolightweaponsystems.com.
---
Mako GL-Shock Recoil-Compensating Collapsible Stock for M4 AR-15
Mako announces the GL-Shock - the first and only recoil-compensating collapsible stock for the M4 and AR-15 on the market today.
The GL-Shock, manufactured by FAB Defense in Israel, effectively reduces felt recoil and muzzle rise for better control when firing. The GL-Shock is also the perfect solution for AR-15s and AR-10s chambered in harder recoiling calibers, such as the 6.8 SPC, .308 Winchester, .450 Bushmaster, or .50 Beowulf. The Mako Group offers collapsible stock kits for the AK-47/74 and SA vz.58-style rifles and for Remington and Mossberg shotguns that can be combined with the GL-Shock to provide recoil reduction for these weapons.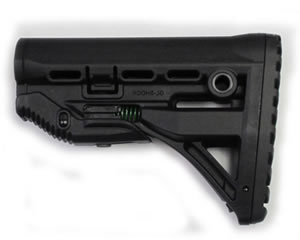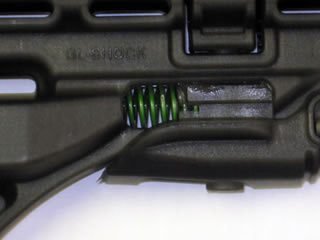 The GL-Shocks unique patented design allows it to be mounted on any standard MIL-SPEC or commercial carbine receiver extension (buffer tube). It is a drop-in replacement for the standard M4-style stock. The GL-Shock auto-adjusts to fit both commercial and MIL-SPEC buffer tubes with a tight, rattle-free fit. Unlike other recoil management systems for AR-15 carbines, the GL-Shock does not use expensive non-standard buffers or buffer springs which often affect the function of the weapon. With the GL-Shock, all factory buffer parts are retained, since recoil-reduction takes place in the stock itself.
The GL-Shocks design is based on The Mako Groups very successful GLR16 buttstock, a high-end M4/AR-15 stock with a two-battery storage compartment and a rubber buttpad. The tire tread-inspired, integrated rubber buttpad grips body armor or tactical vests, improving weapon control. The GL-Shock features slots for three sling attachment locations, as well as quick-detach sling swivel mounts on both the left and right sides of the stock.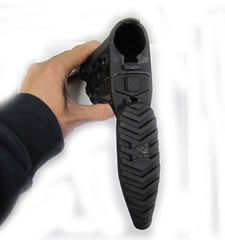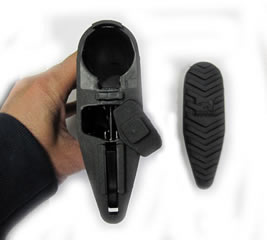 Pushing a button allows the GL-Shocks rubber buttpad to slide down, exposing a gasket-sealed waterproof battery compartment. The GL-Shocks enlarged storage compartment fits a wider array of batteries and spare parts, such as extra firing pins, gas rings, springs, or extractors.
An optional and fully-adjustable cheek riser is available for the GL-Shock (GL-ShockCP). It provides the proper eye height for carry handle-mounted optics on M4/AR-15 carbines. The GL-ShockCP is ideal for the optic-equipped AK-47, vz.58, or any shotgun that has a low stock height designed for iron sight use.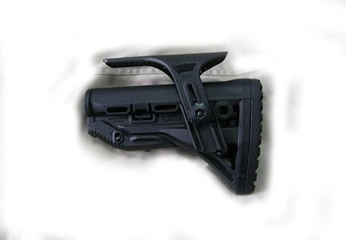 ---
Kahr Arms Purchases Magnum Research
PEARL RIVER, NY –-(Ammoland.com)- Kahr Arms, the well known American based producer of high quality compact pistols has announced its recent purchase of Minnesota-based firearms manufacturer, Magnum Research, Inc., maker of the Desert Eagle Pistol. Kahr Arms takes pride in its ability to offer customers a selection of unique niche-type firearms, such as the world famous "Tommy Gun" and Auto-Ordnance line of M1 .30 caliber carbines. The addition of Magnum Research, Inc. products to the Kahr Arms family will provide Kahr Arms and Auto-Ordnance customers another unique line of firearms to choose from. Magnum Research Magnum Research, Inc. was founded in 1979 and was responsible for the design and the development of the Desert Eagle Pistol. The firearms in its current product lineup include the Desert Eagle Pistol (available in .50 AE, .44 Magnum, or .357 Magnum), Baby Desert Eagle "Fast Action" Pistol (9mm, .40 S&W), Desert Eagle 1911, Micro Desert Eagle Pistol (.380 ACP), Magnum's BFR (Revolvers in .44 Magnum, .45 LC/.410 or .45/70), Mountain Eagle MAGNUM LITE Rifle (.22/250, .223, .30-06, .280 and 7mm) and MAGNUM LITE Rifle (.22LR, .22 WMR or .17 Mach-2). To learn more about these products and more that will be offered through Kahr Arms.
---
CMMG Ciener 26 Round Magazine for .22 Long Rifle AR-15
CMMG has just released their own magazine for their .22lr conversion and upper receiver. These magazines should also be perfectly compatible with other .22lr conversions based on the Ciener system. These magazines look great and are priced very reasonably at $19.95. The bolt catch feature means the bolt will lock back after the last round just like it when setup in its centerfire form.
Specs: Polymer .22 LR magazine for CMMG .22 LR sub-caliber conversion kits. 26 round capacity with bolt catch follower. The full size design can utilize your existing magazine pouches and rifle case magazine carriers. SKU Number:M-26-22. Click here for more information
---
So your long awaited Magpul PMAGS finally arrived and you need pouches that they will fit in. Knight's Armament Company ships the Eagle Industries M14 Double Mag Pouch MOLLE with all of the M110's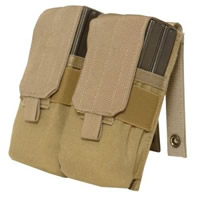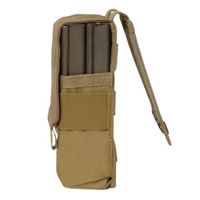 MOLLE style double mag pouch designed to hold four M14 or SR 25 mags with elastic webbing to keep them snug. SKU#MP2-M14/2-MS
---
The Outdoor and Shooting Wires have received- and verified the accuracy of an internal Remington memorandum that effectively answers most of a question that has been making the rounds of the industry: Is Remington getting into the handgun market? Short answer, yes.
An "Organizational Announcement" from Chief Marketing Officer Marc Hill to all of Remington's employees confirmed the existence of a Remington handgun team by naming Tom Taylor to the position of Senior Vice President of Marketing and Product-Handguns.
That's a definitive answer to the question, and should serve notice to the industry that Remington has no plans to lay off what has been a torrid growth pace over the past year.
To industry folks, Taylor's also a face both recognized and well-liked.
The affable former Vice-President of Marketing for Smith & Wesson, Taylor has most recently been the Executive Director of the Remington Outdoor Foundation, establishing, as Hill wrote, "the pillars and strategies for its long-term success." Hill also praised Taylor for his "vast amount of handgun experience" calling him the "ideal person to develop and lead our strategy for this important category."
Taylor has also continued to be extremely involved and committed to advancing the Honored American Veterans Afield (H.A.V.A.) organization, helping injured servicemen, veterans and their families get back outside. (Note: The organization hosted its largest event to date, the second annual National Family Day last week in San Antonio, Texas).
Prior to Smith & Wesson, Taylor was an executive with Coca-Cola in both sales and marketing.
According to the memorandum, Taylor will transition into his new position over the next sixty days, joining Remington full time on January 4, 2010.
And the Remington handgun strategy?
While attending the Remington 2010 product introductions, I asked the same question of Marc Hill. At that time, he declined comment, but it has been no secret in the industry that Remington has been "shopping" for a handgun company. Several names have been mentioned, but it appears the first product will be "organic" coming from inside Remington, rather than via acquisition.
A 1911 is in first-production testing, and may be ready for introduction at SHOT Show in January. That is a qualified date because the company seems more concerned in making a solid product before introducing it to the consumer public, eschewing other companies' practice of launching products and making adjustments on the fly.
Remington has been out of the handgun business for decades, but does have a handgun history to call from, should it remain "organic" and reintroduce new versions of older handguns.
From 1963 until 1998, the XP-100 was a solid member of the Remington product family. In fact, it is widely credited as having been the gun that started the sport of varmint shooting, and served as the initial platform for the .221 Fireball cartridge.
The Remington Model 51. Could this small pocket pistol be part of Remington's re-entry into handguns?
From 1918 until the early 1930s, Remington also produced a pocket pistol designed by John Pedersen.
Available in .32ACP and .380 ACP calibers, the small, reliable Model 51 might be a candidate for a revival - especially if it were lightened by the use of polymers and/or new metal technologies not available during its original production gun. Only about 65,000 of the Model 51s were produced, but they remain a gun with a small, but strong following. Less than an inch thick, with a 3-1/4 inch barrel inside a frame 6-5/8 inches long, the hesitation locked, detachable, single-stack semi-auto might be significantly "amped up" with new technologies and ammunition.
One fan of the Model 51: General George Patton. As an interesting historical footnote, the U.S. Navy recommended adopting the Model 51 - if it were made in .45 caliber.
In that variant, it was known as the Model 53, and was regarded as being smaller, lighter, more accurate, and more controllable than the M1911.
And revolvers? Yep, the Remington & Son percussions in .36 (Navy) and .44 (Army) calibers were used in the American Civil War from 1862 forward. It was primarily carried by Union solders, and actually preferred over the standard issue Colt Army Model 1860 by those who could afford it. It's primary advantages were said to be its durability and the ability to quickly swap-out cylinders, significantly speeding up reloads.
Today, Uberti and Pietta New Army replicas are nearly identical to Remington-Beals design, and are favorites among cowboy action shooters who like the period-accurate "cartridge conversion" - as did the real cowboys of that period.
At this point, what Remington will introduce-or acquire- will remain a topic of conversation with both consumers and industry members wondering if they might find their products in the gun sights of a company that has shown no reluctance to either introduce products - or acquire other companies.
And as any marketer will tell you, "buzz" is important.
Whatever happens, we'll keep you posted.
--Jim Shepherd
---
When deploying a .50 BMG rifle in any trouble situation, silence is the key to keeping the operator safe and hidden. The TurboDyne suppressor from AWC Systems Technology was designed to be the most compact, effective and quiet .50 caliber suppressor on the market.

AWC designed the TurboDyne to reduce the bang of the mighty .50 BMG rifles to a mere thump. Constructed out of 100-percent stainless steel and 360-degree circumferentially welded for added strength, the TurboDyne produces less noise than a .22LR. By reducing the concussion associated with firing a .50 BMG, operators are able to shoot comfortably for hours.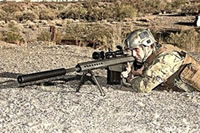 Overall weight and length vary by individual needs and design, but diameter is 2 inches. Standard finishes are matte black and matte stainless steel. The TurboDyne can be fitted to most semi-auto and bolt-action .50-caliber rifles, mounting directly to the current muzzle brake threads without modification to the gun. The suppressor is also available for rifles chambered in .416 caliber.

Click for info.
---
Colt Tactical Launches at SHOT

Colt, perennial manufacturer of the M16/M4 family of small arms as well as a line of quality Law Enforcement and civilian versions is launching a new division at SHOT Show. Colt Tactical will focus on bringing Colt firearms to the masses in a new way. Their new websites to launch during SHOT show is very interactive and will allow the customer to order his rifle online and have it shipped directly to his FFL holder. Expect to see a few new variants to coincide with the launch of this new venture. In addition to complete rifles we are hoping that you will be able to purchase complete upper and lower assemblies as well as parts.

Download the press release

If you are in the market for a Mil Spec gun, Colt is the place to get it. Like they say "There is quality and there is Colt quality." Look for www.colttactical.com to launch soon and don't forget to visit Colt at SHOT Show in booth #12629.
---
Bushmaster® .308 ORC
This top quality Bushmaster Carbine was developed for the shooter who intends to immediately add optics (scope, red dot or holographic sight) to the rifle - as it is shipped without iron sights. Various add-on rear iron sights can be easily attached to the flat-top Upper Receiver, and Bushmaster's BMAS Front Flip-up Sight for V Match Rifles (Part # YHM-9360K) can be mounted over the Milled Gas Block. The premium 16" Heavy Profile Barrel is chrome lined in both Bore and Chamber to provide Bushmaster accuracy, durability and maintenance ease.
.308 Win.
16" Heavy Profile w/ Mid Length Gas System and A2 Birdcage Flash Hider
Receiver Length Picatinny Optics Rail with Two 1/2" Optics Risers
Milled Gas Block
Heavy Oval Hand Guards
Six Position Telescoping Stock – reduces overall length by 4" when collapsed for convenient carry
Shipped in a Lockable Hard Case with Operator's Safety Manual, 20 Round Magazine, Orange Safety Block and Black Web Sling
One Year Bushmaster Warranty

Caliber:
.308 Win
Magazine Capacity:
20 Rounds
Overall Length:
33.25" - 37.25" [84.455 cm - 94.615 cm]
Barrel Length:
16" [40.640 cm]
Rifling:
1 turn in 10" [25.4 cm]
R.H. Twist / 6 grooves & lands
Weight w/o magazine:
7.75 lbs. [3.52 kg]
Weight of empty magazine:
0.5 lbs. [0.23 kg]
Weight of loaded magazine:
1.5 lbs. [0.680 kg]
Mode of Operation:
Gas Operated/Semi-Automatic
---
SMYRNA, GA., Nov.. 5 At the National Association of Sporting Goods Wholesalers (NASGW) Meeting/Expo GLOCK, Inc. released its two newest pistols. The GLOCK Model 19 in 9x19 and the G23 in .40 caliber are now offered with the optional Rough Textured Frame (RTF2). The G19 RTF2 and the G23 RTF2 join the G17 and the G22 as pistol models offered with the new textured grip.
The NASGW is comprised of wholesalers, manufacturers, and independent sales reps - both national and international - all of whom are primarily involved with hunting and shooting sports, equipment and accessories. The NASGW Meeting/Expo provides an unmatched educational, marketing and communications opportunity for the hunting and shooting sports wholesaler, manufacturer and sales professional. The RTF2 finish was developed after direct feedback from the United States Special Operations community. There are many instances where the environment offers difficult to manage wet and humid conditions. In order to continue providing cutting edge solutions, GLOCK developed the RTF2. The newly designed frame incorporates hundred of "polyamides," or miniature spikes on the front, rear, and sides of the grip resulting in a definite increase in traction.
"GLOCK has heard its valued customers. GLOCK knows it must continue to evolve in order to remain relevant in future markets. These new pistols demonstrate that fact," commented GLOCK, Inc. Vice President Josh Dorsey. "Additionally, GLOCK will introduce the 'next generation' of GLOCK Pistols incorporating our customer's demands at the upcoming SHOT Show; come visit us at the GLOCK booth."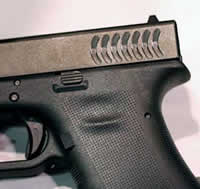 The G19 and G23 are two of the most popular GLOCK models. The G19 9x19 compact is widely used all over the world. In addition, the G23 in .40 caliber is quite popular with both law enforcement and private individuals as a back up or concealed carry firearm. Adding the RTF2 finish to these compact models increases the options for law abiding individuals and organizations. Along with the new RTF2 finish, each of these GLOCK pistols have the same time tested "Safe Action" system, durable exterior finish, cold hammer forged barrel, durability, reliability, and light weight that GLOCK is famous for.
GLOCK, Inc. was incorporated in 1985 and employ over 180 at their United States headquarters in Smyrna, Georgia.
Utilizing advanced technological methods, GLOCK has a leading position in the world market as a pistol and accessories designer and manufacturer. With their commitment to uncompromising quality, GLOCK uses high-tech engineering to provide the international benchmark for safety, reliability and ease of maintenance. GLOCK's remarkable knowledge and experience from their applications and processing of steel and polymer are being used to design revolutionary products. These products meet and exceed the ongoing demands of Law Enforcement, Military and Civilian customers for firearms that demonstrate the very best in reliability, durability and safety of use. Their high-tech engineering and construction create a handgun that can stand up to punishment that even the most unforgiving conditions can generate.
SOURCE GLOCK, Inc.
Randi Rogers, GLOCK, Inc., Office: +1-770-432-1202 x 6790, Fax: +1-678-303-1070, Randi.Rogers@glock.us
---
Sturm, Ruger & Company, Inc. announces the availability of three, AR-style upper receiver assemblies featuring the innovative two-stage, piston driven performance of the SR-556® family. These rugged and reliable SR-556 piston driven uppers run cleaner, cooler, and are easier to maintain than traditional gas driven systems, offering significantly improved reliability. SR-556 upper assemblies will be available through firearms retailers and ShopRuger.com.
Now all AR owners can enjoy the features of the SR-556 platform, including the patent pending two-stage piston driven operating system that provides a smooth power delivery stroke to the action and vents combustion residue out of the bottom of the gas block. The four-position adjustable gas regulator allows the operator to tune the rifle to specific ammunition and rifle conditions, minimizing recoil and maximizing reliability and long-term endurance. Reliability is further enhanced by a one-piece bolt carrier with an integral transfer key. Designed for long-lasting accuracy, the chrome lined barrels are cold hammer-forged from Mil-Spec 41V45 Chrome-Moly-Vanadium steel.
The standard SR-556 upper chambered in 5.56 mm NATO/.223 features a heavy contour, 16.1″ barrel with a 1:9 twist rate, and is capped with a Mini-14/SR-556 flash suppressor mounted on 1/2-28 threads. A one-piece, ten-inch quad rail handguard provides ample room for mounting sights, optics and accessories. Made exclusively for Ruger, this SR-556-specific handguard is pinned to the upper receiver, creating a near-monolithic upper receiver assembly and providing a rugged mounting system for the piston driven transfer rod.

A carbine-length version of the popular SR-556 two-stage, piston driven AR-style upper is also available. The carbine upper features a heavy contour, fluted barrel that is 1-3/4″ shorter and a half-pound lighter than the barrel on the standard SR-556. The 1:9 twist rate, 16.1″ barrel on the carbine features an integrally machined flash suppressor, which minimizes the overall length of the barrel while complying with ATF regulations for civilian and commercial sales. This carbine version maintains the mid-length gas system and heavy (.850″) barrel contour under the handguard, but the barrel is fluted for weight reduction and to promote barrel cooling.
Those seeking to equip their modern rifle with ample power for hunting medium-sized game or greater muzzle and downrange energy capability for defensive or tactical roles can select an upper chambered in the capable 6.8 SPC caliber. The SR-556/6.8 features upper features a heavy contour, 1:10 twist barrel with a standard SAAMI 6.8 SPC chambering. The chrome-lined, cold hammer-forged barrel is 16.12″ long, is threaded 5/8-24, and is capped with the effective and distinctive Mini-14/SR-556 flash suppressor.
All three uppers are equipped with folding, back-up iron sights. These rugged, high-quality sights co-witness with Mil-Spec optics, and are easily removed or replaced. The sights can be folded down with the push of a button, or quickly flipped up with your thumbs. The windage adjustable rear sight includes an instantly converted short and long-range aperture, and the protected front sight is elevation adjustable.
Durability and performance of the SR-556 is enhanced with the use of high-performance finishes: The barrel and gas block are chrome lined, while the piston, bolt, bolt carrier, and extractor are chrome plated. The piston driven transfer rod is electroless nickel/Teflon coated. The flash hider and the exterior of the barrel, gas block, and regulator are manganese phosphate coated. All aluminum parts are Mil-Spec hard coat anodized.
The SR-556 rifle and carbine uppers chambered in 5.56mm NATO are shipped with three, thirty-round Magpul PMAG™ magazines. These lightweight magazines feature a storage/dust cover, a stainless steel spring, and a self-lubricating, anti-tilt follower. The 6.8 SPC chambered upper is shipped with one five-round magazine and two twenty-five round magazines. Three rail covers, provided with each upper, provide a comfortable ergonomic hold when carrying or shooting. All Uppers are shipped in a padded carry case that features the Ruger logo, hook-and-loop fasteners to stabilize the rifle within the case, and internal magazine pockets.
For more information on the cooler cleaner performing AR uppers from Ruger, or to learn more about the extensive line of Ruger firearms, visit Ruger.com. To find accessories for the SR-556 Uppers or other Ruger firearms, visit ShopRuger.com.
---
---