Shooting News 8:
News Page 1 2 3 4 5 6 7 8 9 10 11 12 13 14 15 16 17 18 19 20 21 22 23 24 24
---
Afghanistan Breathes New Life into M-24
The many challenges faced by military and SOF personnel operating as snipers in Iraq's tumultuous urban battlefields drove the need for a sniper platform capable of greater firepower with a repeatable one minute of angle accuracy. The M110, developed by Knight's Armament Company of Vero Beach, filled the need. When the U.S. Army adopted the Knight's platform, rumors filled the air waves that the venerable M-24 would be retired – much to the chagrin of veteran snipers who feel that the M-24 is more accurate and simpler to maintain. Regardless of what side of the fence you sit on with this issue, the pressures of Afghanistan nixed the M-24's retirement.
For years, the USMC saw a need to maintain the .300 WinMag in its inventory as a bridge caliber between the NATO 7.62mm x 51 and the .50 BMG; the wisdom of that position has been borne out by the rigors of the Hindu Kush.
The U.S. Army has seen the light, and in response to requests from units deployed in Afghanistan, will begin sending many of its M-24s to Remington's facilities in North Carolina to be converted to .300 WinMag, a move that is sure to bring light to Remington's eyes. Driving that decision is the need to engage targets out to 1200 meters, and other than the time tested .338 Lapua Magnum, nothing says hello like a .300 WinMag 190 grain BTHP at 2600 feet per second.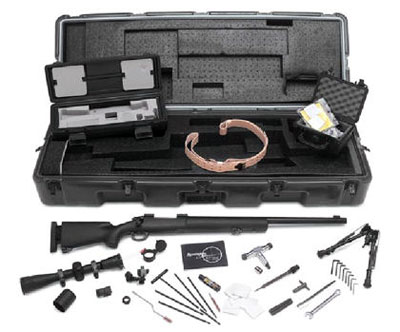 Copyright 2009 Sal Palma
---
GLOCK, Inc. Releases New Rough Textured Frame Pistols: G19 RTF2 and G23 RTF2
SMYRNA, Ga., Nov. 5 /PRNewswire/ -- At the National Association of Sporting Goods Wholesalers (NASGW) Meeting/Expo GLOCK, Inc. released its two newest pistols. The GLOCK Model 19 in 9x19 and the G23 in .40 caliber are now offered with the optional Rough Textured Frame (RTF2). The G19 RTF2 and the G23 RTF2 join the G17 and the G22 as pistol models offered with the new textured grip.
The NASGW is comprised of wholesalers, manufacturers, and independent sales reps - both national and international - all of whom are primarily involved with hunting and shooting sports, equipment and accessories. The NASGW Meeting/Expo provides an unmatched educational, marketing and communications opportunity for the hunting and shooting sports wholesaler, manufacturer and sales professional.
The RTF2 finish was developed after direct feedback from the United States Special Operations community. There are many instances where the environment offers difficult to manage wet and humid conditions. In order to continue providing cutting edge solutions, GLOCK developed the RTF2. The newly designed frame incorporates hundred of "polymids," or miniature spikes on the front, rear, and sides of the grip resulting in a definite increase in traction.
"GLOCK has heard its valued customers. GLOCK knows it must continue to evolve in order to remain relevant in future markets. These new pistols demonstrate that fact," commented GLOCK, Inc. Vice President Josh Dorsey. "Additionally, GLOCK will introduce the 'next generation' of GLOCK Pistols incorporating our customer's demands at the upcoming SHOT Show; come visit us at the GLOCK booth."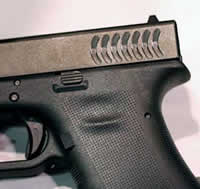 The G19 and G23 are two of the most popular GLOCK models. The G19 9x19 compact is widely used all over the world. In addition, the G23 in .40 caliber is quite popular with both law enforcement and private individuals as a back up or concealed carry firearm. Adding the RTF2 finish to these compact models increases the options for law abiding individuals and organizations. Along with the new RTF2 finish, each of these GLOCK pistols have the same time tested "Safe Action" system, durable exterior finish, cold hammer forged barrel, durability, reliability, and light weight that GLOCK is famous for.
GLOCK, Inc. was incorporated in 1985 and employ over 180 at their United States headquarters in Smyrna, Georgia.
GLOCK, Inc. contact: Randi Rogers | GLOCK, Inc. | Office: 770.432.1202 x 6790 | Fax: 678.303.1070 | Randi.Rogers@glock.us | www.glock.com | www.teamglock.com | www.gssfonline.com | www.glocktraining.com
Utilizing advanced technological methods, GLOCK has a leading position in the world market as a pistol and accessories designer and manufacturer. With their commitment to uncompromised quality, GLOCK uses high-tech engineering to provide the international benchmark for safety, reliability and ease of maintenance. GLOCK's remarkable knowledge and experience from their applications and processing of steel and polymer are being used to design revolutionary products. These products meet and exceed the ongoing demands of Law Enforcement, Military and Civilian customers for firearms that demonstrate the very best in reliability, durability and safety of use. Their high-tech engineering and construction create a handgun that can stand up to punishment that even the most unforgiving conditions can generate.
SOURCE GLOCK, Inc.
Randi Rogers, GLOCK, Inc., Office: +1-770-432-1202 x 6790, Fax: +1-678-303-1070, Randi.Rogers@glock.us
---
MACH 1 ARSENAL Saiga 12 Shotgun
Built on a Russian American Armory Saiga shotgun, the Mach 1 Arsenal Saiga 12 (shown here in prototype form) is a semi-automatic 12-gauge Kalashnikov-based shotgun. It features a Picatinny rail fore-end system and accepts high-capacity detachable magazines. It is shown with a 12-round magazine installed. For more information, visit mach1arsenal.com.

---
Planned for a 2010 release, the new Deltapoint from Leupold offers shooters an ultra-compact red dot sight ideal for handguns or as a back-up for a long gun's primary optic. It will be offered in two versions—one with a 7.0 MOA dot and the other with a 3.5 MOA dot. Keep an eye out on leupold.com for more information.
---
WEATHERBY MARK V Sub-MOA TRR Custom
The Weatherby SUB-MOA TRR is guaranteed to shoot a 3-shot group of .99″ or less when used with premium (non-Weatherby calibers) or factory ammunition. Each rifle is test-fired in their state-of-the-art range and comes with a factory-shot target using the Oehler 83 Ballistic Imaging System. MSRP $3,999.00

Features:
26″ Krieger Custom Cut #3 contour barrel (.750 muzzle diameter)
Hand-tuned, fully adjustable trigger (factory set at 3 lbs. with sear engagement set at .008 to .014)
Hand-honed action to assure 100% lug contact with the receiver
Hand-laminated stock with CNC 6061 T-6 aluminum bedding system features 3-position buttstock—adjustable for LOP, drop at heel and cant of the pad
Stock also features #6 slide for bi-pod attachment
Drop box magazine "plus one" capacity
The Mark V SUB-MOA TRR Package includes:
Leupold® Mark 4 4.5-14×50MM LR/T M1 with illuminated TMR reticle and BDC Dials (mounted, bore-sighted and accuracy-tested at the Weatherby range
Talley Mil-spec Picatinney rings/bases and Harris® Model L bi-pod
Weatherby Magnum aluminum rifle case
The D.D. Ross-designed tactical-style bolt knob provides additional length and weight to improve grasp and cycling. Matte finish is blued steel for added durability.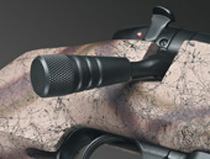 Constructed of A151 1020 stress-proof steel. The muzzle brake features high discharge ports for 90-degree lateral gas dispersion to eliminate dust blow-up. Reduces felt recoil up to 48 percent.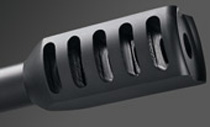 ---
European American Armory (EAA) PAP Rifle AK47
The European American Armory (EAA) PAP rifle brings an ultra-high-quality Kalashnikov-based rifle to the U.S. market. Chambered for 7.62×39mm, the PAP sports an integral Picatinny rail on its top cover. For more information, visit www.eaacorp.com.

---