Shooting News 13:
News Page 1 2 3 4 5 6 7 8 9 10 11 12 13 14 15 16 17 18 19 20 21 22 23 24 24
---
Lancer Systems Configurable AR Platform Lower Receiver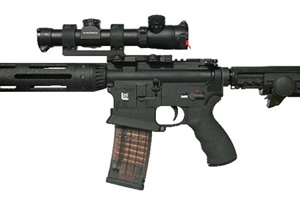 Lancer Systems LP is pleased to announce the introduction of our L15 Lower Receiver with changeable Magazine Well Extensions (Magwells). The L15's changeable Magwells make it the most versatile AR receiver available today. With three Magwell configurations to choose from the L15 lower can be rapidly customized for a specific mission, trip to the range or 3 gun match.
The Tactical and Competition Magwells have a large smooth funnel like internal surface to facilitate rapid magazine changes. The standard size Magwell emulates the size of a typical AR lower. The Magwells attach to the lower via a captured rail and locks into place with a standard front takedown pin. The use of the takedown pin allows the Magwells to be removed without the use of special tools.
The Magwells are precision machined from aluminum billet to match the features in the lower ensuring there is no rattle during operation. The lower also features an ambidextrous bolt release and oversized magazine release button.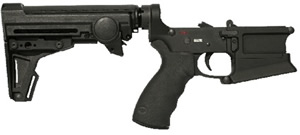 The L15 lower is available stripped or complete with various trigger and magazine well options. For more information on the different options available visit Lancer-systems.com.
Made in the USA
Mission Configurable Lower Receiver
Changeable magazine well extensions
3 magazine well extension sizes
Standard
Tactical
Competition
Lower Machined From 7075 Aluminum Billet
Oversized Magazine Release Button
Ambidextrous Bolt Release
Broached Magazine Well
Coated to MIL-A-8625, TYPE III CLASS 2
---
Well Its official Smith&Wesson have quietly released their M&P 15-22P .22 Long Rifle pistol. Download the PDF here.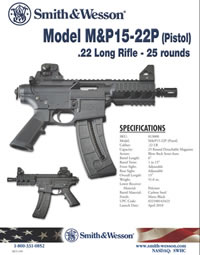 ---
The Desert Tactical Arms SRS is 11 inches shorter than conventional sniper weapons, because its bolt and magazine are located behind the pistol grip and because it utilizes a collapsible bolt design. This design shifts the weight rearward creating not only a shorter weapon, but also a perfectly balanced rifle The ergonomics and balance of the SRS are unheard of. When you pick up the SRS it becomes a part of you.

Specifications:
Caliber - .243 .308 .300 Win .338 Lapua Magnum
Weight - 10.4 - 12.4 Pounds
Length - 31.5" - 37.5"
Barrel Lengths - 22" - 26"
Magazine - Detachable 5 Shot
---
Phoenix, Arizona - McMillan expands its tactical line with the introduction of the McMillan M3A rifle. The M1 platform has seen renewed interest as a close-range to medium range weapon where performance of a .308 Winchester cartridge is preferred, but with the firepower of a semi-automatic action.
The McMillan M3A has an 18" barrel and utilizes a six-groove rifling with 1x10 right hand twist. The action is Springfield M1A chambered in 7.62 NATO (.308 Win). The adjustable cheekpiece on the McMillan M3A stock positions the head for an optimum cheek weld. The stock is designed to shoot with a scope as well as iron sights. An optional Picatinny site rail system with 10 ¾" bottom rail and 2x4" side rails is available for mounting night vision optics, forward mounted scopes and other accessories. The M3A uses a two stage military trigger set at five to six pounds.
One-ten round magazine is included. Accessories and upgrades are available, including scope, bipod, cleaning equipment, cases and other options.
According to Ryan McMillan, vice president of McMillan Firearms, "The M3A rifle when coupled with the popular McMillan fiberglass tactical stock system is a multipurpose tool for military and law enforcement needs."
For additional information visit McMillan's website, www.mcmillanusa.com
About McMillan
McMillan Group International, located in Phoenix, Arizona, is the corporate parent for a family of firearms companies committed to excellence in the firearms industry. Companies include McMillan Firearms Manufacturing (formerly "McBros"), a manufacturer of the McMillan tactical and hunting rifles; McMillan Fiberglass Stocks, a leading manufacturer of premium custom fiberglass stocks for hunting, competition, tactical and OEM markets; and McMillan Machine Company, a contract manufacturer of precision machined parts.
---
Fountain Valley, CA -- SureFire, LLC, manufacturer of high-end illumination tools and tactical products, is proud to announce the release of its hi-capacity 60- and 100-round (STANAG 4179) aluminum magazines for .223/5.56mm NATO M4/M16/AR15-style firearms. These new high-capacity magazines (HCMs)—dubbed the MAG5-60 and MAG5-100—are designed to provide military units with an overwhelming tactical advantage in the delivery of firepower.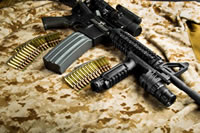 "In the current wars in Iraq and Afghanistan, ambushes are commonplace, and the outcome is often determined in the first 30 seconds," said Don Alexander, SureFire's Director of Military Sales and retired Special Forces operator with six combat tours. "Firepower and the ability to stay in the fight are key. These magazines will reduce soldier vulnerability by keeping them in the fight for longer periods of time, with less downtime spent on reloads."
In battle, it typically takes the average soldier four seconds to reload his weapon and reacquire a target, valuable time that could be spent engaging threat targets. At best, 30-round magazines allow a soldier to fire no more than 150 rounds in 30 seconds. SureFire's 60-round high-cap magazine increases that figure to 240 rounds; its 100-rounder to 293 rounds. And both will support military units planning to incorporate full-auto firepower to more of their operators.
SureFire HCMs easily and securely fit into the host weapon, with the bolt closed, when loaded with the maximum round count. The design of the magazine takes into account the allowable tolerances of cartridges manufactured to NATO and SAAMI specifications. A 4×2 quad-stack configuration features a revolutionary internal spring and follower system designed to be more reliable than current standard MILSPEC USGI 30-round magazines. This proprietary internal design also allows SureFire HCMs to be stored indefinitely while fully loaded, in preparation for deployment, which means individual units can be issued ammo supply crates with pre-loaded magazines instead of empty mags and ammo cans, another potential lifesaving benefit in critical-response situations.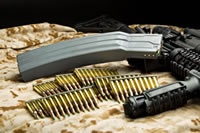 The MAG5-60 will fit into most nylon pouches with Velcro® cover flaps intended to hold two standard 30-round magazines, but double magazine pouches with stitched partitions may require some alteration. Both the 60- and 100-round HCMs can be disassembled for periodic cleaning or as required. The magazine floor plate can be easily removed from the body using a punch, the tip of a cartridge, or a variety of common tools.
SureFire HCMs are the result of an entirely new division at SureFire, in partnership with L. James Sullivan and Bob Waterfield of Arm West, LLC. Mr. Sullivan is best known for co-developing the Armalite AR-15/M16 (M16A1) rifle and the original 20-round 5.56mm box magazine. They will be assembled and distributed by SureFire's new Reno, Nevada, facility, the company's first venture outside of Southern California, and will initially be available only from authorized SureFire dealers in states without any HCM regulations. Processes are also being developed for dealers in locations that do have HCM regulations, including California, Hawaii, Illinois, Maryland, Massachusetts, New York, Ohio, and Washington, D.C. MSRP is $129 for the 60-round magazine and $179 for the 100-rounder, with orders expected to begin shipping in March of 2011.
| | |
| --- | --- |
| CALIBER | 5.56 NATO/.223 REMINGTON |
| HEIGHT | 8.7" / 22.1 cm |
| WIDTH | 1.66"/4.2 cm body, 0.88"/2.2 cm neck |
| WEIGHT-EMPTY | 6.4 ounces / 181 grams |
| WEIGHT-FULLY LOADED | 2.02 lbs / 920 grams |
| BOX MATERIAL | 6000 SERIES ALUMINUM |
| FOLLOWER MATERIAL | NYLON |
| CONSTRUCTION | SPOT WELDED |
| FINISH | MIL-L-46010 |
| COLOR | GRAY |
| | |
| --- | --- |
| CALIBER | 5.56 NATO/.223 REMINGTON |
| HEIGHT | 12.2" / 31 cm |
| WIDTH | 1.66"/4.2 cm body, 0.88"/2.2 cm neck |
| WEIGHT-EMPTY | 9.6 ounces / 272 grams |
| WEIGHT-FULLY LOADED | 3.3 lbs / 1.5 kg |
| BOX MATERIAL | 6000 SERIES ALUMINUM |
| FOLLOWER MATERIAL | NYLON |
| CONSTRUCTION | SPOT WELDED |
| FINISH | MIL-L-46010 |
| COLOR | GRAY |
Located in Fountain Valley, California, SureFire is a leading manufacturer of high-performance flashlights, weapon-mounted lights, and other tactical equipment for those who go in harm's way, or anyone who demands the ultimate in quality, innovation, and performance. SureFire illumination tools are used by more SWAT teams and elite special operations groups than any other brand. SureFire is an ISO 9001-2008 certified company.
Press Contact: Ron Canfield, rcanfield@surefire.com, 800-828-8809 ex. 2258
---
Bushmaster ACR is Reborn the Remington ACR
In 2008 Magpul Industries unveiled the Masada Adaptive Combat Weapon System. Shortly there after they announced that they had entered a partnership with Bushmaster to produce the Masada under the name Bushmaster ACR. Well today it has been revealed that the Bushmaster ACR has been transitioned to Remington and will now be the Remington ACR. If you aren't aware Bushmaster and Remington are owned by a company called Cerberus Capital Management. Not only does Cerberus Capital Management own Bushmaster and Remington but they also own DPMS Panther Arms, Cobb Manufacturing and Marlin Firearms. The announcement also list a Remington Military web site. Its just a mirror of the standard Remington web site but surely a sign of things to come. Click the images below to view them full sized. Visit our ACR page here. And bookmark our future Remington ACR web site.
---
.338 Lapua AR-15 Upper
I stumbled across the ZEL Tactilite T-1 "Ultralite" AR Upper, 338 LAPUA, 24" in stock at Impact Guns. The .338 Lapua Magnum is the ultimate in hard hitting long range cartridges bridging the gap between 7.62 NATO and 50 BMG.

---
Convenient Go/No-Go gauge lets you quickly and accurately check for correct feed lip gap. Helps ensure reliable feeding and prevent weapon failure caused by feed problems. Simply slip over the back of a suspect magazine and lightly press gauge between magazine feed lips. If the gauge passes through feed lips, either discard that magazine or use the Brownells Magazine Feed Lip Tool (available separately) to bring them back into specs and restore reliable feeds. If the gauge won't pass through the lips, the gap is too narrow and must be widened.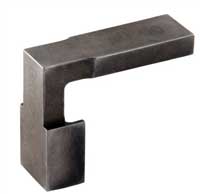 ---
Friday, January 28, 2011
To the dismay of the Brady Campaign and other gun ban groups, President Barack Obama didn't address gun control during his State of the Union address on January 25th. However, Newsweek reports that "in the next two weeks, the White House will unveil a new gun-control effort," and that the White House confirms, "Obama will address the gun issue in a separate speech, likely early next month." According to Newsweek, Obama believes that gun laws have been "too loose for much longer than just the past few weeks" following the murders in Tucson, Arizona.
Precisely what President Obama might have in mind is uncertain. His post-election transition website advocated reimposing the expired federal "assault weapon" ban, but that ban would clearly be irrelevant in the wake of a shooting that involved a firearm not covered by the old ban.
The President, a long-time gun control supporter, has been conspicuously silent on gun control restrictions since taking office. Unfortunately, the same cannot be said of the anti-gun groups prodding him to support their agendas. Mayors Against Illegal Guns, which sent the President a long list of gun control recommendations in August of 2009, is proposing that all private sales of firearms be subject to checks through the National Instant Criminal Background Check System (NICS)—which would have been irrelevant in Tucson, since the accused killer acquired his guns from a dealer. MAIG is also calling for "fixing" NICS. Among the many "fixes" the group has in mind is that "people who have been suspended or expelled from a federally funded college or university because of mental illness" and "people who are compelled by a court to take medication for mental illness or to get other mental health care" would be prohibited from possessing firearms. MAIG also proposes to extend the prohibition to anyone who has had a drug-related arrest, a failed drug test, an admission of drug use, or a drug-related conviction within the previous five years.
Concurrently, the Brady Campaign is throwing its support behind H.R. 308—the "more than 10 round" magazine ban introduced by Rep. Carolyn McCarthy (D-N.Y.)—and asks the group's supporters to sign a petition urging "a few basic steps," with neither the "steps" nor the intended recipient of the petition disclosed (to read a detailed fact sheet on H.R. 308, please click here).
The Violence Policy Center, which guided McCarthy in crafting her magazine ban bill, is supporting it with yet another of its countless "analyses"-- Accessories to Murder: High-Capacity Magazines—and a similar effort directed against the type of pistol used in Tucson. The VPC uses the opportunity to suggest, as it often does, that gun ownership is fading, by referring to standard magazines for self-defense handguns as a marketing tool the firearm industry uses to appeal to "its shrinking customer base." That's an interesting argument to hear from a group that has no members, while the number of guns possessed by Americans increases year after year.
The Coalition to Stop Gun Violence—VPC leader Josh Sugarmann's employer back when the group was known as the National Coalition to Ban Handguns—advocates not merely running NICS checks on gun buyers, but "investigating" them as well. The group also insists that the Tucson shooting was the result of "insurrectionist rhetoric" the group blames on conservatives, various politicians, and the five justices who joined the Supreme Court's Heller decision—rather than being the act of one deranged individual, as all available evidence suggests.
And, in a return to his modus operandi of vilifying gun shows and the purchase of firearms by show attendees, this week anti-gun Senator Frank Lautenberg (D-N.J.), introduced legislation to "establish background check procedures for gun shows." As usual, this bill is not about gun shows. Rather, S. 35 is the latest rendition in a long line of Lautenberg-introduced bills that are nothing more than "solutions" in search of a problem. Numerous government studies have determined that gun shows are an insignificant source of firearms misused in crime.
Which, if any, of these proposals and theories will get the president's endorsement remains to be seen. But gun owners should be prepared: The second two years of President Obama's term may be tougher than the first.
---

---
C Products LLC FN SCAR MAGAZINES
C Products LLC has introduced stainless steel magazines for the FN SCAR HEAVY and FN SCAR LIGHT weapons.
Note: C Products LLC has closed it's doors.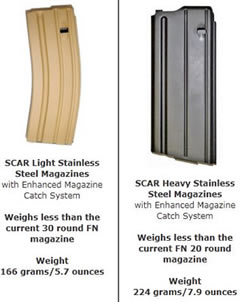 ---