Shooting News 15:
News Page 1 2 3 4 5 6 7 8 9 10 11 12 13 14 15 16 17 18 19 20 21 22 23 24 24
---
Fountain Valley, CA -- SureFire, LLC, manufacturer of high-end illumination tools and tactical products, is proud to announce the release of its hi-capacity 60- and 100-round (STANAG 4179) aluminum magazines for .223/5.56mm NATO M4/M16/AR15-style firearms. These new high-capacity magazines (HCMs)—dubbed the MAG5-60 and MAG5-100—are designed to provide military units with an overwhelming tactical advantage in the delivery of firepower.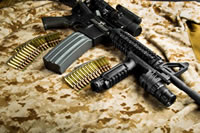 "In the current wars in Iraq and Afghanistan, ambushes are commonplace, and the outcome is often determined in the first 30 seconds," said Don Alexander, SureFire's Director of Military Sales and retired Special Forces operator with six combat tours. "Firepower and the ability to stay in the fight are key. These magazines will reduce soldier vulnerability by keeping them in the fight for longer periods of time, with less downtime spent on reloads."
In battle, it typically takes the average soldier four seconds to reload his weapon and reacquire a target, valuable time that could be spent engaging threat targets. At best, 30-round magazines allow a soldier to fire no more than 150 rounds in 30 seconds. SureFire's 60-round high-cap magazine increases that figure to 240 rounds; its 100-rounder to 293 rounds. And both will support military units planning to incorporate full-auto firepower to more of their operators.
SureFire HCMs easily and securely fit into the host weapon, with the bolt closed, when loaded with the maximum round count. The design of the magazine takes into account the allowable tolerances of cartridges manufactured to NATO and SAAMI specifications. A 4×2 quad-stack configuration features a revolutionary internal spring and follower system designed to be more reliable than current standard MILSPEC USGI 30-round magazines. This proprietary internal design also allows SureFire HCMs to be stored indefinitely while fully loaded, in preparation for deployment, which means individual units can be issued ammo supply crates with pre-loaded magazines instead of empty mags and ammo cans, another potential lifesaving benefit in critical-response situations.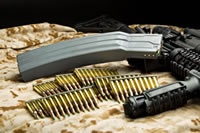 The MAG5-60 will fit into most nylon pouches with Velcro® cover flaps intended to hold two standard 30-round magazines, but double magazine pouches with stitched partitions may require some alteration. Both the 60- and 100-round HCMs can be disassembled for periodic cleaning or as required. The magazine floor plate can be easily removed from the body using a punch, the tip of a cartridge, or a variety of common tools.
SureFire HCMs are the result of an entirely new division at SureFire, in partnership with L. James Sullivan and Bob Waterfield of Arm West, LLC. Mr. Sullivan is best known for co-developing the Armalite AR-15/M16 (M16A1) rifle and the original 20-round 5.56mm box magazine. They will be assembled and distributed by SureFire's new Reno, Nevada, facility, the company's first venture outside of Southern California, and will initially be available only from authorized SureFire dealers in states without any HCM regulations. Processes are also being developed for dealers in locations that do have HCM regulations, including California, Hawaii, Illinois, Maryland, Massachusetts, New York, Ohio, and Washington, D.C. MSRP is $129 for the 60-round magazine and $179 for the 100-rounder, with orders expected to begin shipping in March of 2011.
| | |
| --- | --- |
| CALIBER | 5.56 NATO/.223 REMINGTON |
| HEIGHT | 8.7" / 22.1 cm |
| WIDTH | 1.66"/4.2 cm body, 0.88"/2.2 cm neck |
| WEIGHT-EMPTY | 6.4 ounces / 181 grams |
| WEIGHT-FULLY LOADED | 2.02 lbs / 920 grams |
| BOX MATERIAL | 6000 SERIES ALUMINUM |
| FOLLOWER MATERIAL | NYLON |
| CONSTRUCTION | SPOT WELDED |
| FINISH | MIL-L-46010 |
| COLOR | GRAY |
| | |
| --- | --- |
| CALIBER | 5.56 NATO/.223 REMINGTON |
| HEIGHT | 12.2" / 31 cm |
| WIDTH | 1.66"/4.2 cm body, 0.88"/2.2 cm neck |
| WEIGHT-EMPTY | 9.6 ounces / 272 grams |
| WEIGHT-FULLY LOADED | 3.3 lbs / 1.5 kg |
| BOX MATERIAL | 6000 SERIES ALUMINUM |
| FOLLOWER MATERIAL | NYLON |
| CONSTRUCTION | SPOT WELDED |
| FINISH | MIL-L-46010 |
| COLOR | GRAY |
Located in Fountain Valley, California, SureFire is a leading manufacturer of high-performance flashlights, weapon-mounted lights, and other tactical equipment for those who go in harm's way, or anyone who demands the ultimate in quality, innovation, and performance. SureFire illumination tools are used by more SWAT teams and elite special operations groups than any other brand. SureFire is an ISO 9001-2008 certified company.
Press Contact: Ron Canfield, rcanfield@surefire.com, 800-828-8809 ex. 2258
---
The Kimber legacy of offering the finest production firearms available today continues with the Solo™, a new pistol that puts the power of the 9 mm cartridge in a micro-compact size usually reserved for smaller calibers. Power aside, what really sets the Solo apart is quality, dependability and 1911 ergonomics that ensure comfortable shootability regardless of hand size. This all comes together to put Solo performance in a class by itself.
With a barrel length of just 2.7 inches, Solo pistols are easy to carry and conceal. Many of the features borrowed from 1911 pistols also make them exceptionally safe. A manual ambidextrous thumb safety, checkered slide release and ambidextrous magazine release button enable fast and intuitive operation. Then there is the single action striker-fired trigger pull–even and smooth.
Solo frames are machined from the finest aluminum and finished in KimPro II, a premium finish that is self-lubricating and extremely resistant to salt and moisture. Slides and barrels are cut from stainless steel. Edges are rounded and blended, slide serrations are deep enough to really work and the dovetail-mounted 3-dot sights are quick to target. No other small pistol can compare. Kimberamerica.com.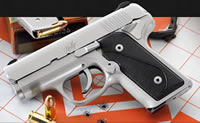 SPECIFICATIONS
Caliber: 9 mm
Height (inches): 3.9
Weight (ounces) with empty magazine: 17
Length (inches): 5.5
Magazine capacity: 6
FRAME
Material: Aluminum
Finish: Satin Silver Kimpro II
Width (inches): 1.2
SLIDE
Material: Stainless steel
Finish: Satin Silver
BARREL
Length (inches): 2.7
Material: Stainless steel
Twist rate: 1:10
SIGHTS
Fixed 3-dot (white) low profile
Radius (inches): 4.4
GRIPS
Black synthetic
Checkered/smooth
TRIGGER
Single action striker-fired
Factory setting (appx. pounds): 7.0
MSRP:$725.00
---
Some years ago Ruger was not giving customers what they wanted but they have really turned things around. Following on from the recently launched tacti-cool Ruger SR-22, the newest in the 10/22 line is the Ruger 10/22 VLEH Target Tactical Carbine. It is essentially a new version of the Ruger 10/22T (Target) styled after the Ruger M77 Hawkeye Tactical, which was also launched this year.

The 10/22 VLEH1 features a Hogue OverMolded stock, in my opinion the best for the Ruger 10/22. The barrel is 16" heavy .920" profile match-grade barrel with target crown. It has the same trigger group as the Ruger 10/22T, which is much superior to the standard factory trigger. To top it all off, a bipod is included. The VLEH configuration is almost identical to my favorite 10/22 configuration. It makes perfect sense for hunting and general plinking. My only complaint would be the lack of iron sights, although few people will miss them.
| | |
| --- | --- |
| Caliber | .22 LR |
| Capacity | 10 Rounds (with factory magazines) |
| Finish | Black Matte |
| Stock | Black Hogue OverMolded |
| Barrel Length | 16.12" |
| Groove | 6 |
| Twist | 1:16" RH |
| Overall Length | 34.5" |
| Weight | 6.88 lbs |
| Front / Rear Sight(s) | None |
| Suggested Retail Price | $ 555.00 |
---
TBD
Blank
---
TBD
Blank
---
TBD
Blank
---
TBD
Blank
---
TBD
Blank
---
---