Combat Rifle:
Subscribe in a reader or Internet Explorer and Firefox user click here.

---
July 27, 2015 - Combatrifle.net on the move! If your a frequent visitor to our family of sites youll notice that some have been upgraded. This site is not just being upgraded but it is losing the .net in favor of COMBATRIFLE.COM. Click the image below to watch the progress. All new content is already appearing at the new location. The existiing content will slowly be migrated over.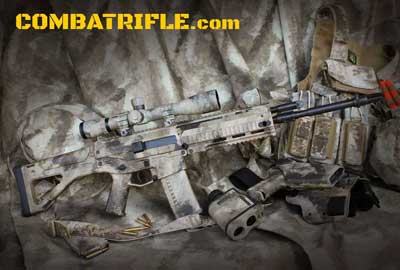 ---
Very soon Combatrifle.com, 308ar.com, ar15tactical.net and tactical22.net will be upgraded to a new website format that will be mobile friendly and allow interaction from the public. 308AR.com is nearing completion. This site will be next. Look for the sites to become updated and more focused
---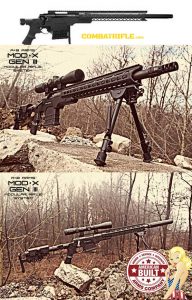 AB ARMS REMINGTON 700 MOD X CHASSIS SIDE FOLDER GEN 3
AB ARMS REMINGTON 700 MOD X CHASSIS SIDE FOLDER GEN 3
American Built Arms Company presents the MOD*X GEN III Modular Rifle System™ Side Folder designed and engineered for military, law enforcement, and hunting enthusiasts. The A*B Arms MOD*X GEN III Modular Rifle System™ Side Folder is a lightweight (3 lbs. 6 oz.), ergonomic, drop-in chassis for the Remington® Model 700 Short Action. It serves as a modular foundation on which tactical accessories can be added according to the operator's needs.
Specifications:
• Designed and manufactured in the U.S.A. by a Veteran-Owned company
• Designed for Remington 700 Short Action - Right Hand
• Aluminum design, hard coat anodized to Mil-Spec Type III
• Easy to assemble, drop-in design
• O MOA scope rail included. Optional 20 MOA scope rail available
• KeyMod Standard on three sides of the forearm for mounting equipment
• Conventional slots for mounting Geissele® Automatics accessories on two sides of the forearm
• Lightweight, 13.5" free-floating modular forearm
• Will accommodate barrels as thick as the action
• Comes standard with A*B Arms Fixed-Adjustable™ Urban Sniper Stock™ and the A*B Arms SBR P*Grip™
• Designed to accept any AR-style butt stock and pistol grip
• Uses AICS-style magazines (Magazine NOT included)
• Side-folder stock version - Length of Pull adjustability of 12.35" to 17.25"
• Innovative tumbler-style, side-folder mechanism
• Side-folder folds flush with the receiver
• Trigger well will accept all after-market trigger systems
• Will accept barrel lugs up to 1.21" wide and .30" thick
• Integrated push button magazine release located at the front of the trigger guard
• Weight: 3 lbs. 6 oz.
AB ARMS REMINGTON 700 MOD X CHASSIS SIDE FOLDER GEN 3 - American Built Arms Company presents the MOD*X GEN III Modular Rifle System™ Side Folder designed and engineered for military, law enforcement, and hunting enthusiasts. The A*B Arms MOD*X GEN III Modular Rifle System™ Side Folder is a lightweight (3 lbs. 6 oz.), ergonomic, drop-in chassis for the Remington® Model 700 Short Action. It serves as a modular foundation on which tactical accessories can be added according to the operator's needs. Available in Black or Dark Element.
---

It's really pretty cool to have Brownells and Aero Precsion as advertisers. It's an interesting relationship in that Brownells clearly offers just about every AR15 and 308AR part that Aero Precision offers. They also sell some exclusive Aer Precision OEM rifles. On the flip side Aero Precision offers the same parts factory direct. Interesting to put it mildly. Anyhow todays post is quite cool. Brownells is selling the Aero Precision AC-15 16" AR15 for $599. This may be the best value for a QUALITY AR15 you will ever see. Im impressed.
Aero Precision AC-15 Specifications:
The Aero Precision AC-15 Mid-Length Rifle chambered in 5.56x45mm NATO is a budget friendly AR-15, that does not skimp on use of quality components and proper assembly. This "dealer" gives you the core components needed to get you started. Simply install a rear sight or optic, grab an existing magazine and go. M4 Aero Precision Upper Receiver Mid-Length Gas & Barrel System 16" 5.56 NATO, 1:7 Twist Barrel with M4 feed ramps Barrel is machined from 4150 Chrome Moly Vanadium steel to a Government, mid-length profile, then treated with a QPQ corrosion-resistant finish ½-28 barrel thread pitch includes an installed A2 flash hider Barrel includes pinned front sight base & front sight components M16 Bolt/Carrier Group features 8620 steel carrier with phosphate finish & chrome lining, and has a properly-staked Gas Key Bolt machined from Carpenter 158 – High Pressure Tested & Magnetic Particle Inspected Upper includes standard carbine polymer handguards Aero Precision Gen 2 Lower Receiver Flared mag well & upper tension screw Standard AR-15 Lower Parts Kit Mil-spec AR-15/M14 Buffer Kit Forged from 7075 T6 Aluminum Matte black hard anodized finish Lower receiver includes mil-spec M4 buttstock & A2 pistol grip Magazine not included
---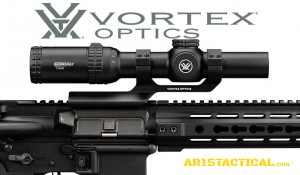 VORTEX STRIKE EAGLE 1-6×24 AR RIFLE SCOPE
VORTEX STRIKE EAGLE 1-6×24 SCOPE
VORTEX STRIKE EAGLE 1-6×24 SCOPE – Speed and versatility—that's what 1x variable optics offer AR shooters who need to engage targets from point-blank out to extended ranges. And that's exactly what you're going to get with Vortex's new Strike Eagle 1-6 x 24. Take into consideration what it costs to get into this optic, and you may find you can't afford not to buy it. Whether you're burning through a 3-Gun Stage, logging some range time, or holding for hair on a coyote you've duped into thinking you're lunch, the Strike Eagle is up to the task. High-quality, fully multi-coated lenses deliver a clear, crisp sight picture and optimal low-light performance. A true one-power on the low end of its 6x zoom range provides quick target acquisition in close quarters scenarios. Need to engage targets at distance? Crank it up to 6x and let it rip.
Download the manual – VORTEX STRIKE EAGLE 1-6×24 SCOPE BDC MOA Instruction Manual
VORTEX STRIKE EAGLE 1-6×24 SCOPE Reticle Information: The illuminated, glass-etched AR-BDC reticle subtends with popular 5.56 mm cartridges, and the centered halo promotes fast target aquisition.
VORTEX STRIKE EAGLE 1-6×24 SCOPE Technical Information
Tube Diameter: 30mm
Adjustment Click Value: .5 MOA
Adjustment Type: Click
Exposed Turrets: No
Finger Adjustable Turrets: Yes
Turrets Resettable to Zero: No
Zero Stop: No
Turret Height: Low
Fast Focus Eyepiece: Yes
Lens Coating: Fully multi-coated
Warranty: VIP
Rings Included: No
Sunshade Included: No
Sunshade Length: N/A
Lens Covers Included: Yes
Power Variability: Min power: 1x Max power: 6x
Reticle Construction: Glass etched
Reticle: AR-BDC
Illuminated Reticle: Yes
Battery Type: CR2032
Holdover reticle: Yes
Reticle Focal Plane Location: Second focal plane
Parallax Adjustment: Fixed at 100 yards
Finish: Matte
Water/Fogproof: Yes
Shockproof: Yes
Objective Bell Diameter: 24mm
Ocular Bell Diameter: 1.7″
Eye Relief: 3.5″
Exit Pupil Diameter: Not listed by manufacturer
Weight: 17.6oz
Max Internal Adjustment: Windage: 140 MOA Elevation: 140 MOA
Field of View at 100 Yards: 116.5' @ 1x 19.2′ @ 6x
VORTEX STRIKE EAGLE 1-6×24 SCOPE
---
Due to high demand, we are offering backorders on this product and will be sending out an additional batch for coating. Click here to order directly from Aero Precision.

Our August Monthly Builder Set is Multicam Black Hydrodip! This package deal features the finished pieces you need to assemble your own Multicam Black AR15 M4E1 Rifle, including an M4E1 Upper Receiver, Gen 2 Lower Receiver, 12″ KeyMod Handguard and Billet Trigger Guard all custom Multicam Black Hydrodip. Stand out at the range with a unique and eye catching build. This is a one time offer for this color – once they are gone, they are gone!

Includes:

M4E1 Enhanced Upper Receiver
AR15 Gen 2 Stripped Lower Receiver
12″ KeyMod Handguard
Billet Trigger Guard
All 4 pieces are finished in Multicam Black Hydrodip

Hydrodip done by Joint Force Enterprises, an industry leader in custom firearms coatings.

Update the Remington 700 is in my possesion.
---
Visit the new brand new mobile friendly 308AR.com.
Visit the new brand new mobile friendly Modularrifle.com
---

Just as Connecticut proposed the most draconian gun laws in the nation I managed to locate and purchase an Armalite AR-10 A4 or to be more specific an AR10A4 10A4CF-2. The AR10A4 10A4CF-2 is essentially a Connecticut legal (as of February 2013) Armalite AR10A4 Carbine with pinned stock, welded and pinned muzzle device in Armalite green. The AR10A4 10A4CF-2 utilizes Armalite proprietary magazines. Naturally this rifle will turn into an upgrade project withing my now legal limits. Note: The magazine displayed in the rifle is an Armalite factory 25 rounder. In reality the magazine is not as long as it appears. In my excitement I did not fully seat the magazine.
Model: AR-10 A4 Carbine with Green or Black Furniture
Caliber: .308/7.62 X 51mm NATO, 4140 steel
Barrel: 16" Double Lapped, Chrome Lined
Rifling Twist: RH 1:11.25" 150-175 Grain Ammo
Muzzle Device: Permanently fixed Muzzle Brake
Front Sight Base: Picatinny Rail Gas Block. Top of gas block is .398 (+/- .010) lower than top of receiver
Upper Receiver: Forged Flat Top Receiver with Picatinny Rail and Forward Assist 7175-T74 Aluminum
Lower Receiver: 7175-T73 Aluminum (forged)
Trigger: Tactical Two Stage, 1st Stage 3.5 lbs - 2nd Stage Approximately 5-6 lbs.
Stock: Pinned non-collapsing buttstock
Overall Length: 37.1"
Weight: 9 lbs
Finish: Anodized Aluminum Upper/Lower Receiver, Manganese Phosphated Steel Barrel
Accuracy: 2 - 2 1/2" MOA
Included with Rifle: Two 10 round Magazine, Sling, Black case, Owners Manual, Limited Lifetime Warranty
---

---

I have wanted a modern high quality bolt action .22 long rifle for quite some time but always put it off for something else. Then recently a friend send me a few images of his CZ 452 AMERICAN 16" THREADED BARREL complete with a SILENCER. It was a pretty impressive package. I wanted one. So I decided to do a bit of research and I learned the CZ 452 AMERICAN 16" THREADED BARREL is a tack driver that rivals much more expensive competition rifles. The CZ 452 AMERICAN as it turns out has almost a cult following among .22 shooters. Now here's the issue. CZ has discontinued the CZ 452 AMERICAN in favor of a new model the CZ 455 AMAERICAN. Purists maintain the CZ 452 AMERICAN is a better firearm. Based on my research I decided I needed to purchase the CZ 452 AMERICAN as soon as possible. Fortunately another friend, an FFL licensed dealer located one and placed the order. You would think that was the end of the story but it is not. I cant leave well enough alone and I want this to be a little unique.
My plan so far is to replace the factory stock with a BOYDS' TactiCool for CZ 452. Refinish the STOCK, BARRELED ACTION, SCOPE, SCOPE RINGS, MAGAZINES and BIPOD in A-TACS pattern camouflage. Rounding out the package will be a TACTICAL ARMZ SILENCER, the "VALIANT" model.
---
Over at the 308AR.com forum member SurvivalShop decked out his Remington 870 with MAGPULS new SGA MOE FDE furniture. I thought the project to be pretty interesting and thought I would share with Combat Rifle.
---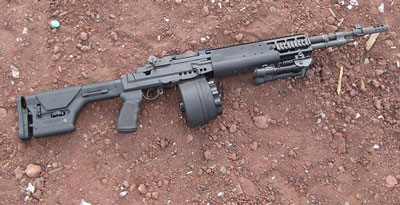 Who doesn't want a reliable 50 round drum magazine for their favorite .308? XS Products X-14 50 round Drum Magazine fills the bill nicely.
---
After spending months with the last 10/22 project, the precision benchrest style 10/22 I started to have thoughts of a new 10/22 project as different as possible from the previous one. This time around it will be about weight or lack there of. Not only do I want light weight but I also want it suppressed. As usual there will be one difficult choice, the stock. Being lefty my options will be limited but I will figure something out.
---

I built this 10/22 for another of my websites ruger1022.com but I am also including the build here at combatrifle.net. The project strayed a bit so the details on the two pages might not be in sink yet. Update: The project is complete. Working on getting the pages updated now.
---

I received the call from JoJo's Gunworks nearly 8 months to the day that I mailed my form 4 to the BATFE for approval of my AAC M4 2000. I was beginning to think the BATFE had returned my form 4 for correction but I did not get it. Thankfully it's a moot point now. The AAC M4 2000 is home with me where it belongs. The AAC M4 2000 will be mated up with my Colt Sporter that you may remember was a project a few years back.
---
Living in a state with an active assault weapon ban where Colt's are banned by name means I have to jump through some hoops and spend stupid amounts of money on AR15 lower receivers to stay in compliance with state laws. Where folks in free states pay on average from $89-$129 for a stripped lower I am paying between $650-$1250 for 20 year old lowers. I have learned a few things on my preban quest. First thing is one needs to be careful. There are folks willing to rip you off at every turn selling post ban as preban. You need to be able to verify the date. This is easier with some brands than others. Quality is another concern. I have found not all these old lower receivers are to spec. They are serviceable but not perfect. Appearances, some of the lower receivers are crudely manufactured and roll marked compared to todays standards.
Here's my finding so far from the AR15 preban lowers I have personally examined and or purchased.
PWA COMMANDO - So far these are my favorite preban lowers. The two examples I own are made very well. Appearance wise they are only second to my grandfathered Colt Sporter. The anodizing is pleasing and the roll marks, engraving and stamping of the logo and serial are clean and straight.
BUSHMASTER - The Bushmasters from back in the day weren't too bad and are made pretty well
OLYMPIC ARMS - I managed to purchase a brand new 20 year old Olympic Arms AR15 "Stop Sign" lower. The "Stop Sign" logo alone tells the age of the lower receiver. While I am not a fan of the logo many are. My lower is the only example I have handled first and it is a top notch piece of workmanship.
EA - I have handled a few locally. They are nowhere near as aesthetically pleasing as the Colts, Olympic Arms or the PWA lowers. Very plain. The look to be manufactured decently though not building with one I cant confirm their quality.
SENDRA - These are about the same as EA in appearance, although some units have a shade of anodizing that appears almost purple. easily rectified. In my example the bolt catch required a slight modification to function with mil spec parts. I am not certain what the issue is as the work was done by the Armorer selling it to me
It's important to note that if the Finish of a lower is severely worn it's easy and cheap to fix by sending the lower our for Cerakote,GunKote or re-anodizing. Don't let a finish turn you away. Far more important are the fits of the parts such as trigger pins, safety selector, roll pins etc. refinishing will not restore tolerances or hide poor mechanical skills of the previous owner.
---


Could it be FNH is finally catching up on the massive backorder of SCAR 17 MAGAZINES for the US MLITARY. Brownells has announced that FNH SCAR 17s MAGAZINES are available for a pre order at s surprisingly reasonable and not typical of FNH price of $34. The SCAR 17s MAGAZINES are available in black and FDE (Flat Dark Earth) All of this should be welcome new to guys spending well over $100 on the auction sites.
---
Recently I had a discussion with a youth, Josh who recently took the plunge in to shooting. A local dealer here told him not to spend his hard earned money $600 on a Smith & Wesson M&P 15. The dealers reasoning is that the barrels are junk and don't last long. While I don't know if there is any truth to the this barrel life point I do know this dealer is doing disservice to Josh as well as the sport of shooting in general.
Everyone needs to start someplace and with the AR-15 there are so many variations it is overwhelming to the new, unseasoned and uninformed. Josh was shocked to learn a a few things. The first being that many AR-15 receivers are made by the same company. Sometimes one company will make the stripped receivers for 10 different brands. The other thing Josh learned and the dealer didn't tell him that swapping upper receivers was a simple as two push pins and one lower could be used with an unlimited amount of uppers. To drive this point home I explained to Josh that for $349 he could add either an Armalite or CMMG dedicated .22lr upper. He was shocked to learn this to put it mildly.
A few thing to remember when your starting out. Do your homework on what you want. Plan an appropriate budget that includes quality sights and or a good scope. Keep in mind a decent scope can cost you 2/3 the price of the rifle and up. Also do not get caught up in the hardware elitism that exists on many sites, forums and ranges. Be realistic on your use of the weapon. Are you going to use it for some weekend plinking and personal protection or are you preparing for war and a SHTF situation and burning through a thousand rounds of ammunition per month. Never let anyone feel you purchased a lesser weapon. Remember the bottom line is it needs to reliably go bang when you pull the trigger and it needs to hit the intended target. That can be accomplished for $600 or $4000. The things that make up the cost of these more expensive weapons may not matter to you at this point in your shooting career or maybe even never.
Lastly if you decide the platform isn't your thing you can always sell the gun for nearly what you paid for it.
To those of you helping folks decide think about what I stated above. Not everyone needs to be preparing for something and needs a weapon that will hold up to 5000 rounds per month of 5.56. Furthermore as we all know it doesn't matter where you start the first AR-15 is just a stepping stone. Help get folks started, get them in the game and the rest will follow
---

I just uploaded a project summary for an AR-15 300 Blackout Build for sister site AR15TACTICAL.net. You can view the build summary here. Update: I have made an alternative version of this rifle for sister site AR15Tactical.com.
---
Recently at the 308ar.com forum I was inspired by some conversations of handgun caliber chambered AR-15's. I thought long a hard about the available options. Initially I wanted a 10mm but quickly decided not to add one more caliber to the ammo shopping list. Ruling out the 10mm left me with two options 9mm and 45acp. There were many compelling reasons to build one over the other but in the end the best choice was to build both.
.45acp AR-15
This build will be based around an Olympic Arms dedicated .45acp UPPER RECEIVER. The lower will be standard AR-15 that will accept the Olympic Arms proprietary magazines. I'm hoping to be able to use a YHM 45 WRAITH SUPPRESSOR on this build. For now follow the project at sister sites AR15Tactical.net and AR15tactical.com.
9mm AR-15
Not sure what I will utilize for an upper receiver at this time but the lower will be standard AR-15 with a HAHN PRECISION TOP LOADING AR-15 9MM CONVERSION BLOCK. This will allow me to utilize Colt 32 ROUND 9mm MAGAZINES. For now follow the project at sister sites AR15Tactical.net and AR15tactical.com.
Update: I ordered the CMMG 9mm UPPER RECEIVER today. I should have the UPPER RECEIVER in hand by Friday.
---
Getting Started:
Funny how things workout sometimes. While researching something I stumbled across a nice forum for Connecticut shooters. This forum CTShooting aside from having some friendly members had a discussion topic on suppressors in Connecticut. Now I have wanted to get a suppressor for sometime but unfortunately I wanted to take the Trust route but I was unaware of a local attorney that could handle the process effectively. As luck would have it the previously mentioned forum topic listed an attorneys office in Connecticut that could create the trust but that's not even the best part. The best part is the attorneys office is within 15 minutes of my home and day job which works out very well for a procrastinator such as myself.
Friday June 25, 2011 I made a call to the Law Offices of Jalowiec & Zeck, LLC . The initial call was very good. The person answering the phone was nice and helpful and made me comfortable that my business would be handled properly. The friendly lady on the phone took down my personal information and said the attorney would e-mail me a package outlining the details of the process and what's needed. It was late Friday afternoon so I don't expect the e-mail until early next week.
Naturally like everything else this process will be turned into content for a few of my sites including this one. I will provide the steps needed and a time line of the process as well as my hardware selections.
The Hardware:
Here's my current thinking. I need three suppressors. I want a .30 caliber suppressor as that can handle my 308AR's, 300 AAC Blackout as well as 6.8 SPCII and 5.56 AR rifles. I also want a suppressor for a .22 as no firearm sees more use than my .22's. Lastly I am leaning towards a suppressed .45. The .45 acp's subsonic velocity of most loads lends itself to being an ideal suppressed handgun.
The questions that remain are what .45 to suppress? While I am inclined to gravitate towards a 1911 it's probably my most expensive path versus something like a Glock at 1/4 of the price. Then there's the .22 handgun. A Ruger Mark IV seems to make the good sense as does a Sig Mosquito but I am still undecided.
I am a stickler for quality and accuracy and just going bang for the sake of going bang doesn't appeal to me. Accuracy will be paramount in my decisions.
June 26, 2011-I have decided on an AAC Ti-RANT 45 for a 45 acp Suppressor. I'm also beginning to move away from the 1911 for now in favor of an HK Tactical. For .22lr I'm leaning towards an AAC Element.
June 28, 2011 - Today I received an e-mail package and phone call from the attorney's office. We scheduled a first meeting for July 8,2011. As for guns the 1911 is most likely out. Heavily leaning towards the HK45 Tactical or Sig P220 Combat. I have also added a runner up for the Ti-Rant. That runner up is the Silencerco Osprey 45
July 2, 2011 - I have decided that for the .22 handgun I will purchase a Clark Custom CLK-570-STC with a 5.5" Threaded Barrel. Check it out here and an image here.
July 7, 2011 - Met with the attorney today and it was a fantastic experience. Ill devote more to today's meeting at a later date. My final appointment is July 21.
July 17, 2011 -I ordered three suppressors from Major Malfunction. I ordered the AAC Ti-RANT 45, AAC 7.62-SDN-6 and Silencerco Sparrow. I have learned it's not that you want but rather what you can get. Additionally I have created a page devoted to the process I have been going through to obtain the silencers. Visit that page here.
August 16, 2011 -Today I received shipping information from Major Malfunction. The SUPPRESSORS should be at JoJo's Gunworks Thursday or Friday. I'm planning on going there Friday August 19th.
August 24, 2011 - Went to JoJo's GunWorks and filled out the BATFE NFA paperwork. This consisted of a Form 4, and US 18 Certificate of Compliance forms. My attorney stated that I only needed to submit a "Certification of Trust" and not a copy of the trust unless requested by the BATFE. JoJo's had me include a copy of the trust regardless. I included one check for $600 to cover the tax stamps. While I was there I ordered an AAC M4 2000 Suppressor. I should also add I would like to get a Silencerco 40 Osprey and a second .22lr suppressor that has yet to be determined.
August 31, 2011 - BATFE cashed my check.
September 11, 2011- I am seriously pondering getting a .45 Osprey on order and possibly another .22 Suppressor
September 22, 2011 - The AAC M4 2000 Arrived at the dealer
November 11, 2011 - After several delays I finally made it to my dealer to fill out the form 4 for the feds. I should get the envelope in the mail on November 13, 2011. The waiting continues.
March 3, 2012 - I received a letter stating that the name of my trust must match EXACTLY on the Form 4's. Be warned whatever your trust is named make certain you use the same punctuation and capital letters. They are looking for reasons to delay or deny.
March 5, 2012 I next day aired the forms back to the BATFE
March 19, 2012 I ordered two Yankee Hill Machine Wraith QD Suppressors.
March 23, 2012 I received a letter from JoJo's gunworks stating I could pickup three of the suppressors.
March 26, 2012 I took possession of the Suppressors.
June 23, 2012 - I took possession of my AAC M4-2000
March 10, 2013 - I took possession of the 9mm YHM WRAITH. The .45 is missing in action.
May 4, 2013 - I got the call to pick up my 45acp YHM WRAITH
---
Over at one of our sister sites 308AR.com I just finished up building a DPMS LR-308. Visit the site here to read more about this rifle.
Specification:
24" Stainless Steel .308 Bull Barrel
Magpul PRS AR10 Buttstock
Ergo Tactical Deluxe Pistol Grip
Fulton Armory Free Float Aluminum Handguard
American Trigger Corp. SR Gold Trigger
Fulton Armory Bolt Carrier Group
GG&G Bipod
Leupold Mark 4 8.5-25x50mm LR/T M1 Illuminated Reticule Long Range Tactical Rifle Scope
LaRue Tactical QD LT-158 Scope Mount
Leupold Alumina Scope Covers
CProducts llc, Magpul PMags and DPMS Factory Magazines

---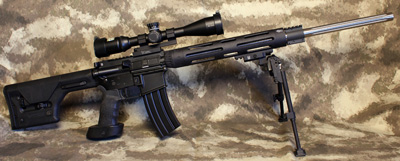 I put this AR-15 together as a project for AR15Tactical.net. It was assembled to be cosmetically similar to the DPMS LR-308 above.
Specifications:
CMMG Stripped Upper Receiver
CMMG Stripped Lower Receiver
24" Stainless Steel .223 Fluted Bull Barrel
Jard Trigger
Magpul PRS Buttstock
Ergo Tactical Deluxe Pistol Grip
Magpul PMags
JP Precision, Viking Tactics VTAC Handguard
Young Manufacturing Chrome Bolt Carrier Group
SOG Armory Charging Handle with Tactical Latch
GG&G Bipod
---
I created a page dedicated to the BOBRO scope mount here.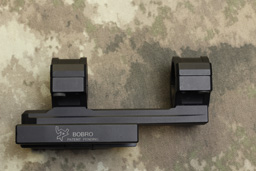 ---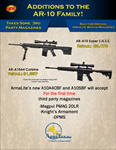 (Geneseo, IL) ArmaLite, Inc. is pleased to announce the AR-10A. This new option of the famous AR-10 will accept traditional ArmaLite "waffle" magazines and some 3rd party magazines.

ArmaLite customers asked for a choice, and that's just what we have provided.
The AR-10A family of ArmaLite® firearms is functionally identical to our AR-10B family. Operation, controls, and maintenance are the same. However, the AR-10A family is designed to accept early ArmaLite AR-10 "Waffle" magazines and good quality magazines copied from them, instead of ArmaLite's proprietary aluminum magazines that are used in our AR-10B family. Neither family of firearms will function correctly with the other family's magazines.

We have tested, we recommend, and we ship polymer Magpul PMAG® 20LR magazines with our AR-10As. Other similar derivative magazines such as the KAC, M110, and DPMS / Remington 19 round magazines may fit and may function, but we have not tested them so we can't assess their reliability.

The first members of the AR-10A family are the AR-10 Super SASS and the AR-10 A4 Carbine. Both will be formally introduced to the public on Tuesday, January 17th at the 2012 SHOT Show in Las Vegas. If you will be attending SHOT, please visit us at Booth 11771.

ArmaLite has one of the broadest product lines in the firearms industry. We manufacture and sell semiautomatic rifles in a variety of calibers including 5.56mm and 7.62mm, long range super-accurate bolt action rifles in calibers including .308 Winchester, .300 Winchester Magnum, .338 Lapua, 50 BMG, and classic 9mm pistols.
---
There are two major issues Connecticut gun owners contend with. The first being a very strong anti gun local government, the second being places to shoot. While their are several gun clubs they often have policies in place for the sake of local residents that don't permit shooting during the week for those with a day job. This leaves the clubs packed on weekends. As a result I have not belonged to a club in several years.
One of the primary reasons their are few pictures of me shooting or my targets is that when I go shooting I a lot the time for shooting and nothing else as the range I use charges $35 per hour. Well recently I learned of a Sportsmens Association that has 350 acres of land surrounded by state forest. There are very few time restrictions unless it's hunting season. Further more this sportsmens association has an unheard of in Connecticut 200 yard rifle range and 24 hour indoor rimfire shooting. They also have fishing and hiking/biking trails on the property.
While no substitute for my treks to Vermont and an 800 yard range If all goes as planned this club which is about 30 minutes from my home should prove to be a tremendous asset to all my sites.
---
Welcome Tactical Machining
Welcome Tactical Machining to our ever growing list of site sponsors and advertisers.

---
Finally started putting together a page specifically dedicated to the SUREFIRE HCM MAG5-60. No review yet but the pictures comparing the magazine to a 30 round magazine have been uploaded.
Click here for ordering information. Below you can see the SUREFIRE HCM compared to a 30 round magazine.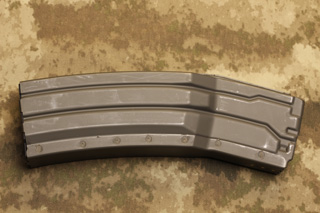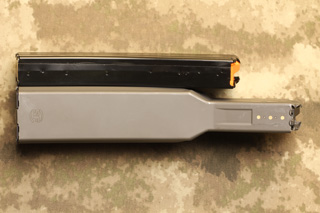 ---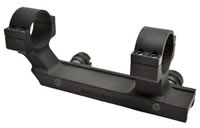 ArmaLite Introduces Its New High Profile Scope Mount Assembly
"A welcome advance in firearms ergonomics"


(Geneseo, IL) ArmaLite engineers conducted a study to see what height scope mount gives shooters the best sight picture possible. The answer is our new 1" & 30mm mounts that are 1.45" to the center of the optic, an increase of .2". This ArmaLite engineered & manufactured scope mount is a most welcome advance in firearms ergonomics.

ArmaLite has one of the broadest product lines in the firearms industry. We manufacture and sell semiautomatic rifles in a variety of calibers including 5.56mm and 7.62mm, long range super-accurate bolt action rifles in calibers including .308 Winchester, .300 Winchester Magnum, .338 Lapua, and 50 BMG, and classic 9mm pistols.
---
Over on my 308AR.com forum MechArmor the folks behind the TacOps-1 Charging Handle and Battle Arms Development the makers of the BAD A.S.S Ambidextrous Safety Selector are new active members of the 308AR.com forum and are offering some forum special pricing. Check it out here.
The fine folks behind the BAD A.S.S AR-15 AMBIDEXTROUS SAFETY SELECTOR are now site sponsors and active members of the 308AR.com. Join the forum and check them out. Click here.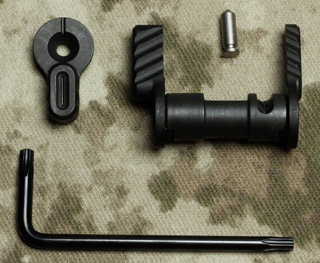 Ambidextrous tactical charging handle can be operated with minimal body movement in confined spaces, under concealment, or even in the prone position. Lets you to maintain constant visual contact with the target during magazine changes, jam clearances, and other high-stress CQB situations. Extended, ergonomically shaped grasping surface provides an extra-secure grasp and extra leverage for normal charging operation, yet won't interfere with the forward assist or oversized optics that extend behind the rear of the receiver. Dual-mode latch mechanism has a second release button in the center rear of the handle for easy handle operation with the support hand, further increasing your operational versatility. The heavy-duty latch roll pin resists breakage under hard use, and the 7-pound stainless steel latch spring ensures the latch locks down tight—and stays locked—until you release it.
PECS: 7075 T6 aluminum, hardcoat anodized, Teflon coated, black. .223/5.56 fits AR-15/M16/M4. .308 fits AR-Style .308 rifles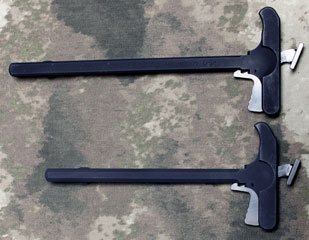 ---
In a effort to fit more handguns into a safe full of rifles I decided to stop using the factor supplied hard cases and switch to pistol rugs. A side benefit to the pistol rug is the ability for it to store magazines securely with the handgun. I decided that any PISTOL RUG I would purchase had to be able to hold 5 magazines. This lets me have 6 mags with the weapon. Fortunately most of the pistol rugs that I was interested in met this criteria. All in all I ended up purchasing four different PISTOL CASES/PISTOL RUGS and out of that group the MAXPEDITION PISTOL CASE GUN RUG 8x10 was the best of the bunch and worth it's asking price. It had the best and heaviest fabric, thickest padding, thickest elastic for holding the magazines and the best locking zipper of the bunch. I would say if there's one drawback it would be the thickness of the padding. When the case is equipped with a handgun and 5 double stack magazines it ends up slightly thicker than most factory hard cases. So while I didn't save any space I was able to store the handgun with the mags in the same amount of space. So there is a net gain. The next runner up is from 5.11 Tactical it's the 5.11 SINGLE PISTOL CASE but I will save that for another day.
Update: i have bumped this to the top. i have tried a few more pistol rugs/pistol cases. Most recently the LAPolicegear branded model. I can say that the Maxpedition is my top pick.
---
SIG SAUER SCORPION .45 ACP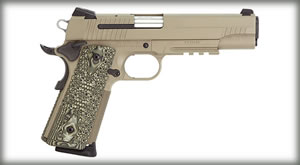 SIG SAUER SCORPION .45 ACP - I will own one of these.
The legendary 1911 design has been brought into the 21st century with the refinement today's shooters demand. The SIG SAUER® 1911 proves that close tolerances equal complete reliability and need not be incompatible in an off-the-shelf pistol. SIG SAUER has introduced clean, distinct lines that American shooters have embraced, while retaining the crisp trigger pull, classic ergonomics, and exceptional accuracy they expect.

The 1911 Scorpion is truly unique, from its desert tan Cerakote® coated stainless frame and slide. Complete with a 5.0 lb SAO trigger, 8 round magazine, and low-profile night sights.

The 1911 Scorpion features Hogue's innovative Magwell Grip Set. The advanced design combines grip plates and main spring housing in an integrated magazine well extension that promotes rapid magazine changes. Manufactured from G10, the Magwell Grips provide strength and light weight in a highly functional assembly. The grips feature Hogue's Piranha texture for excellent retention in any environment and come in a multi-layer green and black pattern that accents the Scorpion's Cerakote Flat Dark Earth finish.

Item Number - 1911R-45-SCPN
Caliber - 45acp
Single Action Trigger, 5 Pounds
8 Round Magazine Capacity
Flat Dark Earth Color Cerakote Finish
Low Profile Night Sights
Hogue Grips
Beavertail Grip Safety
Weight 41.6 Ounces
Accessory Rail for Tactical Lights and Lasers
Ambidextrous Thumb Safety
Skeletonized Hammer
Checkered Front Strap
---
I had planned on getting a set of MAGPUL MBUS for a while but never got around to it. Then when the MAGPUL GENERATION II MBUS was announced I decided to wait for them to become available and order a set in black. Well I'm happy to report the FRONT SIGHT has arrived and the rear should follow in a few weeks. At that time Ill do the customary photo spread. Also I will be uploading images of the original version side by side with the GENERATION II MBUS. Stay tuned.
First images comparing a set of MAGPUL MBUS to a set of MAGPUL GENERATION II MBUS BUIS SIGHTS.
Click here to visit the page.
---
Last week I went to my local gun shop to set up the transfer for my 308 MA-TEN set and I ended up ordering a SIG SAUER P226 ENHANCED ELITE and a GENERATION 4 GLOCK 22. Both handguns are the latest models from the two manufacturers featuring the latest factory enhancements. Out of the box the SIG SAUER P226 ENHANCED ELITE is perfect for me and I wont change a thing. The Generation 4 Glock 22 on the other hand will be getting an immediate upgrade in the way of night sights. The more I use night sights the more they are becoming a requirement on any weapon that might be used for personal protection. Additionally the Glock was purchased as "Project Handgun" meaning I'm going to see what enhancements become available and apply them as I see fit. Both the Sig and Glock are likely to see .22 conversion kits installed. For the Sig I plan on obtaining the 9mm X-Change kit.
---

On a recent trip to Jojo's GunWorks in Southington, CT to meet my AAC M4-2000 SILENCER for the first time I had the chance to get a quick look at the new REMINGTON AAC MICRO7 Bolt Action Rifle. Being chambered in 300 AAC BLACKOUT the AAC MICRO7 was born to be suppressed, specifically with the AAC 762SD-6 which I just happen to be waiting for approval on. Now I am not saying I will own one of these for sure, but I have yet to come up with a reason not to buy one.
Specifications and Features:
Advanced Armament Corp Micro 7 bolt action rifle
300 AAC Blackout caliber
Lightweight 16" barrel
Nitrided 1/8 twist barrel for extreme hardness and long life
Threaded muzzle (5/8-24) for compatibility with sound suppressors. AAC thread protector included.
4 Round hinged floorplate magazine
X-Mark Pro adjustable trigger
2 Position safety
Weather proof synthetic stock with AAC adjustable cheek piece
AAC 20 MOA Picatinny scope mount pre-installed using the same beefier Torx screws used in the US Army's M24 sniper rifle
Approximately 6.5 lb weight
---
There are rumors that REMINGTON DEFENSE will be displaying an updated version of the REMINGTON ACR at the Association of the United States Army October 10-12. If we here anything we will post it. If any visitors have information please contact us via the contact page.
October 10, 2011
Here is what we now know of the updated REMINGTON ACR.
Reduced the weapons weight by 1.8 pounds
The folding collapsible stock has been replaced by a collapsible only stock.
The ACR now accepts standard AR-15 pistol grips.
Improved handguard
Barrel changing "Fork Tool" has been replaced by a spanner wrench.
Fluted barrel
My question will the Bushmaster version see updates as well?
---
I had to chuckle this evening after revisiting this page from top to bottom. Often my best plans are met with distractions and financial short comings. Based on this i figure it's time for an update, recap and a road map of sorts.
Suppressors:
What's on the page below is accurate and up to date. This week the first week of October 2011 I need to get my butt up to JoJo's GunWorks and get the BATFE/Tax Stamp paperwork done for the AAC M4-2000 silencer.
Handguns:
I am still maintaining the following wish list of handguns I plan on purchasing.
Colt Delta Elite 10mm
CZ 75B 9mm
Glock 29 10mm
HK 45 .45acp
Browning High Power 9mm
Caspian Arms 1911 Frame to be utilized with my Marvel Precision .22lr Conversion
Rifles:
Due to financial constraints the rifle projects are crawling along at a snails pace. Between the suppressors and a very sick pet there is temporarily a shortage of cash to move some of these projects forward.
Clark Custom 10/22 Project is nearly complete. I just need to purchase a Leupold rimfire scope and a scope base. Aside from the page on this site the project is also being covered at 1022ruger.com.
300AAC Blackout Build is complete
Adams Arms Piston Kit - I have been all over the place with how I will utilize it. Perhaps it will find a home on the 300AAC Blackout build.
CMMG Sierra has been fantastic. 100 percent reliable and wonderfully accurate. I swapped the A2 handguards for a MAGPUL MOE, Installed Generation II MBUS and purchased a scope and rings that have yet to be installed.
MA-TEN 308 Receiver Set - There is a plan in place and it is expensive
SI Defense - I still need a SI Defense lower to officially finish off the 18" 308 Tactical Sniper Project.
.45acp AR-15 Project
9mm AR-15 Project
6.8 SPCII Project -
I also have a working rifle wish list:
Armalite AR-10TBNF
Colt SP901
Bushmaster ACR
Sako TRG 42
Remington MSR
New gear: All the projects going on has allowed me an excuse to buy some new gear and tools. All good stuff for future articles and reviews. Check out the list below of some of these items and articles.
BOBRO Bipod
Galco Miami Classic Shoulder Holster for Glock 22
Nikon M-223 Scope
BOBRO Scope Mount
Wilson Combat 300 AAC Blackout Barrel
US Optics Scope Level
GG&G Bipod
GG&G Heavy Duty Bipod
Simmons 6-18x40 Pro Target Rifle Scope .22LR
Lyman Electronic Digital Trigger Pull Gauge
American Trigger Corp. SR Gold Trigger System
Leupold 8.5-25x50mm Long Range Target Rifle Scope 66600
Wheeler "Level Level Level"
EXD Engineering Vertical Reticule Instrument
Hoppes Boresnake
Tango Down Advanced Combat Bipod
Spikes Tactical AR-15 .22lr Conversion Kit
Leupold Zero Point Bore sighter
Young Manufacturing AR-15 Bolt Carrier Group
---
Finally!! They are running some specials to kick off the event. Click the banner below.
---
If there is one thing I have learned about ordering parts for firearms it's that if it isn't in stock you can wait from weeks to years for your part to show up. When I ordered the MEGA ARMS MA-TEN 308 AR UPPER, LOWER RECEIVER SET I didn't hold much faith that they would be delivered as promised. Well I was wrong, MEGA ARMS was true to their word. Last week I picked up my MA-TEN RECEIVER SET from Chris at Bethany Firearms in Bethany Connecticut. Upon removing the set from it's packaging we were both struck at how nice these thing are. Fit and finish are beautiful and they surpass factory DPMS units in every way at only a slightly higher cost.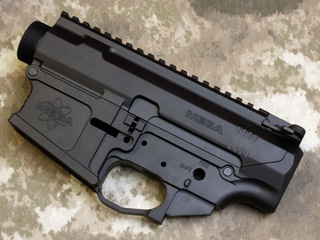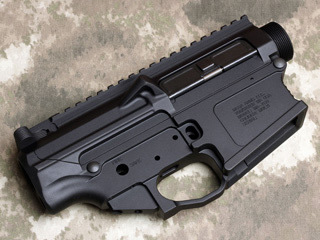 Unless something changes my plan for these is to build the most accurate 308 AR TARGET RIFLE I can afford. Follow along with the project here.
---
I took the upper from my latest 308 AR build and installed it on the 308 AR lower from a previous build. The parts that make up the UPPER RECEIVER are as follows.
SI DEFENSE GENERATION II STRIPPED UPPER RECEIVER
DPMS .308 SASS 18" Fluted and Teflon Coated Barrel. Muzzle threads removed for compliance.
DPMS Phosphate 308 BOLT CARRIER GROUP
JP RIFLES VTAC 15.5" FREE FLOAT HANDGUARD
---
Several months ago I purchased a 4 MOA Aimpoint Comp M2. It's been sitting by just waiting for a mount. Well for Christmas the little woman was sweet and bought me a Larue Tactical LT-129 QD Mount (from SKD Tactical)designed specifically for the Aimpoint Comp M2. I think the combination is tough to beat. Right now my plan is to mount the unit on my FS2000.
Click on the images below to view them full sized.
---
Follow along with our SI DEFENSE 308 AR Build. Check it out here.
---
Closed - Forum member branson1369 is about to place an order of some Mega MA-TEN 308 receiver sets for his business and was kind enough to open it up to a group buy to increase his buying power and give forum members a good deal at the same time. He is not allowed to advertise the price so you will need to join the forum and contact him directly for details.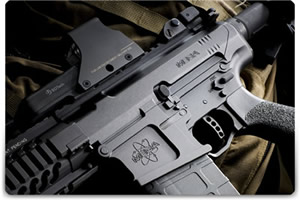 The MA-TEN will be sold only in sets (upper and lower) including a charging handle, threaded bolt catch pin, take down pins, tensioning screw, and door. This was done to guarantee the best possible upper to lower fit and finish. Using the MA-TEN platform also allows you the most options on your next build. Designed to accept any AR style .308 barrels and bolts*. This means you can use your AR10/Noveske or SR25/DPMS components. Any handguard with a barrel nut designed to fit the Knight SR25 or DPMS will fit the MA-TEN upper. The MA-TEN shares a common rail height with the SR25 and the Armalite AR10. The necessary cuts have also been included on the upper to use a Samson handguard. Magazines… take your pick. Any SR25/DPMS compatible magazine such as Magpul, Knight, DPMS, CMMG, and C products. Do you like to bench shoot? Or maybe your next build is going to be for hunting, or just target shooting. Well you can choose to use whatever trigger best suites your shooting needs. The MA-TEN lower will accept any AR compatible trigger. By incorporating the Mil-Spec buffer thread on the MA-TEN lower you have the ability to choose any stock you want. Adjustable Magpul, Mil-Spec A2 and everything in between.
---
Here's something you don't see every day. An off the shelf Flat Dark Earth QD Scope Mount. The Noveske Rifleworks FDE Quick Detach Extended cantilever mount provides plenty of eye relief to mount a 30mm scope, or position a magnifier, night vision device, or other sighting accessory behind the main optic. Two quick-release levers clamp to a flattop receiver rail with unique cam action for a tight hold during recoil. Depress the locking tabs, swing both levers open, and the mount easily lifts off the rifle. Cross bars can be adjusted to fit almost any 0icatinny or Weaver-style rail, including over- or under-sized commercial rails. Levers may be positioned to open to the front or the rear to suit the operator's preference. Five, heavy duty steel hex head screws (three on top, two on bottom) clamp the 30mm vertically split ring halves together.

---
Madhouse one of the Administrators on the 308AR.com Forum picked up this POF P-308 Upper recently. He will be mating it up with a matching lower shortly.
---
I'm often asked if there are any firearm and shooting books and DVD's worth purchasing. Of course the answer is ABSOLUTELY!!!. Even though the Internet contains a wealth of information on shooting and guns there are many details not covered thoroughly. Watch this page for updates on what I recommend.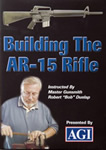 ---
Two-piece machined steel muzzle brake employs an adjustable, push-down, spring-tensioned, rotating cover design with three port hole sizes to choose from to direct combustion gases upward to virtually eliminate muzzle rise and felt recoil. Enables fast, accurate follow-up shots in semi-auto mode and superb control in full auto. Designed by Greg Carlson especially for reloading enthusiasts who enjoy experimenting with different powder weights, bullet grains, and loads for increased velocities and shooting performance. Cover is selectable for either a large, medium or small gas vent port by depressing the knurled selector cylinder and aligning port and cover hole; release cover to activate locking pin mechanism. Gas escapes upward to counteract upward force on the muzzle without directing concussion and noise back at the shooter. Solid bottom prevents kicking up dust signature when shooting prone.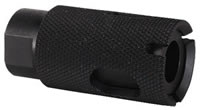 ---
Sunday I got an e-mail from CMMG announcing the Evolution Quebec-A .22LR AR-15 and two .22LR dedicated Uppers the M4 LE and the Sierra. Within minutes I dropped cash on the Sierra with the stainless steel bolt option. Thursday my pride and joy arrived at the office.
Here it is, my first pictures of the CMMG Sierra Upper. See more here.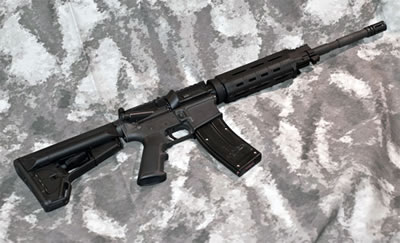 ---
GG&G has offered flip up lens modules for many EOTech sights for quite some time. I have also wished for a while that it was an option for my 557AR223. Unfortunately the 557 AR223 hood design didn't allow for the flip up module to be installed. Well I'm here to report that GG&G has solved this by offering a new hood with the flip up lens module installed. GG&G also etched the hood with windage and elevation marking. Lastly in a fashion similar to a land mine the front lens cover is engraved with "Front Towards Enemy"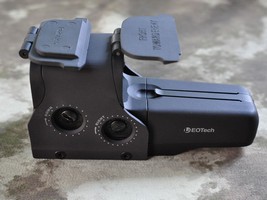 There's more pictures here.
---
The little woman did some birthday shopping for me at Brownells and I ended up with this awesome Adams Arms Gas Piston Retrofit. This was the nudge to to send me in the direction of a 6.8 SPC II build. I'm anxious to get this installed and running.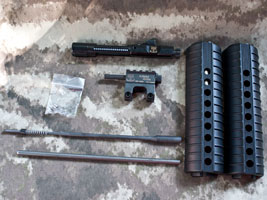 ---
Before

After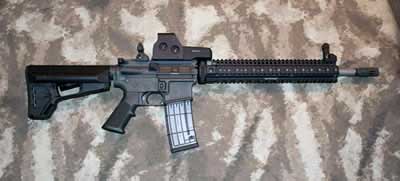 As a project for AR15Tactical.net I decided to take my 1992 Colt Match HBAR Sporter and upgrade it to a configuration typical of a 2010 AR-15 tactical style rifle. Basically I moth balled the Colt factory upper and replaced the A2 buttstock with a Magpul ACS buttstock. The rest of the project consisted of building a new upper from the ground up. There was one minor challenge with the project. This challenge was based on the color used to anodize the early 90's Colt Sporters. The factory anodizing is blue gray in appearance. Today's AR-15 are mostly black as is the after-market parts. The easy fix would have been to have the Colt lower anodized black but i wanted to keep it original to match the factory upper. The decision I made was quite simple. I ordered a stripped upper and sent it off to Victor at US Anodizing to color match the Colt color. I also sent along the factory charging handle as a sample of the color. Victor matched the charging handle perfectly. One minor issue though. I had not realized the charging handle was not the exact color of the Colt lower. The result is a small tone mismatch but it still looks good.
The hardware used in the project is as follows:
Mil Spec M4 Stripped Upper
Young Manufacturing National Match Bolt Carrier
CMT MP bolt
White Oak Armament 16" Mid-length Barrel
LaRue Tactical AR15 13.2" Handguard LT15-13.2
VLTOR VC-1 Flash Hider
Daniel Defense Low Profile Gas Block
Magpul ACS Buttstock
Bravo Company BCM Gunfighter Charging Handle GFH MOD 3
American Trigger Corp. AR Gold Trigger
Brownells Carbine Mil Spec Stock Completion Kit
Troy BattleSight Front HK Folding
Troy BattleSight Rear Di-Optic Aperture (DOA) Folding
EOTech 557 AR223 Holographic Weapon Sight (HWS) Night Vision Compatible (M557)
UTG Defender Weapon and Hand held Tactical Xenon Flashlight LT-ZL168
LaserMax Mantarail Momentary Switch Control System
Follow the build with pictures and details here
---
Ruger 10/22 Tactical Solution SB-X Barrel - Lightweight, aluminum replacement for factory barrel gives you the advantages of a short barrel, while the permanently attached muzzle shroud keeps the barrel length legal—no NFA transfer paperwork to worry about. Your flash suppressor with standard ½"-28 threads actually screws to the barrel inside the shroud, so it adds nothing to the barrel's 16½" overall length. Machined from billet aluminum, with a .920" O.D. and a chrome-moly steel bore liner to provide the rigidity and heat-transfer benefits of a bull barrel without the weight penalty. Oversized shank helps ensure a secure fit to almost any 10/22 receiver.

SPECS: 6061 T6 aluminum, hardcoat anodized, matte black. Chrome-moly steel liner with 1-16" twist rifling. 16½" (42cm ) O.A.L. including shroud, 12¼" (31.1cm) bore length, .920" (2.3cm) O.D. Accepts muzzle accessories with ½"-28 tpi threads. Installation instructions included.
---
I purchased the Troy Battle Sights as part of a project to upgrade my early 90's Colt Sporter. Look for more pictures and a review soon. See the project in it's entirety at AR15Tactical.net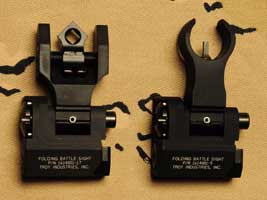 ---
Shooters Ridge. Thumbhole stocks for .920 bull barrel available in various colors and Camo patterns.

There is also a complimentary line of Shooters Ridge Ruger 10/22 Bull Barrels. I'm particularly fond of the 18" fluted barrels.
---
Tactical Solutions dedicated .22 LR flattop upper allows live-fire training with affordable rimfire ammo while retaining the weight, balance, and feel of your rifle. Replace your existing upper with the AR-22 upper, insert the included Black Dog .22 LR magazine, and you're ready to shoot. You practice with your existing trigger and fire control components, so the trigger weight and pull feel the same. The mil-spec exterior has a standard MIL-STD 1913 0icatinny rail, charging handle, forward assist (non-functioning), and ejection port cover. Inside the standard bolt/carrier assembly is replaced by a dedicated "bolt rail" of hardened tool steel with a blowback operated stainless steel bolt inside. Both components are built to run hard and handle the abuse of long practice sessions. M4 has the appearance and weight of a USGI M4 upper, with correct contour barrel, standard M4 handguard, A2-type flash hider, and a gas block/front sight tower with bayonet lug, sling loop, and square front sight post. LT has a lightweight, free-floated aluminum barrel with a button rifled, 1 16" twist chrome-moly steel liner. Muzzle is threaded to accept any compensator or flash suppressor that fits an AR-15/M16/M4. The included screw-on muzzle cap with a built-in 11° target crown gives a clean, finished appearance. The Hogue machined aluminum mid-length forearm has bands of aggressive knurling to give you a firm grasp

SPECS: Receiver – 7075 T6 aluminum, hardcoat anodized, matte black. .250" pivot/take down pin holes. Bolt – Heat-treated 416 stainless steel. Bolt Rail – Tool steel. Magazine – Injection-molded polycarbonate, translucent smoke. 26-round capacity. M4 – 24" (61cm) OAL. 3 lbs, 15 oz (1.8kg) weight. Barrel – Chrome-moly steel, Parkerized, matte black. 16.1" (41cm) long. 1-16" twist. ½"-28 tpi muzzle threads. LT – 23" (58.4cm) OAL. 2 lbs, 14 oz (1.3kg) weight. Barrel – Aluminum with chrome-moly steel liner, hardcoat anodized exterior, matte black. 16½" (41.9cm) long, .920" O.D. 1-16" twist. ½"-28 tpi muzzle threads.
---
I just spotted this deal at Brownells. You can purchase the CMMG Ar-15 .22LR Conversion Unit with three Black Dog Magazines for a good price. What a difference a year makes. Check it out here.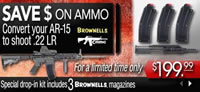 ---
I bought the GG&G Heavy Duty XDS Bipod to replace the Tango Down Advanced Combat Bipod on my DPMS LR-308. The Heavy Duty XDS is the most substantial bipod that GG&G offers. It's built to withstand the recoil of the .308 Winchester cartridge in combat. The bipod is made of aluminum and features adjustments for leg length and cant. The locking latches are massive and spring loaded. There are no exposed springs and nothing "Boings" when operated. The bipod comes equipped with an attachment for mounting directly to a 0icatinny rail on your favorite free float handguard. At $200 it isn't substantially more then a Harris with a 0icatinny adapter. If you have an AR-10, DPMS LR-308 or M14 this is the only bipod for you.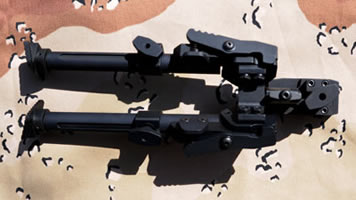 ---
Its seems the firearms designed to fire the 22 long rifle cartridge are about to be reborn. Manufacturers have finally taken notice that shooters want high quality.22's that look and feel similar to their favorite military firearms. We now see 22 caliber AR-15's from Colt Firearms,HK and Smith & Wesson. Sig has unveiled a 22 along the lines of their popular 556 rifle. There will also be more options in the 22 caliber 1911 market. We will also be adding part 2 to our 22lr conversion section. This time we will be looking at the 22 conversions for rifles besides the AR-15 as well as handguns.
Lets not forget the Ruger 10/22 with its popularity soaring. The 10/22 is an inexpensive, reliable and accurate rimfire rifle. The Ruger 10/22 is to rimfire what the AR-15 is to centerfire rifles, that is the ability to customize limited only by your imagination and wallet.
Check back often and keep an eye on our partner site Tactical22.net and its forum.
---
I just received my chrome Young Manufacturing Bolt Carrier Group. I cant wait to try it out. This complete bolt carrier group is a fine example of manufacturing beauty. Check out the picture below, click the picture to view full size version.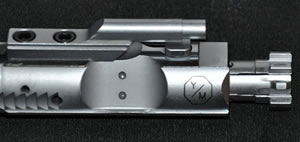 ---
Here's the first .308AR build at our sister site 308AR.com. Where's the trigger? AMERICAN GOLD TRIGGERS has recently released a SR-25, DPMS Panther Arms LR-308 compatible trigger. Ours should arrive very soon.
---
Check out the CMMG AR15 and DPMS LR308 stripped lowers we just picked up.
---
---

I received that question in a message today from a visitor in Libya. Not being an AK 47 expert I thought I would devote sometime researching the subject. Well as luck would have there is a fantastic page that allows you to look up your ak47 manufacturers marks and determine it's origin. Check out that page here.
---
We have added some new files to the download section.
Check out the rest here
---
---
Home | Customize | Firearms |Gear | News | Projects | Gallery | Resources | Gun Tech | Gunshop |
---

---
|
---
Contact us | View site map | Privacy Policy | Links | AR15Tactical.com | PracticalBike.com | 308AR.com | AR15Tactical.net |